| | | |
| --- | --- | --- |
| | Stoke-on-Trent - Potworks of the week | |
Clarence Works, High Street, Longton
c.1948 was renamed the Jason Works
---
There has been a pottery works on this site since at least 1857
From

To

Occupier

Comments

1900

1925

Beresford Bros

1926

1948

Doric China Co

Operated in China Street, Fenton from 1924 and then, from 1926 at High Street, Longton.

About 1935 the business was taken over by Royal Albion China Co.but continued to operate under its own name

1948

1950

Jason China Co

In 1948 the assets of both Doric China Co. and Royal Albion China were sold to the Jason China Co Ltd.

1950

?

Susie Cooper China Co

In 1950 to business was purchased by Susie Cooper as a base for her venture into bone china manufacture.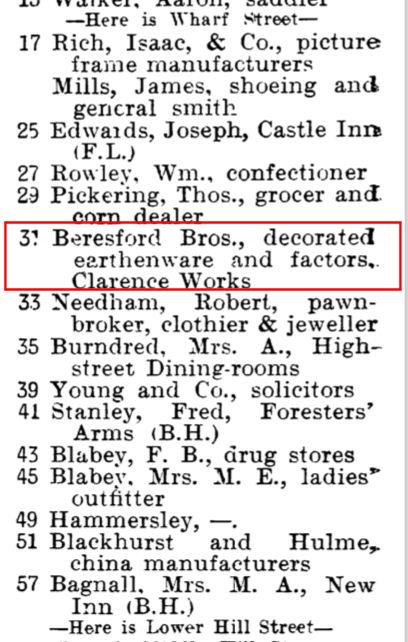 31 High Street, Longton
Beresford Bros., decorated earthenware
and factors. Clarence Works
from..... 1907 Staffordshire Sentinel
'Business Reference Guide to The Potteries, Newcastle & District'
---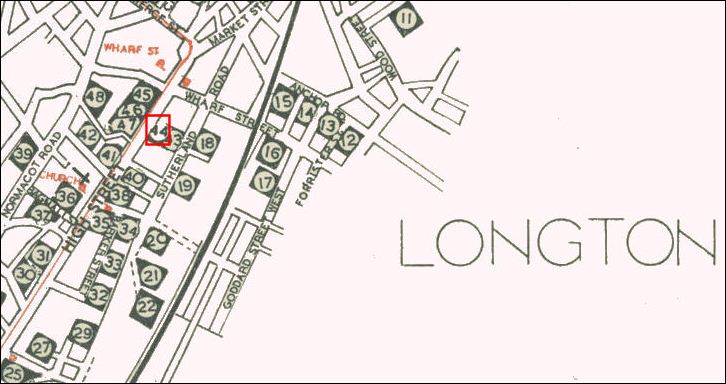 from: Pottery Gazette & Glass Trade Review Reference Book Directory, 1947
- click the map for more details -
40 Chapmans, Longton, Ltd.
41 Winterton Pottery (Longton), Ltd.
42 Royal Albion China Co.
43 Hammersley & Co. (Longton), Ltd.
44 Doric China Co.
45 Gladstone China (Longton), Ltd.
46 Roslyn China
47 New Park Potteries, Ltd.
48 Shaw & Copestake, Ltd.
---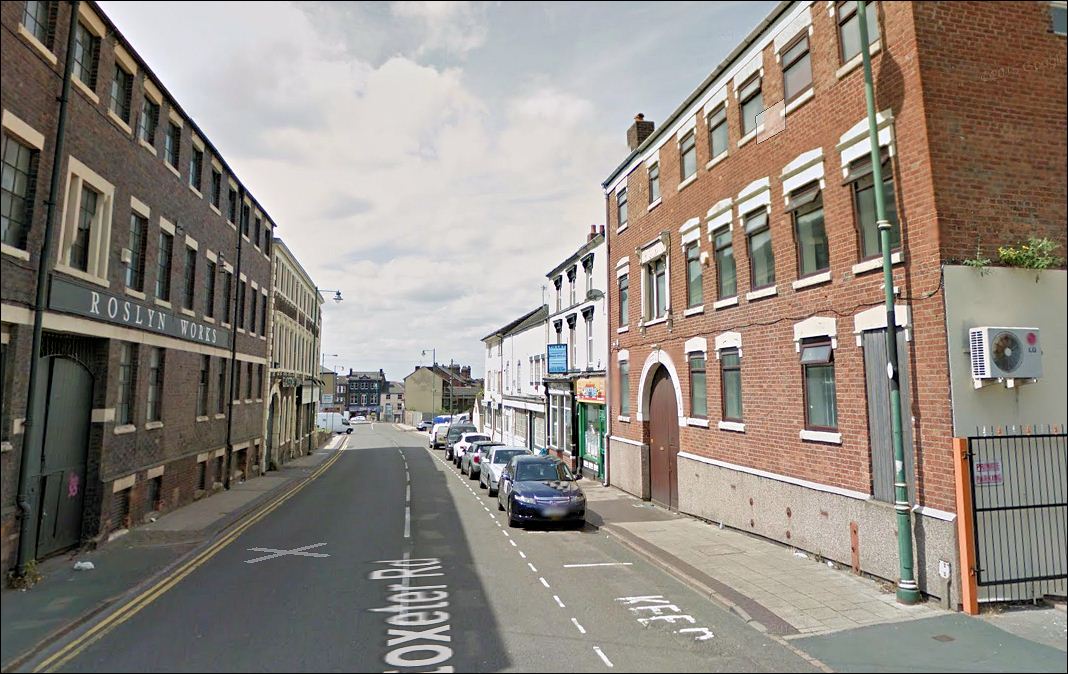 Longton, Uttoxeter Road (formerly High Street)
Google Steet View - 2009
On the left is the Roslyn China and Gladstone China Park Place Works
on the right is the Clarence Works of Beresford Bros and Doric China

---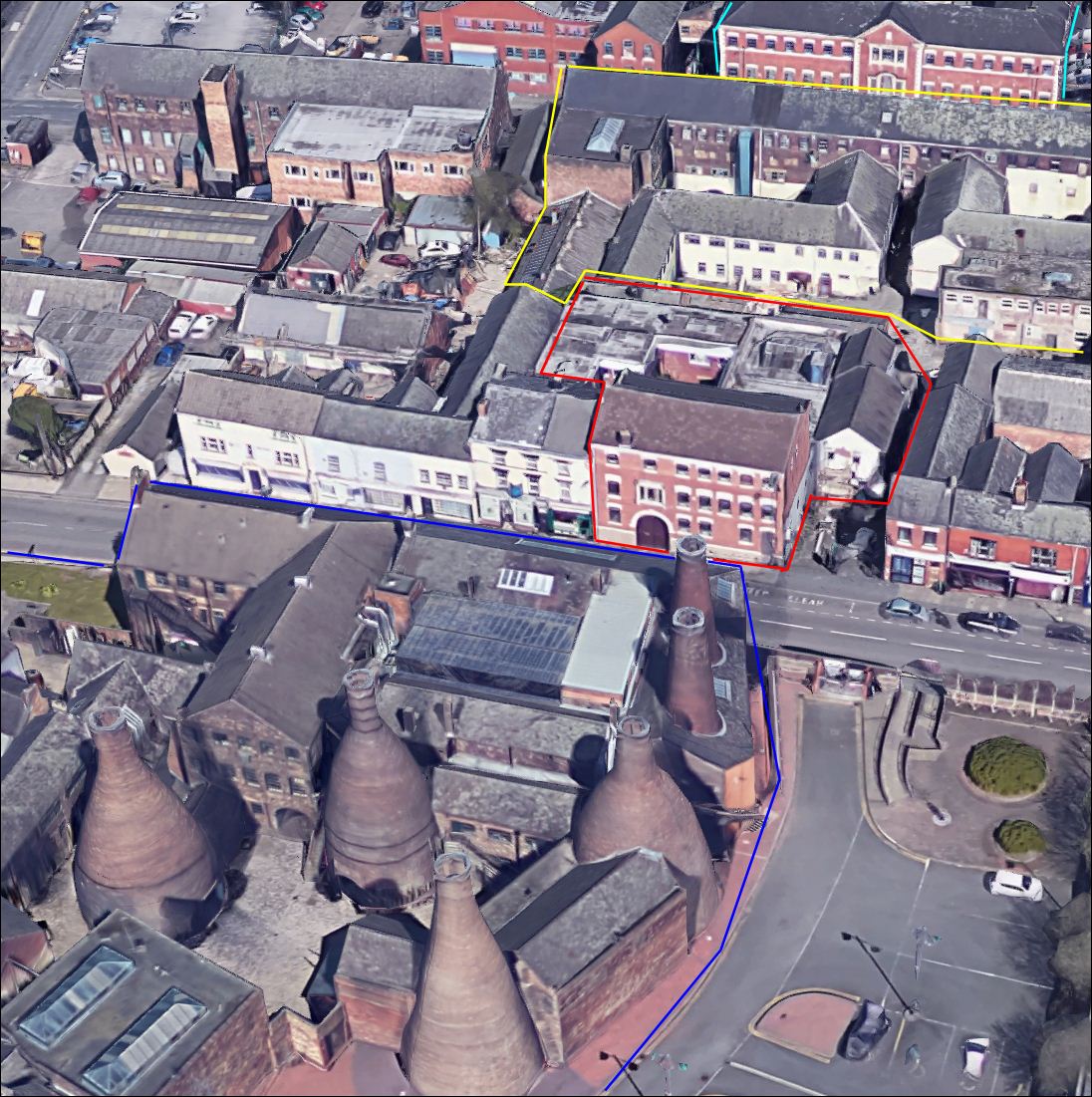 Longton, Uttoxeter Road (formerly High Street)
Google Maps - 2017

| | |
| --- | --- |
| Red outline | Clarence (Jason) Works |
| Blue outline | Park Place & Roslyn Works |
| Yellow Outline | Prince or Wales Works |
| Light blue outline | Portland Works |
---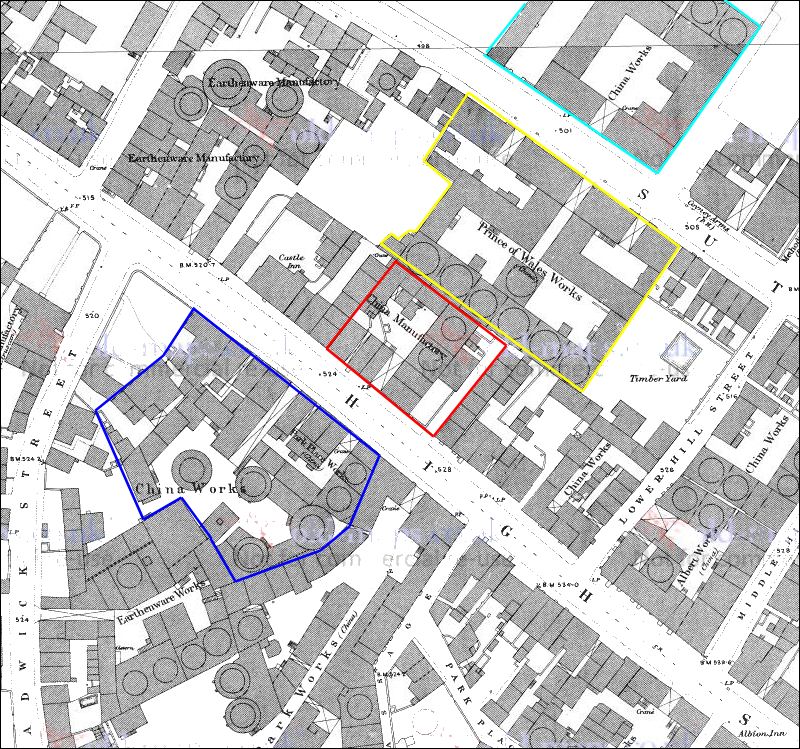 1878 OS map
Longton, High Street (now Uttoxeter Road)

| | |
| --- | --- |
| Red outline | Clarence (Jason) Works |
| Blue outline | Park Place & Roslyn Works |
| Yellow Outline | Prince or Wales Works |
| Light blue outline | Portland Works |
---

Related pages
---
| | |
| --- | --- |
| | Longton - one of the six towns of Stoke-on-Trent |
---