Mitchell, Reginald Joseph was born in 1895 at Talke in Stoke-upon-Trent, Staffordshire, England.
He was famous as a British aircraft designer and the developer of the Spitfire, one of the best-known fighters in World War II.
After secondary schooling Mitchell was an apprentice at a locomotive works and attended night classes at technical colleges.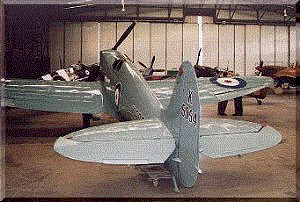 The prototype Spitfire, photographed, most appropriately, at Duxford during the recent 60th Anniversary celebrations.
In 1916, before the age of 22, he went to work at Supermarine Aviation Works in Southampton, where he remained the rest of his life, serving as the company's director for his last 10 years. He designed seaplanes (used largely for racing) between 1922 and 1931 and by 1936 had designed and developed the Spitfire, more than two dozen versions of which were eventually created before and after his death and which was known for its aerodynamic sleekness and maneuverability.
Most of the genuine innovation in military aircraft construction between the wars came about as a result of unsolicited work in private companies. The legendary Spitfire, developed independently by the Supermarine company, and only later sold to Britain's Air Ministry, is only one example. With its smooth lines, load-bearing metal skin, and heavy eight-machine gun armament, the Spitfire was revolutionary
The Spitfire was a low-wing monoplane that was first flown in 1936 and was first put into service with the Royal Air Force in 1938. It was modified continuously throughout the war to serve in a variety of roles: fighter (with notable success at high altitudes), fighter-bomber, and photo-reconnaissance plane. The version that entered active service in 1938 had a top speed of about 360 miles (580 km) per hour and an armament of eight .303-inch machine guns. The Spitfire XIV, one of the last models of the war, had a ceiling of 40,000 feet (12,200 m) and a top speed of 440 miles (710 km) per hour; that version shot down more than 300 German V-1 missiles in 1944. During the war the Spitfire's armament was increased to two 20-millimetre cannons along with two .50- inch machine guns or four .303- inch machine guns. Some Spitfire versions could also carry a 250- or 500-pound (115- or 230-kilogram) bomb under the fuselage and a 250-pound bomb under each wing. The last Spitfires in active service (as photo-reconnaissance planes) with the Royal Air Force were retired in 1954.