Etruria Road, Hanley, Stoke-on-Trent



Streets of Stoke-on-Trent | Etruria Road |
---


| Index of all Hanley Streets |
Etruria Road, Hanley, Stoke-on-Trent
Etruria Road runs from Trinity Street in Hanley down to the Festival Park and then to the A500 dual-carriageway. It is the main road from Cobridge to Newcastle-under-Lyme. On the 1898 OS map the section of the road from the bottom of Cobridge Road to Etruria railway station was named 'Lord Street'. In the early 1950's this section was renamed Etruria Road.
---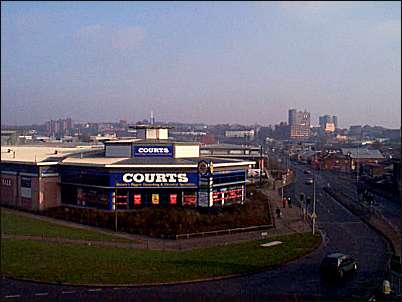 Etruria Road 'corridor' from Hanley to the Festival Park
On the left is a retail park with shops and supermarkets, this was once part of Shelton Iron & Steel Works.
---

In the centre skyline is the telephone exchange, to the right is Unity House, which was the old civic centre.
---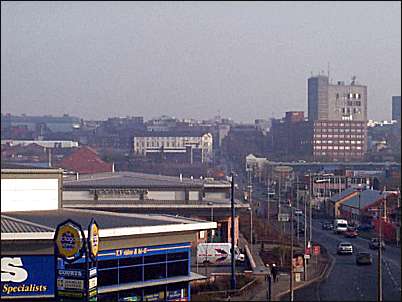 To the right the telephone exchange and in the centre the large white building is the Grand Hotel (now 'The Hilton, Hanley')
photos: Jan. 2001

---

---
Did you live in this street or area?
questions/comments/contributions? email: Steve Birks