Stafford Lane, Hanley, Stoke-on-Trent



Streets of Stoke-on-Trent | Stafford Lane |
---


| Index of all Hanley Streets |
Stafford Lane, Hanley, Stoke-on-Trent
---
from..... 1907 Staffordshire Sentinel 'Business Reference Guide to The Potteries, Newcastle & District'
Stafford Lane
(23, Percy Street)

—Here is Crown Bank—

OLD POST OFFICE BUILDINGS.

1 "Potteries Sporting News" Office
Props., H. Austerberry and G. Whittaker

2 Cooke, George, artist

3 Empire Typewriter Co ., Ltd.
Manager, C. H. Jones

4 Bennett, S., designer and modeller

8 Nixon, George, auctioneer &
certified bailiff
Wilson, C. M., horse, carriage & harness repository

—Here is Back Stafford Lane—

12 Lucas, Mrs. A ., coal dealer

16 Plant, William, potter

18 Sant, Mrs. Selina

20 Hawthorne, Mrs. E.

—Here is Tontine Street-
---
Septimus Bennett working at 4 Stafford Lane as a designer and modeller was the brother of Enoch Arnold Bennett the writer.
Septimus was born in 1877. By 1897 he was working at James Kent's Old Foley Pottery ["This firm of general domestic potters, Old Foley, Longton, Was founded by James Aloysius Kent (born 1864 died 1953) with five workmen from the firm of Barker & Kent (including Arnold Bennett's brother Septimus Bennett, modeller) in 1897." Mankowitz & Haggar].
---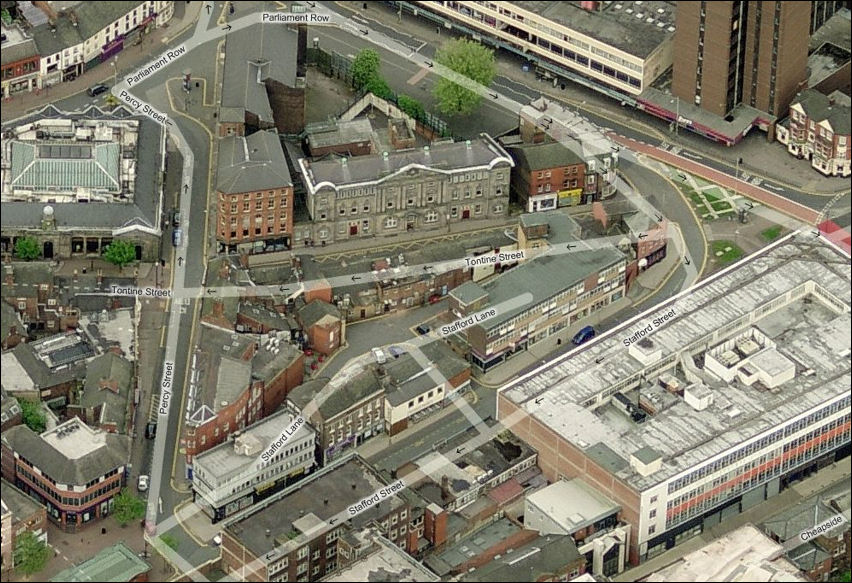 Stafford Lane, Hanley - 2011 Bing Maps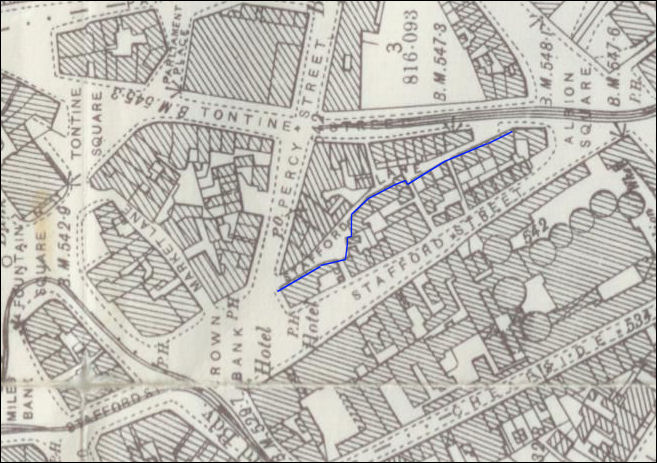 1898 map of Stafford Lane

1898 map of Hanley town centre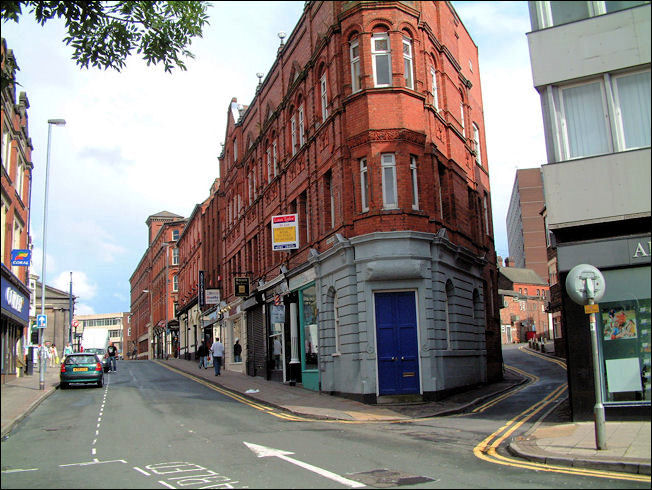 corner of Percy Street and Stafford Lane
Related Links...
---
The Bennett household in Cobridge
Sydney Richard Sanders - apprentice modeller to Septimus Bennett
---
---
| Index of all Hanley Streets |
---
Did you live in this street or area?
questions/comments/contributions? email: Steve Birks