Stubbs Lane, Hanley, Stoke-on-Trent



Streets of Stoke-on-Trent | Stubbs Lane |
---


| Index of all Hanley Streets |
Stubbs Lane, Hanley, Stoke-on-Trent

---
Stubbs Lane - a small back alley running behind the large 'Hanley Pottery' works of Johnson Brothers

on Hanley Pottery
Stubbs Lane joins Eastwood Road and Botteslow Street.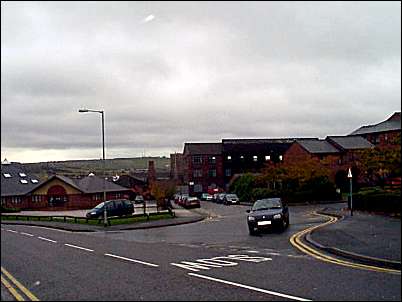 Stubs Lane from Botteslow Street
On the left the Moorland Medical Centre and on the extreme right is the 'Reginald Mitchell' home.
---

A closer view of Stubbs Lane
At the bottom of the lane is the now derelict 'Hanley Pottery' of Johnson Brothers (now part of the Wedgwood Group). The two old bottle kilns can be seen - these are listed buildings.
---

Stubbs Lane also runs along the back of the Hanley Pottery
Looking towards Eastwood Road
photos: 1999, 2000

---

---
Did you live in this street or area?
questions/comments/contributions? email: Steve Birks