Glebe Street, Stoke, Stoke-on-Trent



Streets of Stoke-on-Trent | Glebe Street |
---


| Index of all Stoke Streets |
Glebe Street, Stoke, Stoke-on-Trent
1898 Ordnance Survey map of Glebe Street area
Residents and Proprietors of Glebe Street
Map of the Glebe Land belonging to Stoke Church
Glebe Street in the town centre of Stoke is only a few hundred yards long but contains 14 'listed buildings' (although some are not buildings but tombstones in the church yard) and Brook Street, which runs off Glebe Street contained 5 'listed buildings'.

Glebe Street runs from Church Street (the old turnpike road) at the bottom to the Trent and Mersey Canal and mainline railway at the top. The top end of Glebe Street also crosses the A500 dual carriageway which joins many of the Potteries towns to the M6 motorway. The A500 runs parallel to the Trent and Mersey Canal at this point.

Next: start the tour of Glebe Street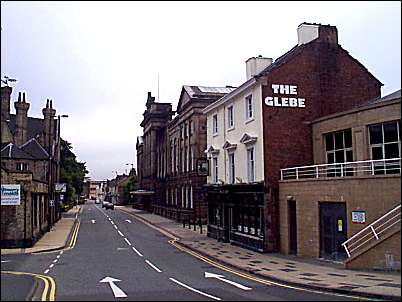 Glebe Street looking towards Church Street.
Just visible on the far right is the edge of the City Civic Centre.

"The Glebe" is the Glebe public house and hotel.

Just visible past the Glebe, on the pavement, are the bollards which mark Aqueduct Street.

The old Town Hall occupies the centre of the right hand side of the street.

Past the Town Hall, at the bottom of the right hand side is a block of 15 shops, which are shown below.
On the left of the photograph are the buildings which occupy Brook Street.

Just visible at the bottom left of Glebe Street are the trees which surround St. Peter's Church.
---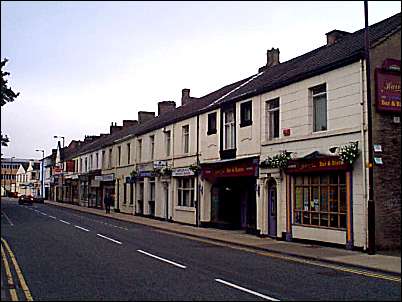 The block of 15 shops on Glebe Street
(opposite St. Peter's Church)


Next: start the tour of Glebe Street
---
Why the name - Glebe Street?

In the past, parishes were maintained out of the land attached to the church (the glebe) and the revenues from the faithful.... Rectors were not salaried, but held property in the parish as their "living".

1898 Ordnance Survey map of Glebe Street area

Residents and Proprietors of Glebe Street

Map of the Glebe Land belonging to Stoke Church

list of photographs of Glebe Street

General view of Glebe Street in 2000 and 1915 (looking from Church Street).
number 1 Glebe Street.
numbers 3 - 5 Glebe Street.
numbers 7 - 13 Glebe Street.
numbers 15 - 19 Glebe Street.
numbers 21 - 25 Glebe Street.
numbers 27 and 29 Glebe Street.
St. Peter's Church, Glebe Street in 2000 and 1893.
Stoke Town Hall, Glebe Street in 2000 and early 1900's
Brook Street.
Number 2 Glebe Street
Number 4 Glebe Street
Aqueduct Street.
the Glebe Hotel.
the view from top of Glebe Street.
the Civic Centre
the railway bridge at the top of Glebe Street.




Next: start the tour of Glebe Street
---

---
Did you live in this street or area?
questions/comments/contributions? email: Steve Birks