back to "The Grand Tour" index
Neville Malkin's "Grand Tour" of the Potteries
buildings South of the Potteries




next: Joule's Brewery, Stone
previous: St. Michael's Church, Stone
contents: index of buildings south of the Potteries

No 4 - The Jervis Mausoleum, Stone

St. Michael's - c.1900

'South East View of Saint Michael's Church, Stone, Staffordshire.' Showing a small chancel [enlarged in 1887] and a box-like embattled nave, and aisles, with the tower top behind. On the right is the classical St. Vincent Mausoleum.


[Reproduced by permission of the
Trustees of the William Salt Library, Stafford]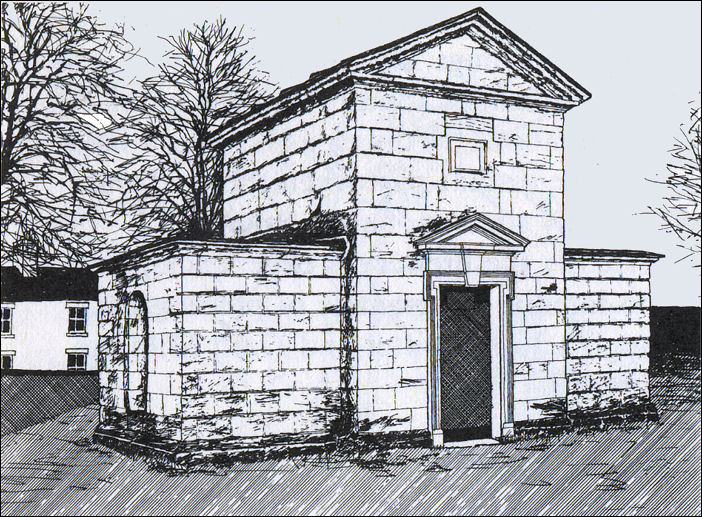 The Jervis Mausoleum, Stone
pen drawing by Neville Malkin - January 1975

"In a secluded spot at the rear of St. Michael's Parish Church, Stone, stands the weather-beaten and recently-restored Jervis family mausoleum, designed in the classical style by William Robinson and built by William Baker.

Within its stone walls lies Stone's most famous hero, Sir John Jervis, better known as Admiral St. Vincent. He was born in January, 1735, at Meaford Hall, the family residence some 1

½ miles north of the town from where, at the age of 10, he ran away to begin a most eventful and illustrious career at sea. At the age of 25 he was already gaining fame in such arenas of war as Quebec. But his most well-known exploit took place on St. Valentine's Day, 1797 when, as C. in C. of the English ships, he defeated the Spanish fleet off Cape St. Vincent, forcing it back to Cadiz. By so doing he prevented the Spanish from joining the French, and thereby saved England from invasion. For his successful command of the fleet he was created Earl St. Vincent, after the Cape off which the battle was fought. In this same engagement the second in-command was Horatio Nelson, whose distinguished bravery was rewarded with promotion to Rear Admiral.

Jervis continued his great work for the Navy; as First Lord of the Admiralty he was responsible for eliminating both corruption in the shipyards and mutinous behaviour in the Fleet. He died at the age of 88 on March 23rd, 1823, in Essex and was interred, without pomp, at a private ceremony in the family vault at Stone, at exactly 4 p.m. on Wednesday, March 26th, 1823."

Neville Malkin 8th January 1975






The Jervis family mausoleum

photo: © Mr. D. Baddeley - Staffordshire Past Tracks


The Jervis family mausoleum stands in the churchyard to the east of St. Michael & St. Wulfad's Church in Stone. It was designed by William Robinson, who was also the architect of the church.

The Mausoleum contains the remains of various members of the Jervis family of Meaford Hall, including John Jervis, 1st Earl St. Vincent, and Lady Forester. John Jervis was born in 1735 at Meaford Hall, just outside Stone. He was First Lord of the Admiralty from 1801 to 1804 and took his title Earl St. Vincent after the battle of Cape St. Vincent in 1797, which he helped to win.

He died in 1823 and was buried in the family vault in St. Michael's churchyard, Stone, and his monument is in St. Paul's Cathedral.


next: Joule's Brewery, Stone
previous: St. Michael's Church, Stone
contents: index of buildings south of the Potteries


back to "The Grand Tour" index

---