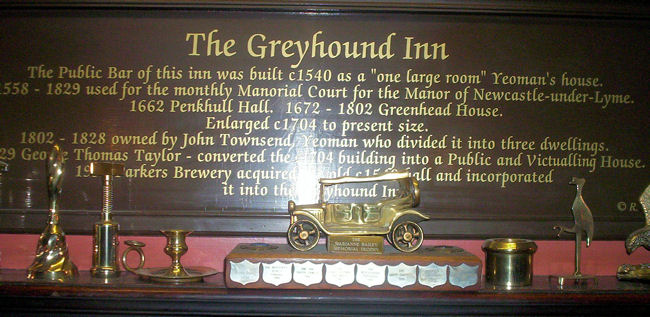 The plaque summarising the history over the fireplace in the lounge
"The original building dates back to circa 1540, during the time of the Tudor Royals, when it was built as a "one large room" yeoman's house (a yeoman historically being a man holding a small landed estate).
From 1558 to 1829 it was used for the monthly Manorial court for the Mayor of Newcastle-under-Lyme, trying local residents on all manner of charges from stealing a loaf of bread to murder.
In 1662, it was known as Penkhull Hall, owned by one William Tyttensor. During this year, King Charles II travelled to Newcastle to ensure the family of Major Thomas Harrison, who had signed the death warrant for Charles I, was outlawed. He stayed overnight at Penkhull Hall, where, true to form, he indulged in a dalliance with the owner's daughter, Sarah Tyttensor. Upon discovering this, her father engaged the King in a sword fight, and, when the King momentarily lost his balance on the stairs, brought his sword down in a mighty thrust, missing the King by inches and embedding it into one of the stairs, the cut still visible today. The arrival of the 'King's Men' brought about Tyttensor's swift arrest for high treason and he was escorted to London where he was executed, his headless body being returned to Penkhull, where it was buried in Stoke Church yard.
English history might well have recorded Penkhull as the place where Charles II died, and The Greyhound Inn would attract visitors from all over the world!
In 1704 the building was enlarged to its present size, and between 1802 and 1828 was owned by another yeoman, John Townsend, who divided it into three dwellings.
In 1829 one George Thomas Taylor bought the 1704 building and converted it into a Public and Victualling House, laying the foundations of the pub as we know it today. In 1936, Parkers Brewery of Burslem acquired the old c. 1540 hall and incorporated it into the Greyhound Inn that you see today."
From information researched by Richard Talbot and contained on The Greyhound Internet site