House, now in use as school.

1803. Ashlar and brick with Welsh slate roof. 2-storeys, 3 bays, the central section of stone, a convex projecting bay with full-height columns carrying overhanging entablature, and with domed roof over. Central double doors and 12-pane sashes on each floor, with stone plinth, sill bands and cornice. Original cantilevered staircase inside.

The house was built for the potter, Josiah Spode. Additions to sides and rear.

Later used as a school for the blind and deaf, by 2000 - just for the deaf.
In 2003 opened as a primary school
The house was described by John Ward c.1840 as follows:
'Of the mansions within the Township of Penkhull, (we may say, indeed, within the compass of the Borough,) "THE MOUNT," erected by the late Josiah Spode, Esq., bears acknowledged pre-eminence. It stands near the village, and is surrounded by plantations and a highly-ornamental domain. The house is an oblong building of stone, with a semi-circular entrance on the west front; an elegant and lofty dome, which lights the staircase, gives an exterior air of grandeur to the structure."
---
"The Willows Primary School was formerly opened in June 2003 by Mr. P. Wood, Managing Director of Spode. The site was originally occupied by The Mount School for The Deaf in January 2003. The Willows is an amalgamation of the Close Junior, Penkhull Infant and Penkhull Nursery Schools.
The Willows Primary School is a unique building having been built on the former Mount Estate, home of the great English 18th Century potter Josiah Spode. The school is named after Spode's world famous "Willow Pattern" pottery which was originally designed by William Greatbatch, whose name is now commemorated as Greatbach Avenue where the Willows can be found."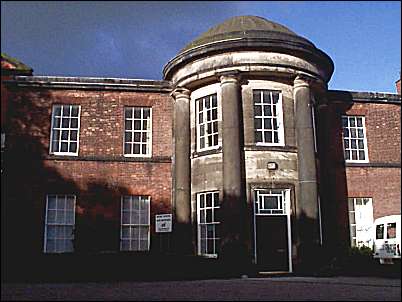 The Mount - home of Josiah Spode
Centre is the Vestibule
photo: 2000 - Steve Birks
Even today, the house is an imposing structure which was built to impress upon all visitors the commercial success, wealth and status of its owner. It is built mainly of brick with stone used to emphasise its architectural features.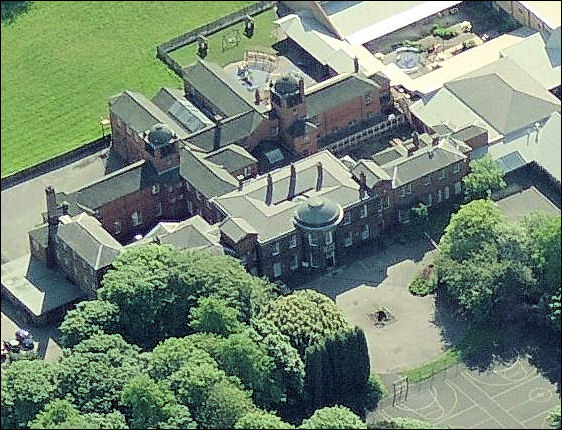 aerial photo: MS Virtual Earth 2008