back to "The Grand Tour" index
Neville Malkin's "Grand Tour" of the Potteries
buildings in and around Newcastle-under-Lyme




next: Moreton House, Wolstanton
previous: The Congregational Church, Newcastle
contents: index of buildings in and around Newcastle-under-Lyme

No 26 - Newcastle-under-Lyme Museum


The building now occupied by Newcastle Museum and Art Gallery was originally known as 'The Firs'. This large house was home to the Mosley family, who ran a drapery business in Newcastle. The Borough Council acquired the house in 1956 and shortly after opened it as a museum and art gallery.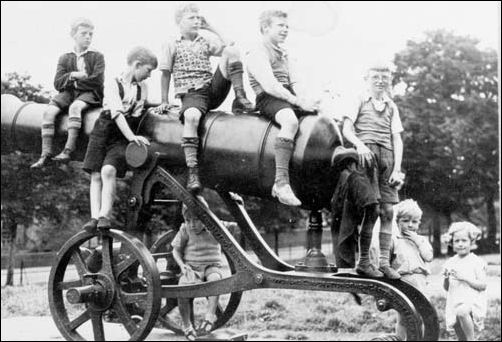 Cannon in Stubbs Walk, Newcastle
Children are here seen playing (c.1935-45) on the historic Crimean War cannon which was presented to the Borough of Newcastle by Samuel Christy MP. The cannon was moved from its pictured location opposite the Orme Girls School and could be found outside Newcastle Museum and Art Gallery in 2002.

David Sharman is pictured standing on the cannon wheel, with Marjorie Franks pictured on the far right hand side.

photos: © Borough Museum, Newcastle-under-Lyme
Staffordshire Past Track


Museum, Newcastle-under-Lyme
pen drawing by Neville Malkin - June 1976

Museum, Newcastle-under-Lyme - April 2009

"The first museum in Newcastle appears to have been established in 1876, when a public library with a reading room and museum was started in Lad Lane. In 1941 a Borough museum was founded. At first it occupied rooms in Lancaster Buildings and then, in 1956, it moved to the present building, the Firs, in Brampton Park. The house is dated 1855 and stands in extensive grounds, which include an aviary, with various species of birds, and even a few rabbits. At the entrance is a great iron cannon presented by Samuel Christy, M.P. to the Mayor and Corporation of Newcastle in 1857.

On the ground floor there are the history, industries and civic rooms, and on the first floor the Oriental, dolls and natural history rooms. The stairs and corridors are used mainly for military exhibits. The history room contains objects used in everyday life from early times, a stock of a pivot gun found on the castle site, the town-crier's staff, and some interesting old maps of Staffordshire, including one by John Speed and another by Christopher Saxton. The main exhibit in the industries room is a showcase containing Pomona ware, a Newcastle pottery of 1725-55. In the same room are examples of 19th century pipe moulds, some splendid Staffordshire toy wares, and also bracket and long-case clocks of local manufacture. The adjoining room is called the civics room and has, as its central exhibit, the town's first fire engine, built in 1740 by Richard Newsham, of London. Hanging on the walls are several Royal Charters: one is dated 8th July, 1372, confirming Henry Ill's 1235 Gild Merchant Charter granted to the Burgesses of Newcastle. There is also the first minute book, 1368-1684.

At the top of the stairs the showcases contain a collection of clocks, including an hour glass, a water clock, a Wedgwood earthenware mantle clock of 1879, and various electric movements. The Oriental room consists of the Shorter Collection, which includes a 19th century Japanese Lac cabinet, a Chinese painted alabaster screen, a large tapestry, Chinese pottery, animals, vases and other beautiful exhibits. The next area is devoted to a delightful array of colourful dolls and toys from 1840 to the present. There are 19th century teasets, children's books, costumes, a large Noah's Ark, and even doll pottery heads which were made locally during the two great wars. And, finally, there is the natural history room which has a large showcase containing stuffed birds and three aquariums."

Neville Malkin 9th June 1976


next: Moreton House, Wolstanton
previous: The Congregational Church, Newcastle
contents: index of buildings in and around Newcastle-under-Lyme


back to "The Grand Tour" index

---