back to "The Grand Tour" index
Neville Malkin's "Grand Tour" of the Potteries
buildings north of the Potteries




next: Reginald Mitchell's House, Butt Lane
previous: Half Timbered Houses, Sandbach
contents: index of buildings north of the Potteries

No 32 - Talke Cross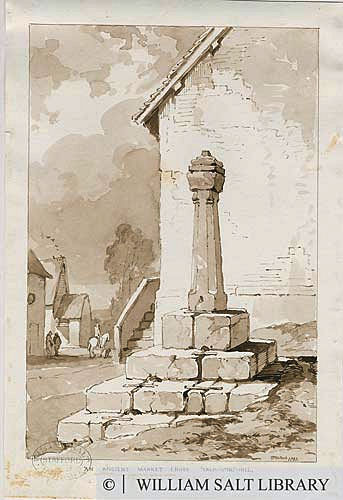 'An Ancient Market Cross, Talk-o'-the-Hill.' Showing a tapering pillar of square plan with the corners removed, leading to the head. The cross above is missing apart from the neck. There are five squared steps below. It stands at the side of a building.
Artist: Thomas Peploe Wood. 1841
[Reproduced by permission of the
Trustees of the William Salt Library, Stafford]

Talke Cross
pen drawing by Neville Malkin - March 1976


The stone cross, Talke
This cross was erected in 1253 on the site of the market at "Talk o' th' Hill"
and was restored in 1887. It stands opposite the Swan Inn, near to St Martin's Church.
Photo: © Steve Lewin June 2006
licensed for further reuse

"This ancient stone cross and attractive building are to be found at Talke, also known as Talk-o'-the-Hill, a village on a prominent ridge close to the Staffordshire-Cheshire border. The cross, unfortunately, has no explanatory inscription other than "Erected 1253, Restored 1887." And so, I began searching for something that could be associated with the first date, and, as luck would have it, I came across a Charter of Free Warren granted to James de Auditheley by Henry III in 1253. The charter included the grant of a weekly market in the Manor of Talk to be held on Wednesdays, and a fair of three days' continuance on the Feast of St. Martin, and the days before and after. Both the fair and the market have long since been discontinued, but I would imagine the cross was built to commemorate the granting of the charter and probably stands on the site of the original marketplace.

The house in the background belongs to the County Council, is built from brick and stone and has two two-storeyed bow windows, with columns dividing the three lights.

The origins of the placename remain unexplained. In the Domesday Book it is "Talc," in the Charter Rolls of 1252 it is "Talk," and by 1276 it appears as "Talke." In Domesday, it states that Talke was held by Gamel, a king's thegn, and the extent of land was one virgate, valued at three shillings.

One of the many interesting incidents connected with Talke took place in the summer of 1781, on the descent of the hill. A load of gunpowder, transported by a carrier's waggon, was suddenly ignited by a spark created by friction of the wheels. The explosion must have been terrific, because the man attending the waggon and all his horses were killed, and neighbouring houses reduced to rubble. The heat from the blast reduced the man's fob watch to a solid mass of metal, an exhibit later to be seen in the possession of a Mr. H. Williamson, of Greenway Bank."

Neville Malkin 28th March 1976





next: Reginald Mitchell's House, Butt Lane
previous: Half Timbered Houses, Sandbach
contents: index of buildings north of the Potteries



back to "The Grand Tour" index

---