back to "The Grand Tour" index
Neville Malkin's "Grand Tour" of the Potteries
buildings of Tunstall and the surrounding area





next: Harecastle Tunnel
previous: St. James's Church, Newchapel
contents: index of buildings of Tunstall and surrounding area

No 36 - James Brindley's Grave

James Brindley 1716-1772
Brindley set up business on his own as a millwright, but even though he built on his good reputation, work was too slow for an ambitious young man and he set his sights on the Potteries where the Industrial Revolution had begun to gather momentum. He rented a workshop from the Wedgwood family and expanded his business - this brought him into frequent contact with John and Thomas Wedgwood and their more famous nephew Josiah, already an influential master-potter and campaigner for better transport.

Josiah's biographer comments upon the intimate and friendly relationship that sprang up between the Wedgwood's and Brindley, while Josiah's own letters frequently refer to the engineer's ability and integrity.

Wedgwood wrote in 1767: 'I am afraid Mr Brindley will do much and leave us us before his vast designs are over. He is so incessantly harassed on all sides, that he hath no rest for his mind or body'. It was Wedgwood who introduced Brindley to the eminent physician Dr Erasmus Darwin, the grandfather of Charles Darwin.
---
After Brindley's death Erasmus Darwin wrote:

So with strong arm immortal Brindley leads
His long canals and parts the velvet meads;
Winding in lucid lines, the watery mass
Minds the firm rock, or loads the deep morass;
While rising locks a thousand hills alarm,
Flings o'er a thousand streams its silver arm;
Feeds the long vales, the nodding woodland laves,
And plenty, arts and commerce freight the waves.

Nymphs, who erstwhile on Brindley's early bier,
On snow-white bosoms shed the incessant tear;
Adorn his tomb! oh! raise the marble bust,
Proclaim his honours and protect his dust!
With urns inverted around the sacred shrine,
Their ozier wreaths let weeping naiads twine;
While on the top mechanic Genius stands,
Counts the fleet waves and balances the sands.
© Staffordshire Past Track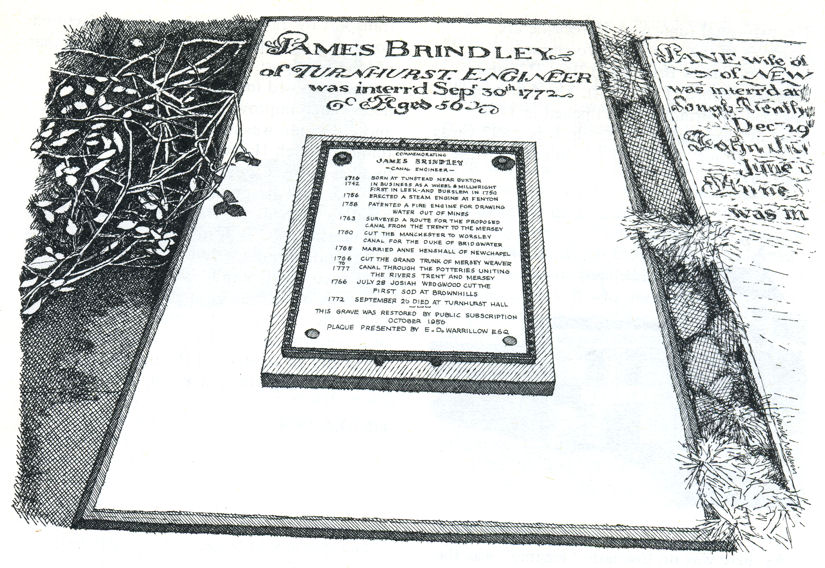 James Brindley's Grave, Newchapel
pen drawing by Neville Malkin - April 1976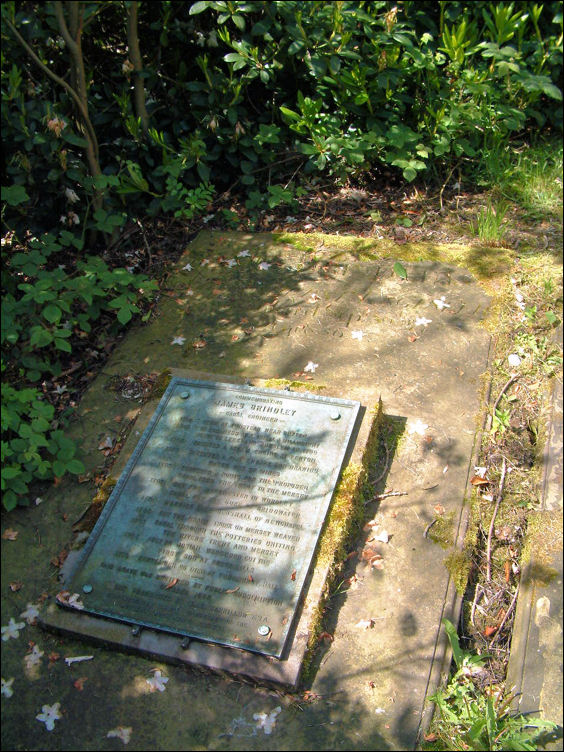 James Brindley's Grave and later plaque
photo: May 2009
"Beneath this plain tombstone in Newchapel Cemetery lies the remains of that brilliant engineer and canal builder, James Brindley. He was born in 1716 at Tunsted in the High Peak, near Buxton, the eldest son of a farmer, who, in the 1720s, moved to Lowe Hill, near Leek.

Young James' education was a straightforward one, consisting of the three R's. At about the age of 17 he was apprenticed to Abraham Bennett, a millwright from near Macclesfield. At a very early stage of his training it is said that he inserted all the spokes of a cartwheel the wrong way round! But, with more experience, he became an expert workman, developing a natural tendency for applying water power for mechanical purposes. After his apprenticeship he continued as a journeyman and two years later, about 1741, started as a millwright on his own, first at Leek and then, in 1750, at Burslem.

He gained a reputation for being an ingenious mechanic and was nicknamed "The Schemer." His fame spread far and wide, and from 1752 onwards he was engaged on numerous projects throughout Britain. On one occasion in 1760, while working for the Duke of Bridgewater, he proposed to carry the Worsley-Manchester Canal over the River Irwell by means of a 39ft high aqueduct; an eminent engineer, who had been consulted about the project, ridiculed the attempt, and retorted: "I have often heard of castles in the air, but never before was shown where any of them was to be erected." Brindley was not discouraged, and in 10 months the aqueduct was completed.

His involvement prevented him from indulging in any kind of amusement, and on one occasion, when prevailed upon by friends to attend a London theatre, found his mind so disturbed by the play that he declared he would not on any account ever go to see another. In those pioneering days there were no books to consult; when he found difficulty resolving his problems he would retire to his bed for one, two, or even three days, until he had found the answer. His complete devotion and constant attention to work eventually brought on a hectic fever, which continued with little interruption for some years and was finally responsible for his death at Turnhurst Hall, on September 27th, 1772, at the age of 56.

In 1765 he had married Anne Henshall, a Newchapel girl, by whom he had two daughters-Anne, who died unmarried, on her way home from Sydney, in 1838; and Susannah, who married a Bristol merchant."

Neville Malkin 14th April 1976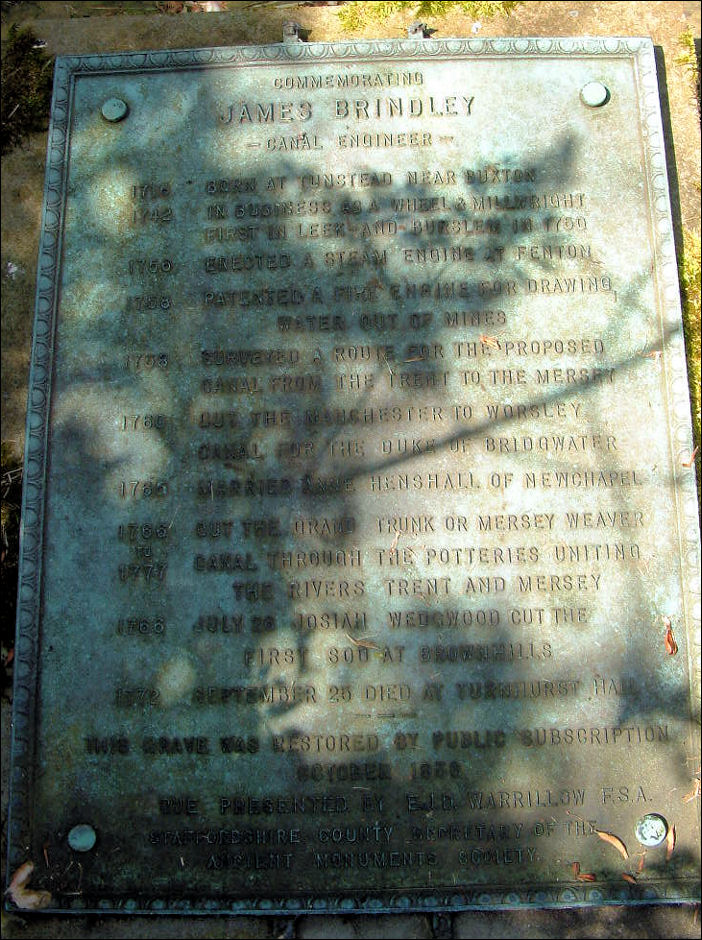 ---

- click for index page on Brindley -
---




next: Harecastle Tunnel
previous: St. James's Church, Newchapel
contents: index of buildings of Tunstall and surrounding area



back to "The Grand Tour" index

---