back to "The Grand Tour" index
Neville Malkin's "Grand Tour" of the Potteries
buildings of Cobridge





next: Christ Church, Cobridge
previous: Ford Green Hall, Smallthorne
contents: index of buildings outlying the town centres

No 53 - Arnold Bennett's Home, Cobridge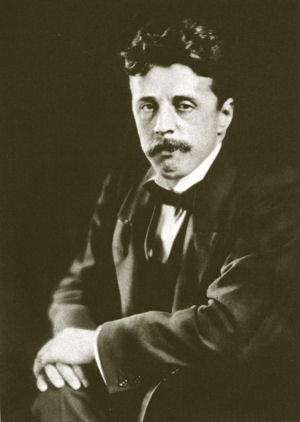 Bennett, (Enoch) Arnold (1867-1931),

English novelist, playwright, and essayist, born in Hanley (27th May 1867), Stoke-on-Trent, Staffordshire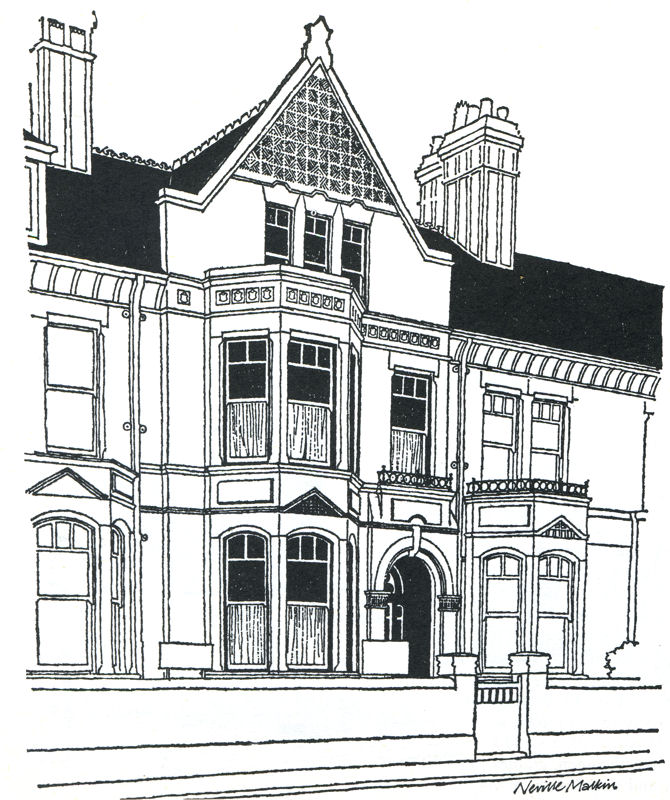 The Bennett family home, Cobridge
pen drawing by Neville Malkin - July 1974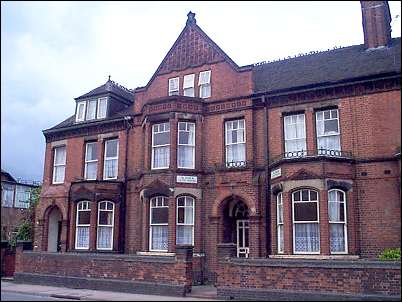 Arnold Bennett's home No 205 Waterloo Road
The home of the writer Arnold Bennett between 1880 and 1888.
Enoch Bennett, the father of Arnold Bennett, had bought a building site on Henry Meakin's estate for £200 in 1879 where he built a house at a cost of £900, No 205 Waterloo Road. This is a large three-storey red brick house with a façade much embellished with terra cotta. It has two bay windows at the front and six bedrooms.
There is no information about the architect but there is a good possibility that it was designed by George Ford, who was living on the other side of Waterloo Road.
"The renowned occupant of this house, 205, Waterloo Road, Cobridge, was Arnold Bennett, novelist and playwright. His early life in the Potteries affected him deeply, and his personal memories are depicted in his powerful novels about the "Five Towns". He was born on May 27th, 1867, at 90-92, Hope Street, Hanley, over a draper's shop that his father, Enoch, ran in order to pursue his legal studies. He was the eldest of six children, with two brothers, Frank and Septimus, and three sisters, Cissie, Emily and Tertia; Tertia was his closest confidante. In 1875 his father graduated to the position of solicitor's clerk and, in 1876, at the age of 33, qualified as a solicitor. After certain vicissitudes Enoch's financial worries eased and they took a house at 198, Waterloo Road and, while living there, Enoch commissioned the house to be built which is now known as Arnold Bennett's Museum. The family moved in in 1881 when Arnold was 14. It cost £1,001 and was a great step up the social ladder.

Meanwhile, Arnold was being well educated and Enoch becoming more successful as a solicitor. When Arnold reached 18 he qualified for a place at university, but his father, who was by now the senior partner in Bennett and Baddeley, had other ideas about his future. So, on his 18th birthday, he began work in his father's office. He remained there until nearly 22, when he confronted his father and asked for a proper wage, which was promptly refused. He then took the greatest decision of

his life and left the Potteries to take lodgings in London and work for a firm of solicitors as a clerk. This action was the first of a series of events that eventually brought him fame and fortune.

In 1953, Stoke-on-Trent City Council bought the house with the sole intention of using it as a museum to the memory of Arnold Bennett. In 1960 it was officially opened to the public by Richard Bennett, Arnold's nephew."

Neville Malkin 3rd July 1974
[note: this house is no longer a museum, it reverted back to a private dwelling
- it is a listed building]


more on Arnold Bennett




next: Christ Church, Cobridge
previous: Ford Green Hall, Smallthorne
contents: index of buildings outlying the town centres




back to "The Grand Tour" index

---