back to "The Grand Tour" index
Neville Malkin's "Grand Tour" of the Potteries
buildings of Hanley





next: The Albion Hotel, Hanley
previous: Indoor Market, Hanley
contents: index of buildings in Hanley

No 67 - The General Post Office, Hanley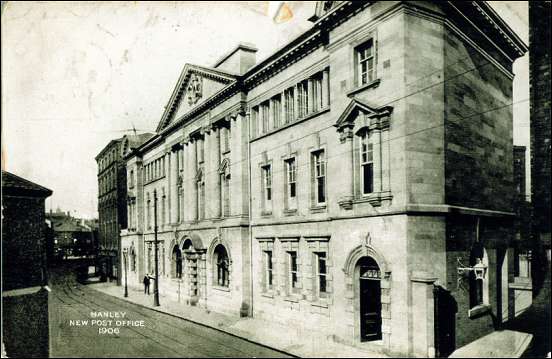 New Post Office, Hanley - 1906
The Post Office was built with stone from the Waterloo Stone Quarries at
Alton at a cost of about £13,000. Designed by John Rutherford and opened in
October 18th 1906.
In previous years the site was a regular venue for Batty's Circus.

The General Post Office, Hanley
pen drawing by Neville Malkin - February 1976

The General Post Office, Tontine Street, Hanley
at the end of Tontine Street can be seen the Albion Hotel


"The opening of Hanley General Post Office must have been a very colourful occasion. At about noon on Thursday, October 18th, 1906, a large crowd of important people and other spectators assembled at the Old Town Hall to await the arrival of the Postmaster General, who was to perform the official opening. A procession, headed by mounted police and the Artillery Band, made its way through the principal streets of Hanley to the new post office.

In the main hall, the Postmaster General emphasised the need for the public to write more clearly, because, in the previous year, more than 25 million letters and packages were undelivered; they had not been properly addressed. Among them were sums of money amounting to £650,000. Following the grand opening he was guest of honour at the Grand Hotel. Several speeches were made, and the Postmaster General remarked, "it was ridiculous and illogical that one should be able to send a letter to Canada for a penny, whilst the cost to the United States was 2½d."

However, back to the post office. The site was acquired by Hanley Corporation in 1876 and sold to the Post Office in 1900 for the same price. In former years, the ground had been used by the popular Batty's Circus. The building is classical in concept and built with Hollington stone: the principal feature of the elevation is the triangular pediment supported on bold Ionic columns and pilasters. Originally, the main entrance was in the centre and opened directly into the public office, a large room with a terrazzo marble mosaic floor and a counter extending full length. The remainder of the ground floor was occupied by the sorting office, clerks' rooms, and retiring rooms for the postal staff.

On the first floor the Postmaster and engineering staff had their offices, and the whole of the second floor was allocated to the instruments and telephone rooms. The building was made fire resistant by using stone stairs, concrete floors and steel beams.

The architect was John Rutherford, of the Office of Works, the contractors, the local firm of J. Meiklejohn and Sons, and the carving executed by R. Haughton, of Worcester. The total cost of the building, including fittings and furniture, was in the region of £13,000."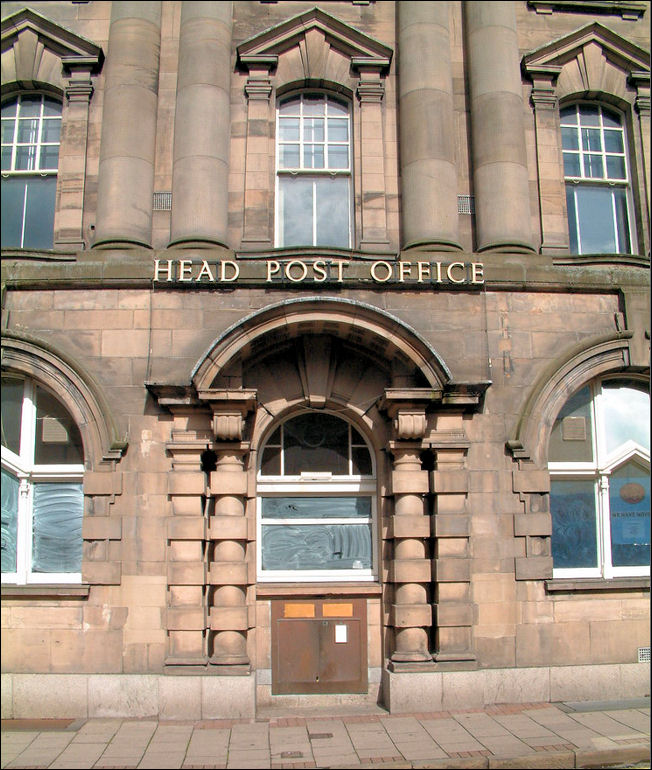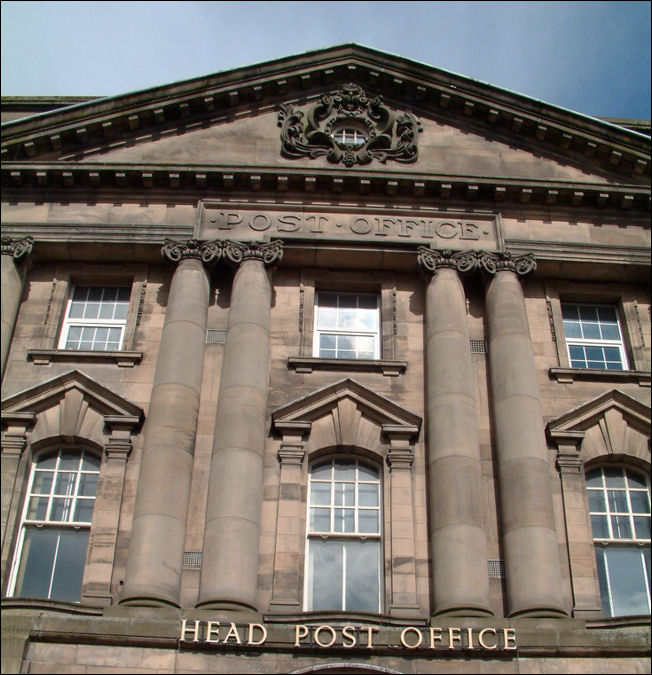 Central pediment carried on paired Doric shafts and coat of arms in apex,
above basement storey with central round arched entry in stone canopy, and round arched windows.
photos: June 2008




next: The Albion Hotel, Hanley
previous: Indoor Market, Hanley
contents: index of buildings in Hanley



back to "The Grand Tour" index

---