back to "The Grand Tour" index
Neville Malkin's "Grand Tour" of the Potteries
buildings of Shelton





next: Bell and Bear, Shelton
previous: Mineworkers Union Building Hanley
contents: index of buildings in Hanley

No 78 - St. Mark's Church, Shelton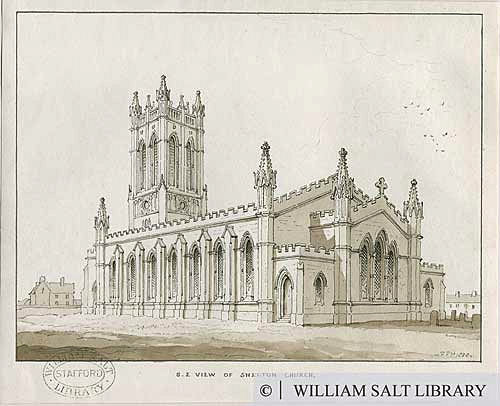 Sepia wash drawing of St. Mark's - drawn in 1838
South East View of Shelton Church

South east view showing a modern Gothic church, built 1831-4.
There is a nave with aisles of seven bays, a small chancel, a vestry, and a tower at the west end. There are large pinnacles on turretted angles.
Artist: Thomas Peploe Wood
[Reproduced by permission of the
Trustees of the William Salt Library, Stafford]

St. Mark's Church, Shelton
pen drawing by Neville Malkin - Oct 1974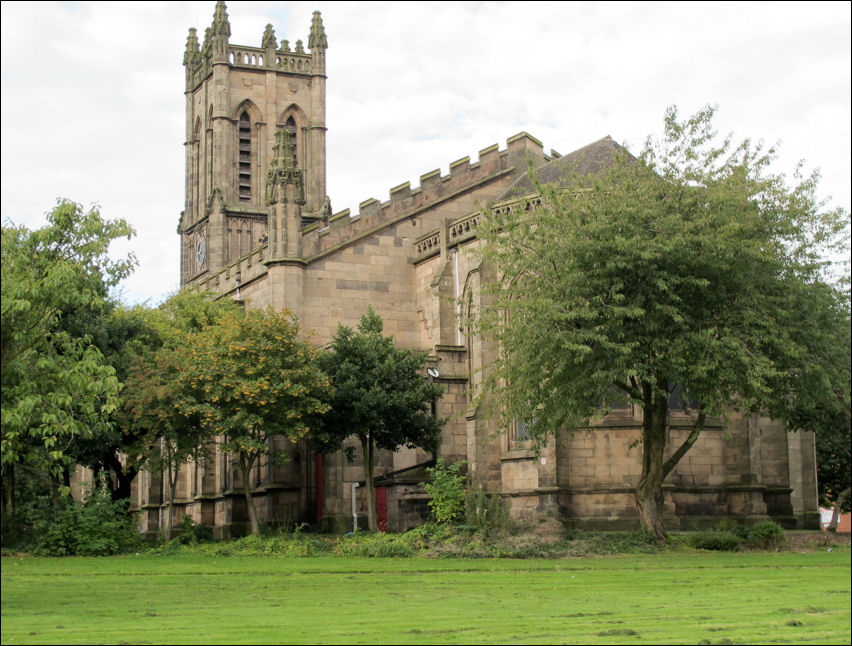 St. Mark's Church, corner of Broad Street and College Road
photo: September 2010
In 1868 the original chancel was replaced with the polygonal one seen in the photograph above.
In the 1970's the church was cleaned to remove the grime from over a 100 years of Potteries air.
"The church of St. Mark, which adorns the hill on which the ancient village of Shelton once stood, provides a riveting landmark. A particularly large church, it could accommodate some 2,100 people; originally 500 of the seats were free. It has a total length of 151ft., a width of 75ft. and the height of the very prominent tower is 120ft.
It was built in the Early English style by the Commissioners for building new churches, from a design by Pickersgill and Oates, of York, during the years 1831-33. The cost was in the region of £10,000, £250 of which was granted by George IV, and various other contributions, amounting to £500, given by local people. It was consecrated on June 19th, 1834, by Bishop Ryder, who must have had a very busy day, because he performed the same ceremony at both St. Mark's and St. James's, Longton; he made a gift of sacramental vessels to each church.
Shelton was part of the royal demesne at the time of the Domesday Survey, in which it is written as Scelfitone, a name which probably describes its elevated position.
There is a charming tale of some antiquity concerning a chap named Bell who was the tenant of Shelton Mill in 1485. When Henry, Earl of Richmond, later King Henry VII, was advancing with his army to encounter Richard III at Bosworth Field, his journey took him through Staffordshire. While in the region of Stafford his vast army became short of provisions, and the miller of Shelton generously provided him with the whole of his small stock, a favour which Henry did not forget. After taking the throne, he repaid the miller with the gift of his mill and pool, which made him completely independent of the manorial monopoly."

Three stage west tower with western doorway
Simple lancets, blind arcading and clock in second stage,
paired bell chamber lights with central pilaster above.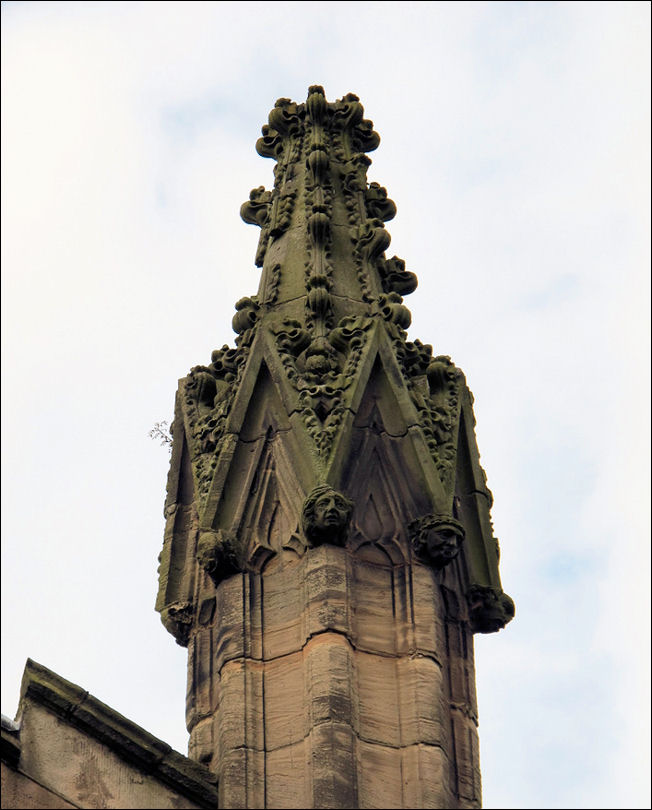 St. Mark's church stands on a prominent site in Shelton and its 120 foot (36.5 metre) tower is a landmark for miles around.
The largest church in the city measuring 151 feet by 75 feet (46 x 23 m). Designed by J. Oates, erected in 1833 of freestone ashlars (i.e. faced with thin slabs of masonry) in the Early English style at a cost of £10,000.
Most of the money came from the Church Commissioners, whose national brief was to finance new centres of Church of England worship in the rapidly expanding areas of population, and Shelton was one of these. Designed to hold a congregation of 2,100.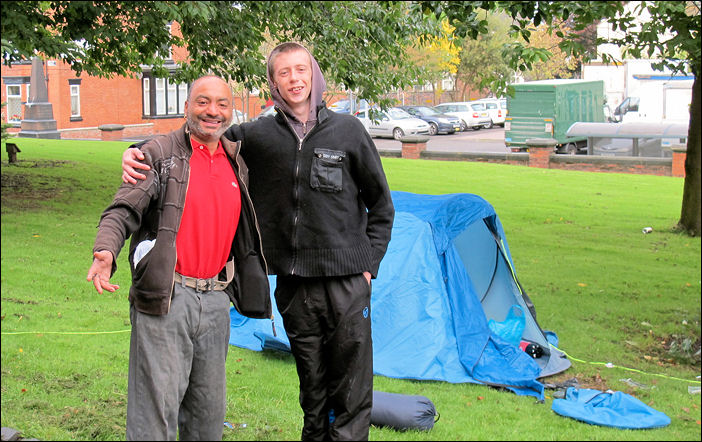 two homless men camping in the grounds overnight
seemed happy to have their photo taken




next: Bell and Bear, Shelton
previous: Mineworkers Union Building Hanley
contents: index of buildings in Hanley





back to "The Grand Tour" index

---