back to "The Grand Tour" index
Neville Malkin's "Grand Tour" of the Potteries
buildings in Longton





next: The Empire Theatre, Longton
previous: Independent Chapel, Caroline Street, Longton
contents: index of buildings in Longton
No 103 - Gladstone Pottery Museum


Gladstone China works - 1972
Buildings at the southern end of Gladstone China works, This view of the yard was taken in around 1972, prior to restoration. Parts of the Roslyn Pottery factory can be seen in this view. Gladstone China is now a museum.
© Stoke-on-Trent Museums - Staffordshire Past Track
Staffordshire Past Track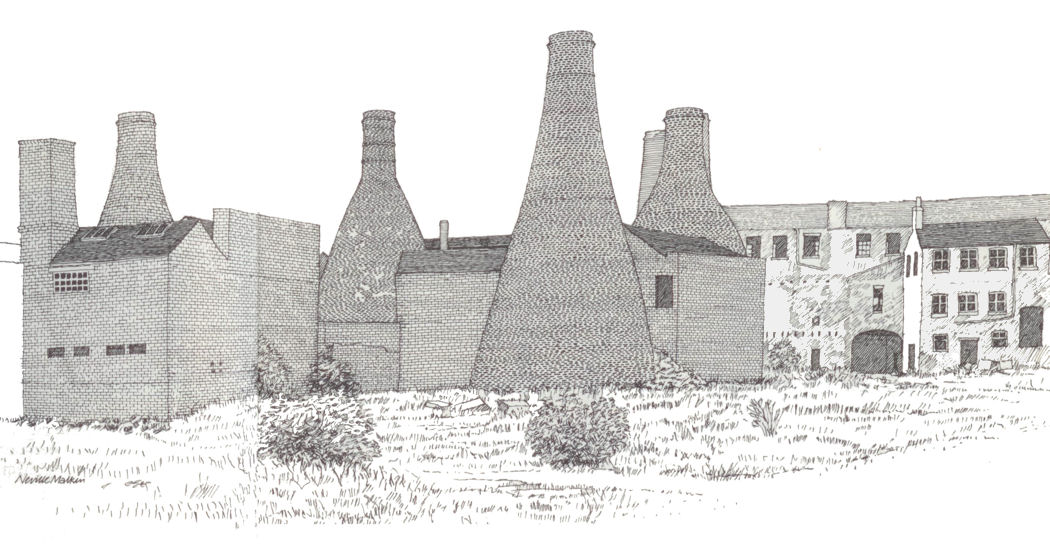 The Gladstone Pottery Museum, Longton
pen drawing by Neville Malkin - August 1975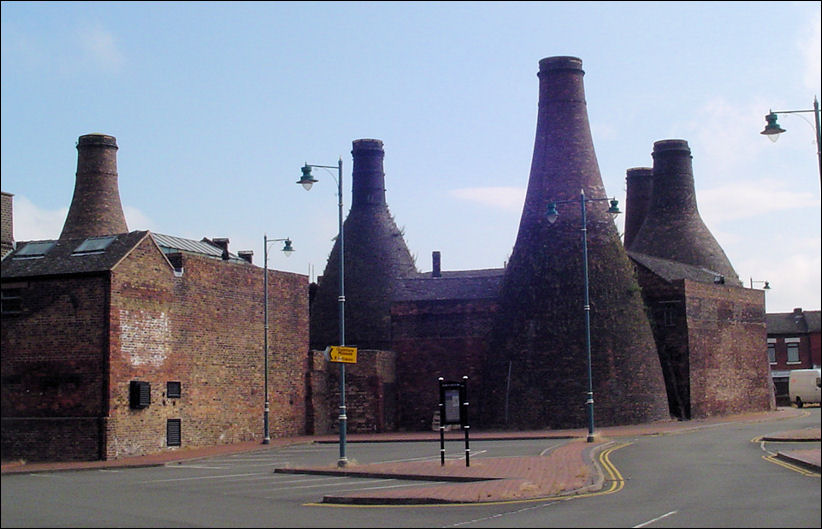 The Gladstone Pottery Museum, Longton
photo: July 2005

"This group of bottle ovens belongs to the Gladstone Pottery Museum in Longton and provides a grim reminder of the old Potteries.
We can appreciate the skill of the builders and the important part bottle ovens played in the development of the industry, but it is impossible to forget that such buildings were responsible for many premature deaths. At one time, thousands of these ovens dotted the Potteries landscape, belching out poisonous fumes and creating clouds of filthy pollution.

It was not until the 1960s that all of the old coal-fired ovens were closed and gas and electricity adopted as replacement fuels; in fact, these ovens at Gladstone were in use until March, 1960.
The growth of Longton was particularly rapid. In the mid-18th century it was just a few small houses at the junction of the Newcastle, Stone and Uttoxeter packhorse trails, and yet, by 1851, it contained the greatest concentration of pottery manufactories in the country, if not the world.
It has been suggested that the reason for the development of the china industry in Longton was the locally-mined coal, which was particularly suitable for the firing of bone china because of its long flame and very high temperature.
This site would have been typical of several developments in Longton about 1850. The wasteland in the foreground was occupied by the pottery of Allerton, Brough and Green; the distant buildings on the right housed the Bailey, Robey and Goodwin pottery; adjoining it but hidden by the chimneys, you would have found the Park Place works belonging to the Shelley family, who had worked on the site the since the 1780s.
The mass of bottle ovens and buildings, all part of the Gladstone, would, at that time, have been owned by John Hendley Sheridan, he rented his kilns and workshops to various tenants, the most prominent being Thomas Cooper, who employed 41 adults and 26 children in the production of china and parian figures."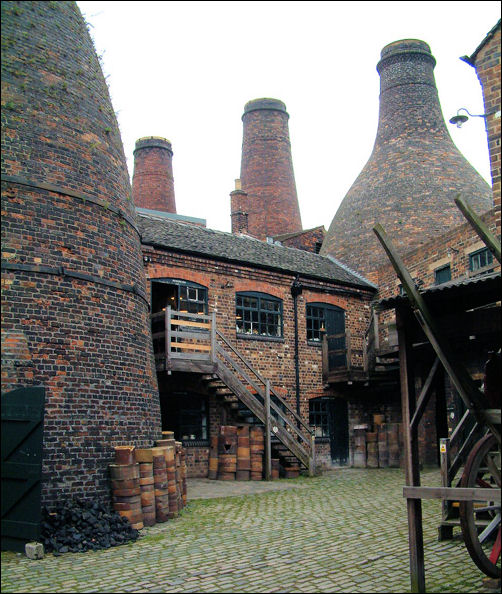 The yard at the Gladstone Pottery Museum

---




next: The Empire Theatre, Longton
previous: Independent Chapel, Caroline Street, Longton
contents: index of buildings in Longton
---