Jackfield
Jackfield

Jackfield is largely a generic name for a class of earthenware decorated with a glossy black glaze.


Traditionally this type of ware was made at Jackfield, near Coalport in Shropshire, England. But excavations and other evidence suggest that such pieces were also made in Staffordshire and at other ceramic centres in the 18th century.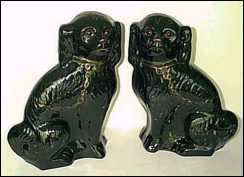 This is a pair of Jackfield spaniels that measure 13 inches.
Jackfield was made in the 1800's during the Victorian era.
It is red clay covered with a black enamel.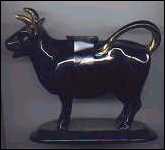 Jackfield Cow Creamer, made in England, 1850-70,
red clay, painted black with gilt highlight;
tail is up and resting on his back; horns facing forward.

questions / comments? email Steve Birks steveb@netcentral.co.uk