Lustre
Lustre

Lustreware is earthenware with an opaque white tin glaze, fired once, then painted with metallic pigments and refired in a reduction kiln. The designs reflected metallic hues of red, bronze, lime, and yellow.


When potters migrated from Iraq to the western Muslim world in the 10th century, the lustre technique moved with them. As with tin glazes, lustreware ultimately influenced Europe by way of Moorish Spain.

Lustre decorated earthenwares and porcelains come in many forms, the most common being the 'copper lustre' (produced from gold); this often completely covers the item. Silver lustre was also used in the same manner.

Other lustre effects were also used, one type being built up by one or two washes of lustre forming the scenic or other motif.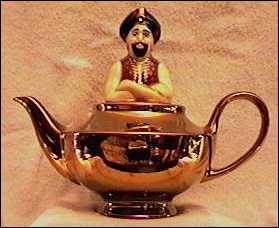 "Copper Lustre Teapot"
The colour is a copper lustre; cream genie with green turban;
has a black beard; and a dark red waist coat.
The backstamp on the bottom says
"The Genie Teapot Made by Wade England".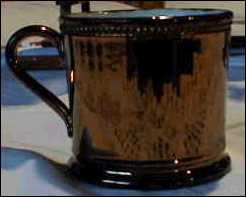 Small lustre cup. Cream inside.
No decoration. Possibly a child's cup.
Age: Unknown. Maker: Unknown. Size: 2 1/2"" tall.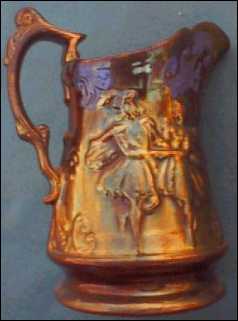 COPPER LUSTERWARE PITCHER .
Signed on bottom "ALBERTON LONGTON ENGLAND"
Measures 7" by 6" wide c1870'S.

questions / comments? email Steve Birks steveb@netcentral.co.uk