Spode Ware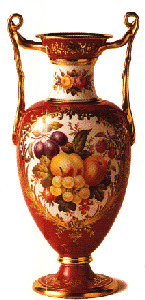 A superb example of ornamental Spode,
a handled vase entirely hand painted
by the artist, F. Adams from the late 18th century.

Spode's products during the first quarter of the 19th century consisted mainly of neatly potted useful wares with the elegantly simple shapes characteristic of Regency style. Typically, they were decorated with topographical views, country scenes, or flowers, by the bat-printing technique, a type of transfer-printing, in which the design was transferred to the porcelain on a pad, or bat, of gelatin, which produced a softly stippled effect. Alternatively, the wares were painted with flowers in bunches or sprigs in a huge variety of patterns. Both types of decoration were enhanced by gilded borders.

Under Spode's leading decorator, Henry Daniel, new gilding and enamelling techniques, and effects such as lustre decoration, were introduced, sometimes for lavishly decorated display pieces. The earlier staples, earthenwares and stonewares, were continued, and a range of interesting unglazed bodies—basalts, redwares, and canewares—were among Spode's novelties.
One of the earliest Spode pieces in existence, an enamelled teapot, c.1780

An example of caneware.

A new form of stoneware, decorated in Oriental style with blue transfer prints and polychrome painting, marketed as Spode's Stone China, was added from about 1813.

Spode remained at the forefront of bone china and stone china production until 1833, when the factory was acquired by William Taylor Copeland and Thomas Garrett: it remained under their names until 1847, when Copeland became the sole owner.

During the 1840s a new hard, white unglazed porcelain, known as "statuary porcelain" and later as "Parian" from its marble-like quality, was first produced. It was acclaimed as the ideal material for ornamental figures and sculptures, and it became one of the great successes of Victorian ceramic art.

As well as producing Parian ware and elaborate dinner services for special commissions, the factory maintained its output of high-quality decorated wares with plenty of gilding. Some of the best were painted by Charles Ferdinand Hürten, the leading flower painter of his day.

Spode participated with great success in the international exhibitions of the period. Most important was the wide range of well-made but practical (and commercial) tablewares produced throughout the 19th century.
Two of the most important developments
in the history of English tableware.


Blue underglaze printing

Spode Fine Bone China

Spode Crest
found on current ware




of Spode

questions / comments? email Steve Birks steveb@netcentral.co.uk