A photo walk around Cobridge, Stoke-on-Trent
Cobridge: A Victorian Suburb
Number 184 Waterloo Road
Camoys Terrace
location 11 on the map |tour map|




next: 159 (Terrace house) Waterloo Road
previous: Numbers 184 to 188 Waterloo Road
see 1878 OS map for details of the location of these houses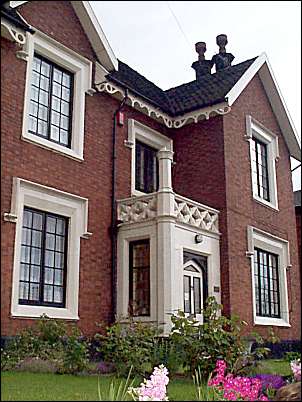 The first phase of development of the Grange Estate included the construction of "Camoys Terrace" (No 184 & 186 Waterloo Road), a pair of large semi-detached houses in the Gothic style. No 184 contained 8 rooms and No 186 7 rooms, each with a front garden and a large rear garden plus a coach house and driveway to Waterloo Road.
In 1851 one of the houses was occupied by William Kennedy, a pottery manufacturer at the Washington works.
---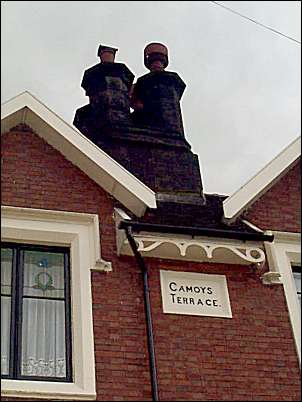 By 1842 the 220 acre Rushton Grange estate had passed to Lord Camoys. Shortly afterwards he began to redevelop the land on the east side of the estate next to Waterloo Road.
---
photos: 2001




next: 159 (Terrace house) Waterloo Road
previous: Numbers 184 to 188 Waterloo Road

---
1881 census:
Dwelling: 184 Waterloo Road
Census Place: Burslem, Staffordshire, England
| | | | | |
| --- | --- | --- | --- | --- |
| Name | Marr | Age | Sex | | Birthplace | Occupation |
| Joseph WATKIN | M 34 M | Head | Burslem | Colliery Proprietor |
| Sarah E. WATKIN | M 27 F | Wife | Lacoton, Cheshire | |
| Ada WATKIN | U 6 F | Daur | Wolstanton | Scholar |
| Earnest WATKIN | 5 M | Son | Stone, Staffordshire | Scholar |
| Edith WATKIN | 3 F | Daur | Stone, Staffordshire | |
| William WATKIN | 2 M | Son | Stone, Staffordshire | |
| Martha WATKIN | 6 m F | Daur | Stoke | |
| Jane WATKIN | W 62 F | Mother | Burslem | Annuitant |
| John WATKIN | U 28 M | Brother | Burslem | Annuitant |
| Matilda JOHNSON | 19 F | Serv | Burslem | Servant Domestic |
| Edna SIMCOCK | 16 F | Serv | Burslem | Servant Domestic |

Dwelling: 186 Waterloo Road
Census Place: Burslem, Staffordshire, England
| | | | | |
| --- | --- | --- | --- | --- |
| Name | Marr | Age | Sex | | Birthplace | Occupation |
| James C. FOWLER | M 36 M | Head | Bedford | Wesleyan Minister |
| Jane FOWLER | M 33 F | Wife | Nottingham Bulwell | |
| Frances M.S. FOWLER | 6 F | Daur | Weymouth, Dorset | Scholar |
| Margaret A. FOWLER | 3 F | Daur | Cambridge | |
| Gertrude J. FOWLER | 3 m F | Daur | Burslem | |
| Elizabeth | U 26 F | Serv | Hollington, Staffordshire | Servant Domestic |
| Clara CRUTCHLEY | 15 F | Serv | Manchester | Servant Nurse |

---
06/12/2001