A walk around Dresden, Longton, Stoke-on-Trent
Dresden & the Longton Freehold Land Society
location 1 on the map |tour map|
Church of the Resurrection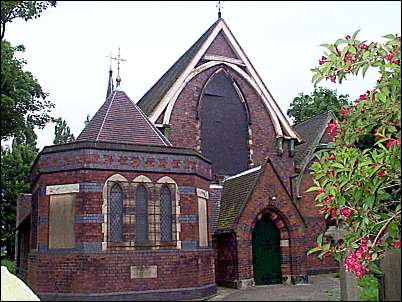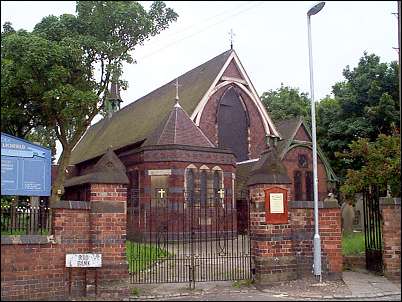 photos: June 2001
The Duke of Sutherland provided land for a church and graveyard bordering on the edge of the Dresden estate at the bottom of Red Bank. The report of the opening of the new church in 1853 is given on the next page. The first church designed by George Gilbert Scott soon proved inadequate for the increasing population and was extended in 1863 and again in 1873.

The monuments in the graveyard reflect the class divisions on the estate. As one might expect all the larger and more imposing tombstones were erected over vaults purchased by the residents of the detached and semi-detached villas. Initially, the incumbent was also heavily dependent on the rents which they paid for the pews which brought in £68 a year to add to his annual stipend of £48. By the late 1880s the Ecclesiastical Commissioners had raised this to £230 a year, subject to the abolition of the pew rents.

In 1870 schools were constructed next to the church at a cost of £700 to accommodate 450 children. Again these too proved to be incapable of accommodating local children and were extended in the 1880s to take 600 pupils.

The church and school are shown on the extract from the 1878 Ordnance Survey map. Middle class residents sent their children elsewhere. Within a short period of time several private schools were opened on the estate.