A walk around Dresden, Longton, Stoke-on-Trent
Dresden & the Longton Freehold Land Society
location 10 on the map |tour map|
Ricardo Street
Ricardo Street - named after John Lewis Ricardo - Liberal MP for Stoke-on-Trent in 1841
and Chairman of the North Staffordshire railway from 1846-1862.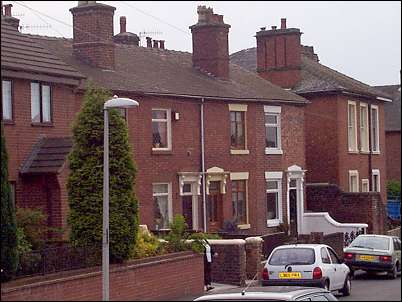 photos: June 2001
| 1878 OS map of Ricardo Street |
RICARDO STREET, DRESDEN

Ricardo Street was often described as "the best street in Dresden"
In fact the street had two quite distinct sections. The western part of the street up to the junction of Lansdowne Street was built up with terrace houses many of which have since been demolished.

By contrast the eastern end of the road, which adjoined the boundary of the estate, contained mostly villa residences. These were built not only for owner occupation but were also available to let as the following advertisement in the Staffordshire Advertiser on 20 April 1867 makes clear: "TO BE LET, a detached VILLA RESIDENCE, situate at the top of Ricardo-street, DRESDEN, lately in the occupation of Mr Charles Bullock, containing dining-room, drawing-room, kitchen, back kitchen, and 4 bedrooms, and other outdoor appurtenances. Rent £30 per annum. Apply to Mr R H GROVE, Duke-street, Fenton."

Several private schools were opened on the estate. The Misses Wood for example advertised their new school which was to open in a villa in Ricardo Street in the Staffordshire Advertiser on 2 May 1863:

"The Misses WOOD propose after Midsummer to open a SCHOOL at DRESDEN, Staffordshire, for the education of young ladies. The course of instruction will include English in all its branches, French, German, Music, Drawing, and Dancing. The terms are moderate."

The moderate terms were, of course, well beyond the means of the residents living in terrace houses.




previous: Park Inn public house on corner Carlise / Ricardo Street
next: 51 Ricardo Street