A walk around Dresden, Longton, Stoke-on-Trent
Dresden & the Longton Freehold Land Society
location 10 on the map |tour map|
Moneta House - 53 Ricardo Street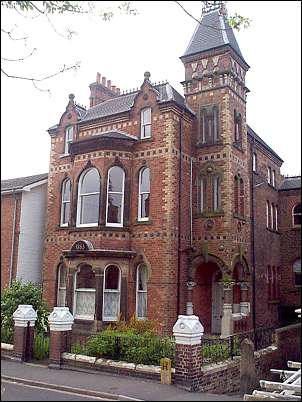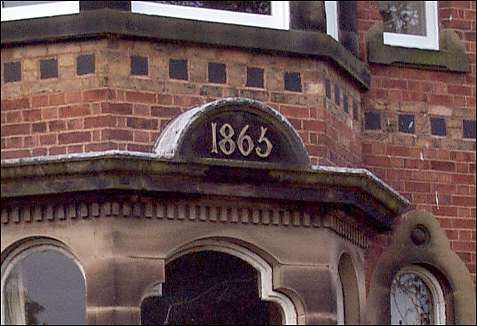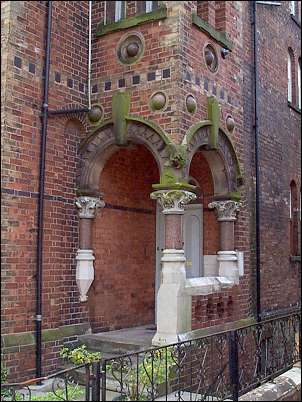 photos: June 2001
Moneta House, No 53 Ricardo Street, was built in 1865 to the design of R C Sutton, of Nottingham. This is a large villa built of red and yellow brick ornamented with stone complete with a prominent tower surmounted by ironwork.

In Keates's Directory of the Potteries for 1869-70 the occupier is listed as Mrs Proctor, "Monato house", Ricardo Street

After her death the property was advertised for sale in the Staffordshire Advertiser on 7 March 1874:

MONETA HOUSE, DRESDEN
MR HILL will SELL by AUCTION, at the CROWN AND ANCHOR HOTEL, LONGTON, on TUESDAY, the 10th day of March, 1874, at seven o'clock in the evening subject to conditions, this newly-erected and highly artistic RESIDENCE of the late Mrs Proctor, deceased, situate in the best street in Dresden. The Premises consist of a villa residence which is highly artistic and ornamental, of good design, and was built a few years ago after designs by R C Sutton, Esq., Nottingham. It comprises a spacious entrance-hall and noble staircase, large dining and drawing rooms, with good bay windows to Ricardo-street; breakfastroom, china closet, four bedrooms (one easily convertible into two), and several closets, kitchens, and cellars. The back part of the house looks out onto ornamental garden ground......

John Marfleet, a partner in the firm of Adderley & Marfleet, solicitors, Longton, bought Moneta House in 1874.

The Marfleet family had moved out by 1889 and there is no entry for No 53 Ricardo Street in the 1891 census returns so presumably it was standing empty.

Frederick W Webberley, chief bailiff of the county court was in residence by 1907 and was still in occupation in 1914.





previous: 51 Ricardo Street
next: more detail on 53 Ricardo Street