A walk around Dresden, Longton, Stoke-on-Trent
Dresden & the Longton Freehold Land Society
location 5 on the map |tour map|
Russell Street - The Red Gate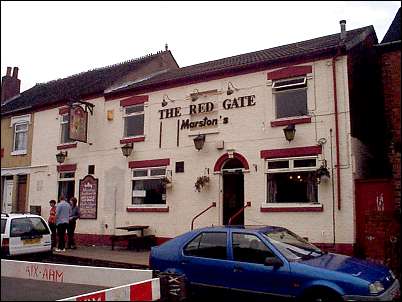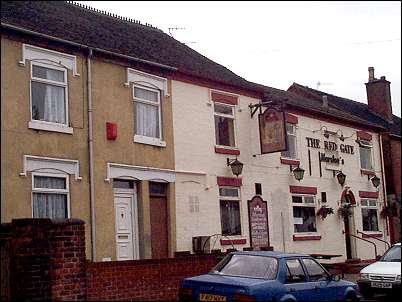 photos: June 2001
PUBLIC HOUSES AND BEERHOUSES

The Longton Freehold Land Society imposed no restrictions on the opening of public houses on the estate unlike the Duke of Sutherland, the owner of the surrounding land. As a result public houses soon made their appearance on the estate. Initially many of these buildings were opened as "beerhouses" which were restricted to the sale of ale, beer and porter, but where licenses could be obtained relatively easily.

An example is the Old Red Gate Inn in Russell Street. There had been a public house called the Red Gate Inn in the area since the 18th century. This stood on the Trentham Road on what is now the corner of Sutherland Avenue. The occupier was a tenant of the Leveson-Gower family of Trentham Hall and the public house was run in conjunction with a farm. In the early 19th century this public house was noted a a venue for bull-baiting, dog-fighting and other bloodthirsty "sports" which were held at the time of Trentham wakes and which attracted a large number of spectators from the Potteries. Eventually the Duke of Sutherland closed the public house in the middle of the 19th century and the building was renamed "Sutherland Cottage". In the early 1870s the name "Red Gate" was adopted by G B Martin who opened a beerhouse in a terrace house in Russell Street, Dresden. The house was advertised for sale in the Staffordshire Advertiser on 10 May 1873. Although it was described as the "Old Red Gate Inn" there was in fact no connection between this new venture and the old public house on Trentham Road.


FOR SALE by AUCTION at the CROWN AND ANCHOR HOTEL, in LONGTON, on Thursday, the 15 of May, 1873....
LOT 1. All the BEERHOUSE, known as the Old Red Gate Inn, with outbuildings thereunto adjoining, situate in Russell-street, Dresden, in the parish of Trentham, formerly occupied by Mr G B Martin. A good business has been done upon this lot The house is well fitted with fixtures, and the purchaser may have immediate possession.








previous: Russell Street
next: Carlise Street