Etruria: Etruria and Josiah Wedgwood


(1760 onwards)
The view from Etruria Hall
Location 1 on the index map

The factory was screened from the Hall by a plantation on the opposite side of the Trent and Mersey Canal (see 1832 map). Trees were planted around the house to hide the service areas but there was a clear view from the back of the house and the terrace below it over the Fowlea Valley towards Basford Bank and Wolstanton Church.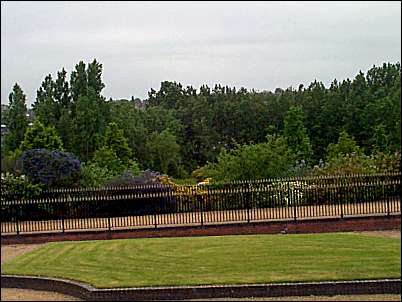 Current view from Etruria Hall - looking towards the canal
and location of the works.
NOTE: The gardens shown bear no resemblance
to those of Wedgwood's days.
Etruria Hall - just visible behind the trees
on the extreme right.

The larger building to the centre left is the
Moat House Hotel.

- taken from the position of the
old Shelton works (near to Wedgwood potworks)
The boat which is just visible is on the
Trent and Mersey canal.
---
next is the journey to the sea - the Trent & Mersey canal
---
questions/comments/contributions? email: Steve Birks