Hartshill Cemetery (reflecting the values of Victorian Society)
Transition between 3rd and 4th class graves
Location 10 on the index map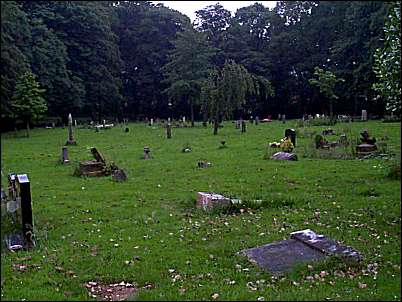 Looking towards the 3rd class area
The 3rd class area became full within 15 years
of the cemetery opening that additional land was purchase from
Knight of Longfield Cottage.
Although this area is full of graves there are few headstones
because people could not afford them.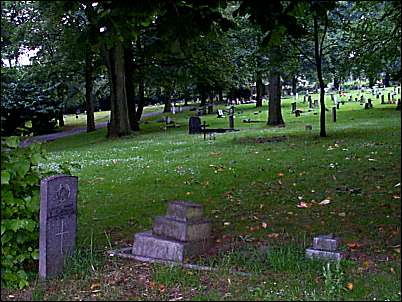 Boundary between the 3rd and 4th class area
3rd class in the background
4th in the foreground.

The 4th class area
This is the lowest, worst drained and dampest area, well away from the entrance
and the 1st class area where the pottery factory owners, publicans
and well off were buried on the highest ground.
The 4th class is where the paupers and those who died in the
workhouse were buried at public expense. There was
no headstone for these people.
The few headstones there are were added later by relatives who
had found where the deceased were buried.
---
next: is the 2nd class Roman Catholic area
previous: was 3rd class area and transition from 2nd to 3rd
---
questions/comments/contributions? email: Steve Birks