Hartshill Cemetery (reflecting the values of Victorian Society)
The 1st Class Roman Catholic Area
Location 12 on the index map


The 1st Class Roman Catholic area
This small triangular area is the total of the RC 1st class area.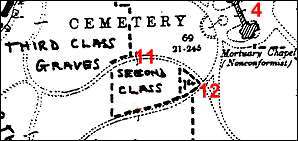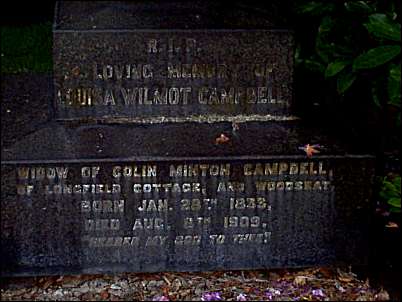 R.I.P.
In Loving Memory of Louisa Wilmot Campbell
Widow of Colin Minton Campbell
of Longfield Cottage and Woodseat
Born Jan 20th 1833
Died Aug 8th 1909
"Nearer my God to Thee"
Colin Minton Campbell's wife, Louisa, converted to
Catholicism and so she was not buried in the family vault.


Louis Marc Emanuel Solon (

)
Born in France and moved to Minton's pottery works in 1867
Lived at No1 The Villas.

---
next: is the 'modern graves' area
previous: was the second class Roman Catholic area
---
questions/comments/contributions? email: Steve Birks