Hartshill Cemetery (reflecting the values of Victorian Society)
Graves of the 2nd World War servicemen
Location 14 on the index map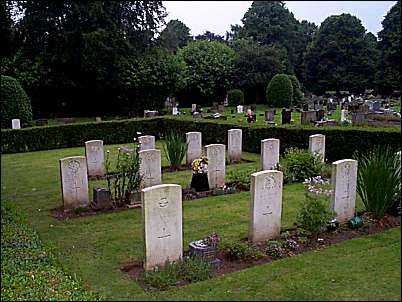 Memorials to the 2nd World War armed forces
Many ex-servicemen were in the war hospital (City General)
and those who died in the hospital were buried here in
the second class nonconformist area.
In Hartshill cemetery the ratio on those buried in consecrated : non-consecrated
ground was 3 : 1 and so there was room in this area for the servicemen's graves.
Consecrated ground was used for those of Church of England or no affiliation
and non-consecrated ground used for nonconformists.
The Stoke, Penkhull, Hartshill area was strong Church of England - but in
comparison the ratios are reversed in the Shelton cemetery (for Hanley)
where nonconformist (Methodist) traditions were predominant.
---
next: is the Sexton's lodge
previous: was the 'modern' graves area
---
questions/comments/contributions? email: Steve Birks