Longport: The 'Kingdom' of Davenport


(1760's - mid 19th C))
Top Bridge Pottery (Price & Kensington)
Location 7 on the index map


We are now back on the Trent & Mersey canal just above the wharf - this is the rear of the Top Bridge Pottery (Now Price & Kensington)

The bricked up doorways can be clearly seen - the ware was directly loaded onto the barges for transport to the docks at Liverpool for export.

Just at the left end of the building in this photo were the two toilets (seen on the 1851 map of the Top Bridge Pottery) - the toilets discharged direct into the canal.

Moses Lees the Superintendent of these works in 1841 was very proud of these toilets & records the fact in his interview with the commissioner investigation child labour, Mr Scrivens:

"We are well supplied with drains, which empty themselves into the canal at the back of the works. Our privies for the people are private, and separated for the sexes by a wall, the doors being opposed to each other. On no consideration do they interfere with each other; if they did I have no doubt that the parties would be discharged".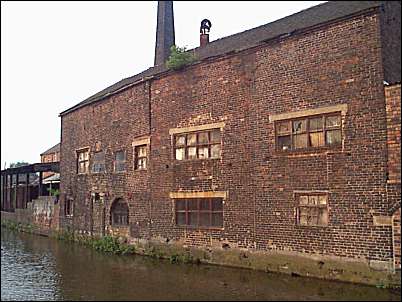 ---
next is along the canal, the clay wharf and footbridge to Chesterton
---
questions/comments/contributions? email: Steve Birks