the monks of Hulton Abbey & Sneyd Green





click the "contents" button to get back to the main index & map
next: the monks and Rushton Grange
previous: Hulton Abbey
Historian Fred Hughes writes....
Alma and Kenneth Stonior have lived at the top of Sneyd Green all their married life.
"I was born around here and remember the open fields now called King George Sixth playing fields," says Kenneth age 76. "It was rough open land then and although Hanley Deep Colliery waste tips obstructed the view to the west you could get some excellent views of Shelton and Stoke and even see Hanchurch and Swinnerton clearly when the smoke lifted."
These days, with all the new housing that has appeared over the years and the towing blocks on the Hanley skyline, this landscape remains impressive.
"Alma and I moved here as my grandfather's lodgers when we married and all our children played in these fields. The footpath from Northam Road to Buxton Street has been there as long as I can remember; it was the only way to get to the football pitches where kids played in their hundreds on Saturday mornings. There was no such thing as an eleven-aside football team. Everybody wanted to play so you'd be kicking a ball around with as many as twenty-three each side. Nobody counted and nobody picked the teams; you just joined in."
The unmade path travels straight along the whole eastern length of the recreation ground which was named King George IV Playing Fields in the 1930's. Tennis courts were built and a pavilion; a natural oasis in the middle of the Potteries. They've all gone now, exchanged for rows of grassed terraced fields that have their own unique allure.
"This old path unfortunately doesn't tell us which way the monks actually travelled between Birches Head and Sneyd Green," says historian Steve Birks. "We know Birches Head Road was their route and Sneyd Street took them to Cobridge, but whether the monks used this path is difficult to say. I like to think it is, but the earliest maps are inconclusive and it's proving difficult to establish the origins."
Kenneth is not surprised over the uncertainty.
"The lane has been badly neglected," he tells me. "I don't think anybody is quite sure who owns it or where the boundaries are. If it's a public road then it should be maintained and people should know about it. It's strange though that the footpath is the only entrance to the council-owned park and yet they tell me the road is un-adopted. It doesn't make sense."
A man who might know is Paul Pearce, the City's Right's of Way officer based at the Civic Centre.
"Part of my work is to authenticate all access roads in the city," he says. "It may be difficult to take in but there are some 1440 similar lanes to the one you're interested in throughout the city. I can tell you though that the fields were known as a recreation ground between 1900 and 1920. Confirmation of a right of way entails investigations that often take a long time if not years before we can apply for an order of access followed by public consultation. The current definitive map was established in 2005 and I have to say your path isn't yet on it. We know of its existence but at the moment all I can say is it is not proven to be a public highway therefore it cannot yet be adopted. Of course it would be helpful if we knew for definite that the Hulton Abbey monks used this path as a regular route to their farms in Cobridge, but so far we've found no such proof."
Paul has OS maps dating from the 1850's. Other maps in 1880 and 1900 show the footpath running through open-land mostly occupied by a honeycomb of drift mines. These maps are startling examples how the Potteries landscape has changed with heavy industry and dense housing development supplanting open fields.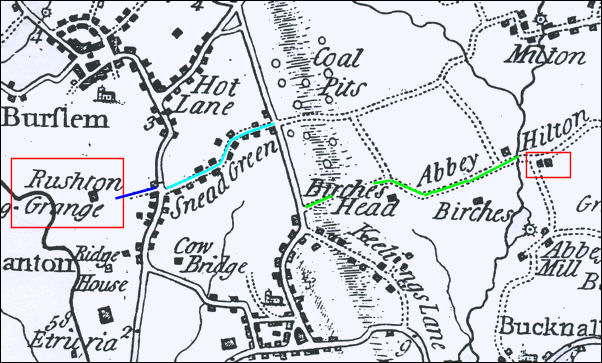 Yates 1775 map showing the relationship between Sneyd Street, Abbey Hilton and Ruston Grange
---
"By 1898 one map shows a Horse Lane renamed Leonard Road and a former Albany Road West is now Northam Road." says Steve. "And there was a large area still locally known as Clayholes Pit. As best it's my guess that our lane was one the monks used to get to the hilltop where the Sneyd Arms is."
An early postcard shows the Sneyd Arms as a large corner terrace, as impressive I reckon as the one there today.
"Research indicates it was a Parkers inn in 1905," continues Steve. "The innkeeper then was name Brocklehurst who were a big family around here that also owned the large farm in Birches Head Road. Sneyd Arms was rebuilt to its present fashion in 1938 and the peculiar dome over the door was added in 2000."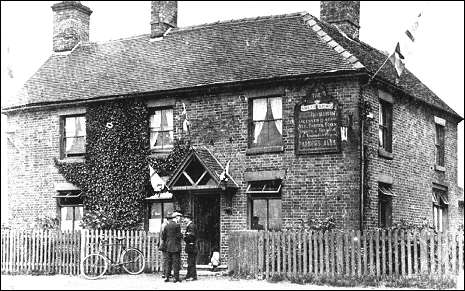 Postcard of the original Sneyd Arms
The Sneyd Arms became a Parkers Inn in 1905.
The licensee's name on the board is Brocklehurst, members of the Brocklehurst family lived in the Sneyd Green area and owned the farm in Birches Head Road.
---
Chris Duncan is a trainee manager of the Sneyd Arms.
"I've worked here for five years," he says. "There's not much left of the inside that former regulars will recognise. Firstly it is now completely open-plan. The cosy rooms and the bars and lounge have all gone. The garden and children's play area at the back was once a bowling green. We change with the times don't we? I suppose we have to."

more on Hulton Abbey & Rushton Grange