Trubshaw Cross - 'Major gateway provides a glimpse into cities past'




click the "contents" button to get back to the main index & map
next: Brownhills & Dr Oliver
previous: Bradwell and the Sneyd family

Historian Fred Hughes writes....
Percy Adams of Woore Hall was one of North Staffordshire's most accomplished historians particularly in his study of the Adam's family of potters. He was certainly ahead of his times when it came to ancestral research into many well-known Staffordshire families. But perhaps his most important contribution was his restoration of Trubshaw Cross in 1949 that lit up the shadows of a world that was nearly lost forever.
"His research into Tunstall's byways provided an insight to what the terrain looked like before the invasion of communications in the course of the Industrial Revolution," says historian Steve Birks. "Can you imagine a winding lane from the rudimentary hamlet of Burslem crossing dangerous marshland and open ditches before it reached Newcastle? We have inklings as to what this looked like in a Parliamentary Act for a Turnpike Road in 1762 describing it as 'going by Trubsharv Cross, and the Tan-House in Wolstanton. Down Sparks Hollow and over a common field called Brampton, to Newcastle.' But Percy Adams takes us farther back than this."
Trubshaw Cross connected a minor lane to Tunstall with the packhorse lane from Burslem. These days I wouldn't advocate dodging the unremitting traffic to reach the island refuge. But if you do manage to get to it, say on a quiet day, you will see some modest carved lettering on the base of the cross informing you that Thomas Trobbeschawe was a juror at the great court of Tunstall during the reign of Richard II in 1378.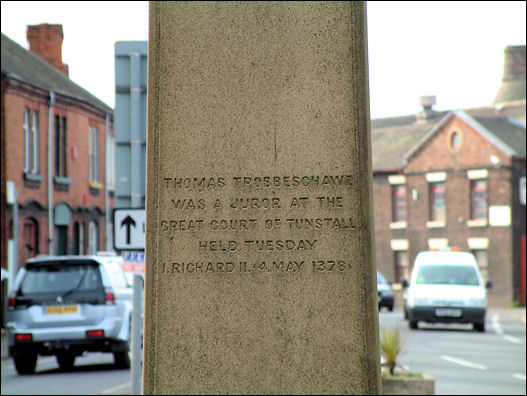 "Adams identified the stone base as being of Saxon origin, and yet we only have fragments of confirmation indicating that this was part of tiny community known as Longbridge," continues Steve. "In fact it was an important intersection on a raised level from where a lengthy line of stones and a wooden bridge reached out to ford the marshland and a frequently flooded Fowlea Brook on its way to Newcastle."
It is easy to speculate that the site was marked by a medieval cross to provide a focal point through what must have been dangerous terrain. Such intersections were identified as much for safety reasons and for location identifiers as for ancient religious gathering places.
"Over a long time the cross at Trubshaw had often been threatened with removal for being gratuitous," comments Steve. "In fact Ward notes in 1843 that only the stone base remained even though a handsome lamp post had been erected alongside it. He also remarked that the road still 'maintained its former rude character,' which presumably meant the surface, was in a pretty bad shape."
Ward would have seen the line of the road much as we see it today. But only a few years earlier the stretch that turns left from Trubshaw Cross to Porthill wasn't there. Instead the road went straight on passing by today's Westport Lake.
"The road became more used with increased horse-laden shipments when the potteries started to become industrialised," Steve continues. "A 1775 map of the area shows just a few buildings at the junction of Trubshaw Cross. And the way to Tunstall via Brownhills is still just a foot track known as Small Bridge Bank. The turnpikes changed all this. But a bigger change came when the Trent and Mersey canal was fully opened in 1777."
It is interesting to note that the first pottery to be erected at Longport was built in 1773 by James Brindley's younger brother John.
"It makes you wonder about insider dealings," muses Steve, "After all James Brindley was the canal engineer and route planner and would obviously have known the most rewarding locations to set up business."
But it would be a cheap shot to accuse the great canal engineer of nepotism simply because of a fluke of sibling familiarity. So we won't.
"Brindley's pottery was situated on the canal side north of Trubshaw Cross," explains Steve. "It wasn't long though before he was joined by other canal-side potters, notably Robert Williamson, Edward Bourne and in 1793 John Davenport whose dynasty consolidated the cluster around the bridge to evolve into the Top Bridge and Bottom Bridge works."

The Top Bridge works
Top Bridge is the only bit that remains. It was occupied in turn by teapot making Price Brothers, Price Kensington, Arthur Wood and Son and lastly Lorna Bailey. Today it is used mainly for tabletop sales and small businesses. It is also a Grade II star-listed site and is undergoing preliminary investigations into its development for housing and commercial use.
On the opposite side of the road is British Waterways' Longport Marina, and a business owned by boat builder Mike Adkins.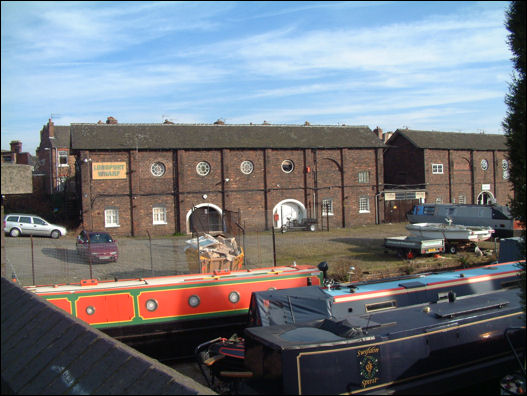 Longport Wharf
"I'm an accountant by occupation but I've traded here since 1980 as Stoke on Trent Boat Building Company. I suppose you can call it my life's passion, or even life's sentence," he smiles wryly. "I broker purchases and manufacture of boats. I employ nine trades' professionals who build canal boats from the laying of the steel plate to the final brushstroke of traditional paintwork. Since we've been here we've built around 200 boats from start to finish many of which have been planned to the tailored designs of the customer."
At the entrance to yard a faded sign sprawls across a depot gable pointing out that this was once the Anderton Navigation Company.
"Anderton's were a powerful Victorian company involved in shipping and freight handling," says Steve. "The warehouses you see here were not on the 1851 maps but are marked on the 1900 map. It shows that even though rail transport was now shifting bulk freight, the development of canal transport was still growing in this area."
The chaotic Longport roads are at times a jammed nightmare that probably requires urgent traffic management. Nevertheless Trubshaw Cross is one of Stoke on Trent's major gateways. It's where Percy Adams gave us a glimpse of an ancient world where the packhorse was once king of the road.

---
next week: Brownhills
---




click the "contents" button to get back to the main index & map
next: Brownhills & Dr Oliver
previous: Bradwell and the Sneyd family

see more on Trubshaw Cross