Josiah Spode II (1754-1827) and The Mount Estate (Penkhull)
The ancient footpath in Doncaster Lane
Location 7 on the index map

Walking along Tilson Avenue (the site of the Stable Yard for the Mount Estate) we come to Doncaster Lane.

Samuel Doncaster, an engraver, was also involved in the development of land in the vicinity of Penkhull. At the auction in the Marquis of Granby in 1802 he bought land on the west side of what was then known as Swynerton's Lane.

In 1805 and 1806 he advertised this as building land "for small houses that are much wanted in this truly increasing and populous neighbourhood". By 1810 "Doncaster Buildings" had been erected at the end of the lane and they ultimately gave their name to the "spacious and large street" laid out in front of them. The houses and land offered for sale in Doncaster Lane were all bought by Josiah Spode in 1810.




Doncaster Lane is shown in yellow on this 1832 map - it runs alongside the Mount Farm and then an ancient footpath can be seen which runs from the end of Doncaster Lane along the outside of the Mount Estate and onto Hartshill Road not far from the Noahs Ark Inn. - this can bee seen on the larger 1832 map on the introduction page.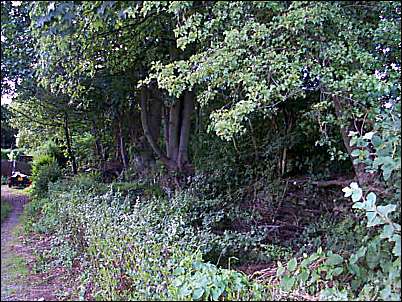 At the top of Doncaster Lane the remains of the old footpath can be seen underneath the trees on the right of the photograph. The ivy covered wall can also be seen.
Frederick Bishop ( on Frederick Bishop) extended Queens Road ( on Queens Road) to Penkhull at his own expense in the mid 1880s and began to sell sites for new houses. Around this time this footpath was laid out which runs from the top of Doncaster Lane to Queens Road.
---
next: is Doncaster Cottage
previous: was the location of the stable yard for the Mount Estate
---
questions/comments/contributions? email: Steve Birks