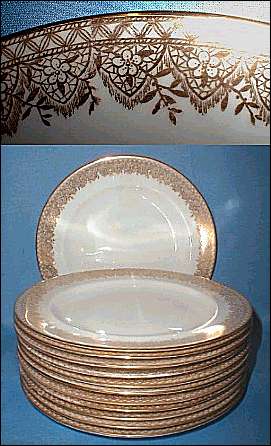 Group of twelve (12) porcelain plates, each measure 9" diameter. Made by EJD Bodley Burslem, Staffordshire England. 1875-1892. Elegent white with rich open lace golden border.
---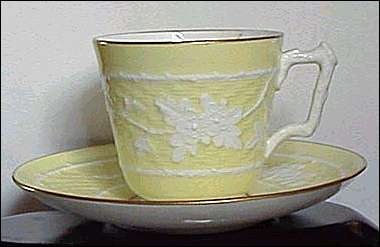 This china cup and saucer set has bright yellow wicker designs with white flowers, leaves and branches. These Bodley pieces have the English registry mark "B" with the letters "E.J.D.B." below the registry mark. Above the registry mark are the numbers "3093" with a number "7" above them. The left side of the registry mark is light where the "parcel number" would appear, but I believe the cup was produced on July 20, 1878. The cup and saucer are trimmed in gold and with the cup sitting in the saucer, they measure approximately 3 inches high. The diameter of the saucer is 5 ˝ inches and the top of the cup diameter is approximately 3 inches.
---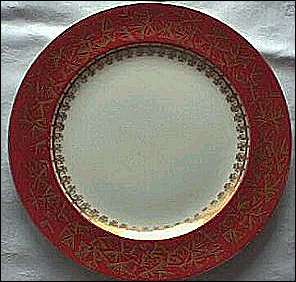 Attractive plate with outer edge a fine red color, over which is a gold pattern of leaves. Inside this, down to the white area is a gold pattern that resembles Maltese crosses.
Marks on reverse:- Bodley & Son monogrammed 'EBJD', trademark, 'FERN' and Reg No. 8582.

---