Example of E Brain Ware


[ Index of Ware ]

Index page for E Brain

Marks on E Brain Ware
Elijah Brain (and later his sons) operated the Foley China Works from 1885 to 1967.
Early ware (1885-1903) was marked with the name of the previous owners "Robinson & Son" and from 1963 all ware at the factory was manufactured under the Coalport name - which the company had purchased earlier in 1958.
The main output was tea-sets and mostly these had a floral pattern. In an article in 1956 the management recorded that they were "proud... that the factory is one of the few where boys are trained in the old art of flower-painting"
typical tea set by E. Brain & Co
---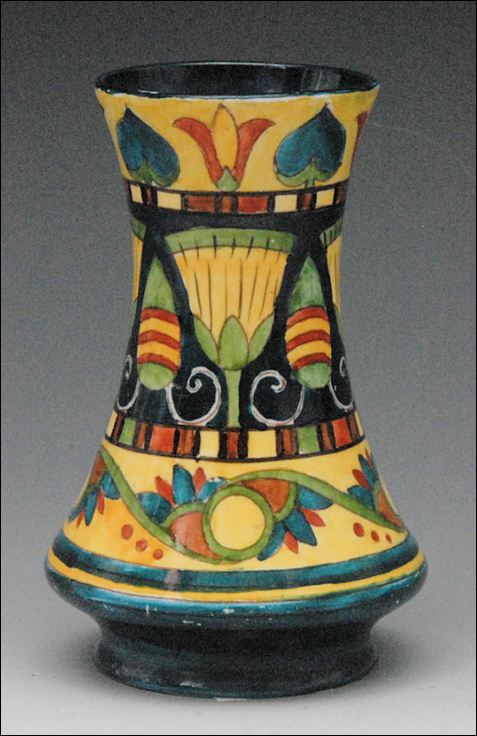 Foley Art China - Harjian ware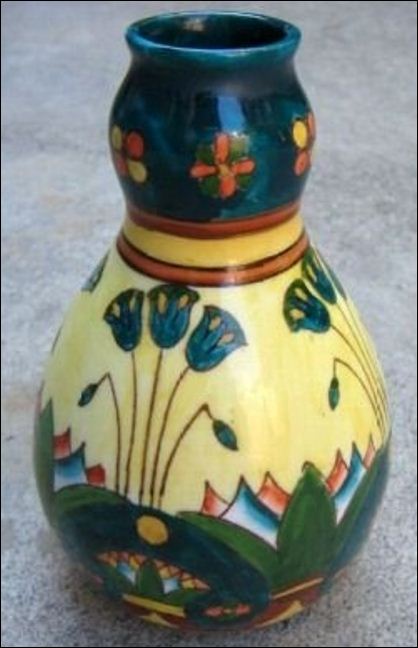 Foley Art China - Harjian ware

The Harjian line of Elijah Brain & Co. is attributed to Fanny Woolliscroft Rhead, sister of Charlotte Rhead and Frederick Rhead - also famous potters.
mark on Foley Art China vase
"HARJIAN" was a trade name used for this style of ware
R & S
L
the initials stand for Robinson & Son, Longton
in the period 1885 to 1903 although the works were now
owned by Elijah Brain the ware continued to have
the mark of the former owner 'Robinson & Son'

---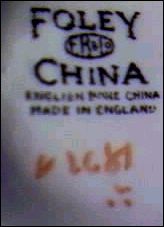 Foley Porcelain Bone China Cup & Saucer,
Pansies

Three vibrant colored pansies decorate this soft green cup & saucer.
E. Brain & Co. LTD. Fenton, Staffordshire, England.
Marked was used starting in 1913+. Saucer 5 1/2", cup 2 3/4" tall


---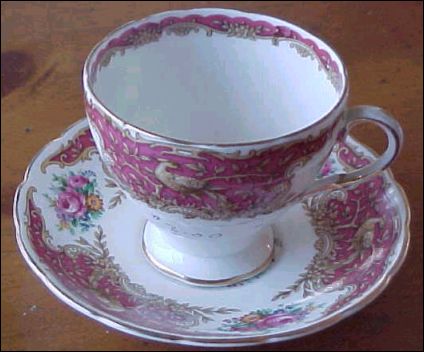 Bottom is stamped:
Foley China "Montrose"
E Brain & Co. Ltd.
English Bone China
Made in England.

---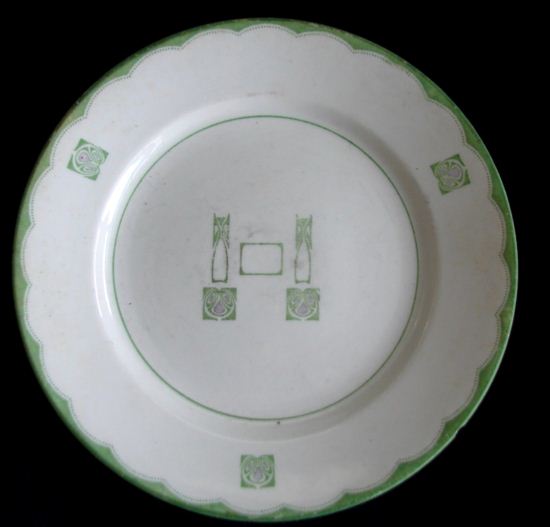 E Brain & Co. "Art China" Plate
Art China under the brand name "PEACOCK POTTERY" was introduced
c.1905 - it did not prove as popular as the floral china ware

---

detail on the Ming Rose pattern
Ming Rose was a popular E. Brain & Co pattern
it was continued in 1963 under the Coalport name
"Ming Rose" Foley Bone China,
E. Brain & Co.
Made in England.
Cup, Saucer & side plate,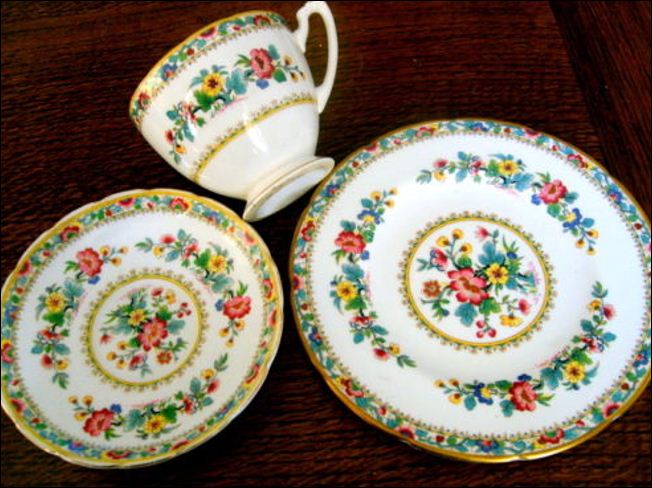 "Ming Rose" by Coalport
in 1963 E. Brain & Co renamed their business Coalport
and turned all production over to Colport ware

---

'Century Rose' pattern - introduced in 1950
In 1950 - the Centenary year of the Foley China Works - E. Brain & Co. "commemorated
by the adoption of a pattern known as the Century Rose
– an exact reproduction of a very old and beautiful design
– a pattern which was first exported to Canada"

---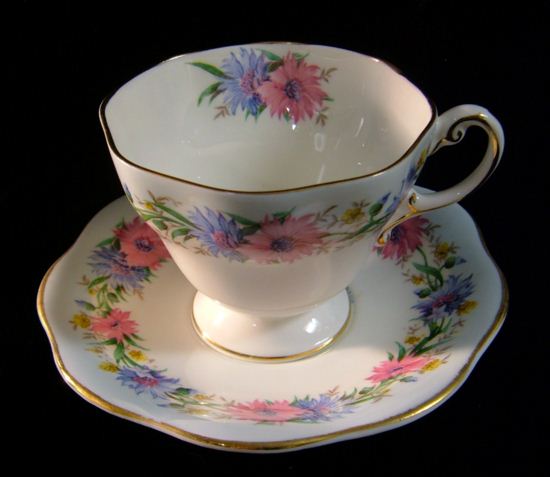 'Cornflower' pattern

---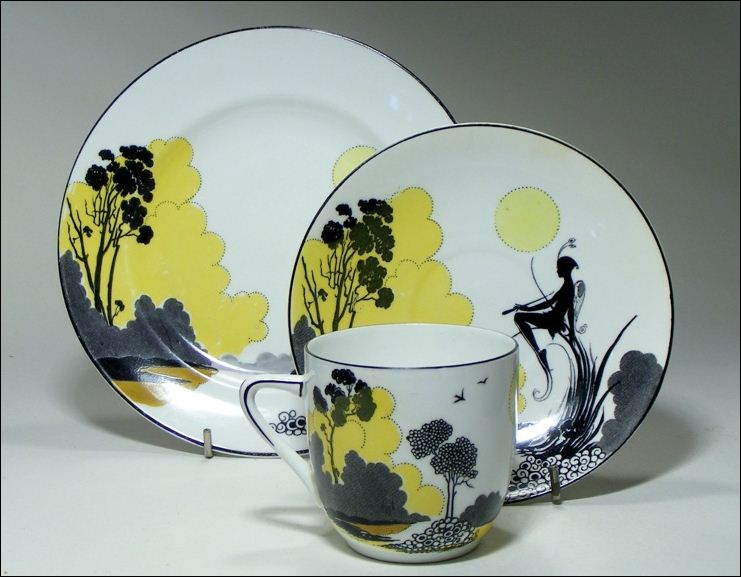 'Fairy Silhouette' pattern

---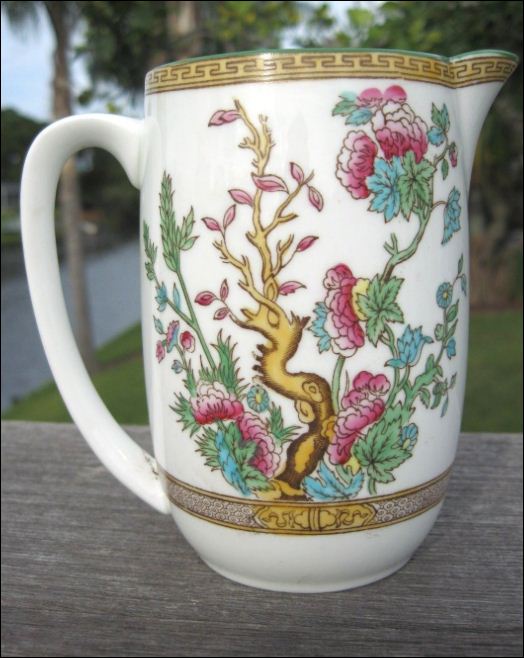 'Indian Tea' pattern

---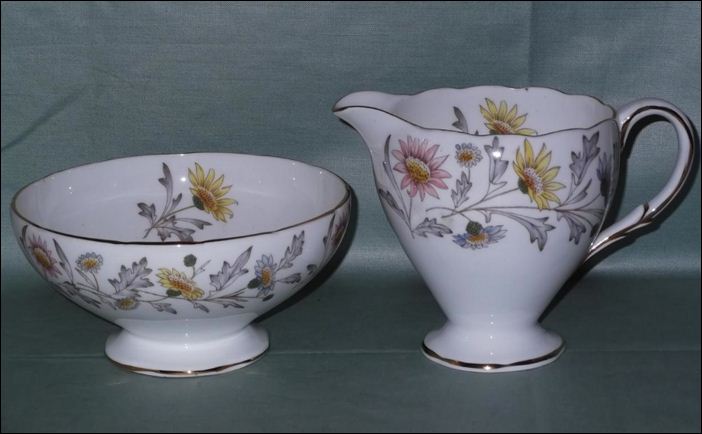 'Somerset' pattern

---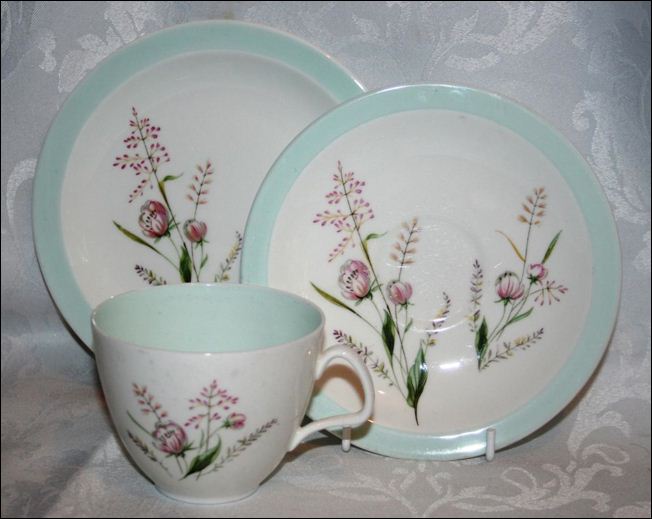 'Springtime' pattern
---


questions/comments/contributions? email: steve birks