---

Laurel Wreath/Victory shape registered by Elsmore and Forster in 1867.
Pattern was conceived with the American public in mind during the post Civil War period.
In 1867 Andrew Johnson was battling with Congress over Reconstruction that eventually lead to his impeachment...and in 1868, the election of the Civil War Victor, Ulysses Grant.
The creamer is approximately 6" high. It has the victor's laurel wreath with a single star at top on two sides. There is a band of laurel around the top near the handle. There is a thumbprint band below laurel and convex ribbing on top and bottom. Creamer has the Elsmore and Forster applied mark and is marked "Victory Shape"
---

Elsmore & Forster ironstone plate in the Tulip Shape pattern.
The tulip pattern and outer rim has been decorated with a beautiful sky blue and cobalt glaze. The plate measures 9 3/4" in diameter
---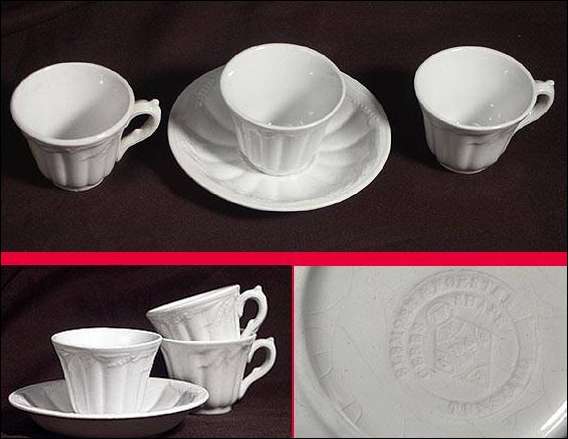 white ironstone made by Elsmore and Forster - Wheat Style
---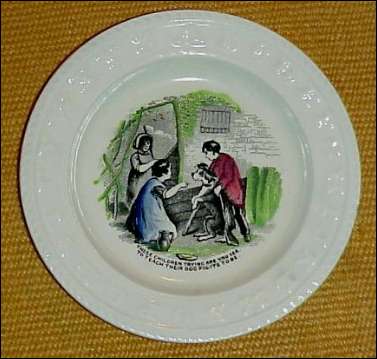 Elsmore & Forster ABC Plate
Raised alphabet border.
Impressed rectangle: ELSMORE & FORSTER TUNSTALL

Children in a kitchen yard--illustrate the verse:
"These children trying are you see
To teach their dog polite to be".

---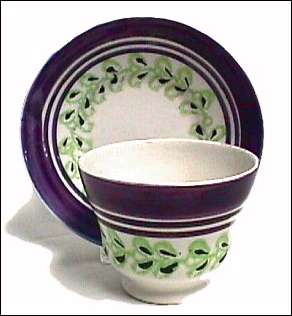 "Pussy Willow" pattern child's cup & saucer set.
Marked Elsmore & Forster - this child's cup & saucer is executed in purple, green & black against a white ground. The cup is 2 3/8 inches high and has a diameter of 2 3/4 inches. The saucer is 4 3/8 inches in diameter.
---