Examples of Hollinshead & Kirkham Ware


[ Index of Ware ]

Index for Hollinshead & Kirkham

Marks on Hollinshead & Kirkham ware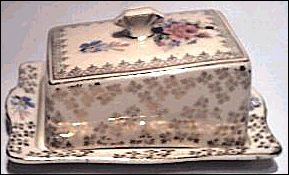 Cheese dish was made by Hollinshead & Kirkham - with the 1933-42 back-stamp.

Approx dimensions are Length160mm Width 118mm Height 60mm.

---

14" x 6" Tureen. The pattern is Ostend by Hollinshead & Kirkham, Tunstall, England. The maker's mark is a Unicorn and it dates to c.1900. This is a very fluidly shaped tureen.
The blue is very dark and the pattern is a floral and lattice work design, which covers the entire piece. An accent of gold is found on all edges. There is a pedestal style base to this tureen, which can not be seen in the picture.

questions/comments? email: steve birks