Examples of George Jones Ware


[ Index of Ware ]

Index page for George Jones

marks on George Jones ware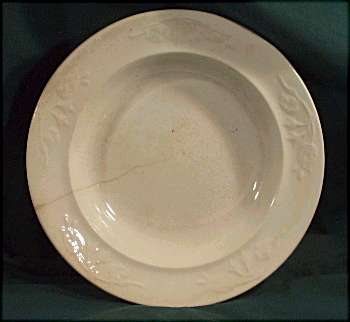 George Jones Ironstone bowl. The bowl measures 9 7/8' across the top, 5 1/4" across the bottom and 1 3/4" high. The edge has raised in the porcelain leaves with flowers.
The bottom is marked in black "Stone China George Jones Stoke - upon - Trent" with a lion and unicorn on either side of a crest. There is also an impressed "Ironstone George Jones Stoke on Trent" in an Oval.
| see mark (GJ2) |
---

Fabulous 5" high urn was made by George Jones & Sons of Burslem, Staffordshire, UK and sold by Tiffany & Co. New York. It is fine white porcelain with floral decoration and a cobalt blue border with gold accent border top and bottom.
| see mark (GJ8) |
---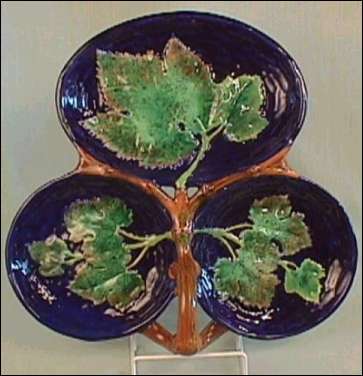 12.5ins longest dimension in both directions. Large George Jones and Sons majolica tri-part dish, extensions of twig handle sprout leaves into the centres of three serving dishes, an impressive way to serve something special to your friends. Great colors, cobalt blue, brown and greens. 'Snake' glaze base with pattern number '5274' painted in black in reserve and with impressed 'GJ & sons' mark.
| see mark (GJ7) |
---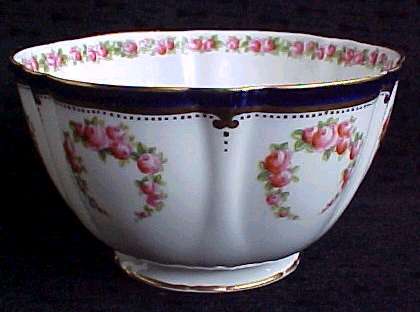 Measures 6 inches diameter & 3.25 inches high.

| see mark (GJ9) |


questions/comments? email: steve birks
09-10-2001