Water Street

The Borough Arms Hotel on King Street (2008)
In the early 1790's a pottery factory was built at the corner of King Street and Water Street. However, the concern did not prosper and in 1797 the partnership was dissolved. Shortly afterwards the pottery was converted into a brewery.
This new venture was a great success. The opening of the new brewery coincided with the construction of the Newcastle-under-Lyme Junction Canal which ran from Sir Nigel Gresleys canal through the Brampton and the Marsh to the Stubbs.
Sir Nigel Gresley opened a coal wharf on the corner of Brunswick Street and Water Street and the brewery now had the benefit of a direct supply of cheap coal from his collieries at Apedale.
In 1834 the partnership of Rogers, Baker and Hindle took over the concern and soon afterwards bought the property. This included a large 3-story house on the corner of King Street and Water Street which had been built for the occupation of William Bent before he moved to the more substantial property of Stoneyfields House further up Etruria Road.
In 1840 it was occupied by one of the partners, Thomas Hindle. In the mid 1850s the partnership converted the house into The Borough Arms Hotel to serve the passengers using the new railway station opened on the opposite side of the road in 1852.
The North Staffordshire railway took over the Newcastle Junction Canal and laid the access line to Newcastle along part of the bed of the old canal. The railway company also built a goods yard on the site of the coal wharf in Brunswick Street.
The brewery had closed by the end of the 19th century and a row of terrace houses built on part of the site by 1907. A police station was built on the rest of the site by 1912. The only Georgian building still standing is William Bent's former house, now part of the Borough Arms Hotel.
Andrew Dobraszczyc's notes (2004)
---

the route of the Junction Canal (left of the picture) along Water Street
- looking towards King Street -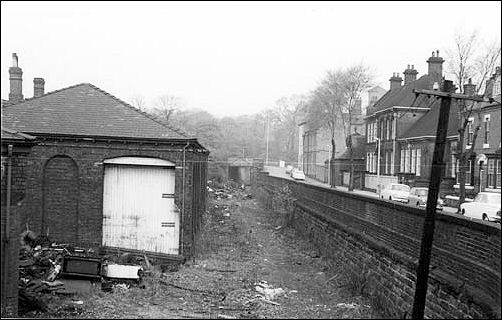 the route of the Junction Canal along Water Street
- looking towards King Street -
1965 - 1970 (c.)
This photograph shows the line of the old railway and canal, with the buildings of the railway goods yard on the left.
The road on the right hand side is Water Street and the tall building is the Police Station.

© Borough Museum and Art Gallery, Newcastle under Lyme (Staffordshire Past Tracks)