where is it? test your knowledge of Stoke-on-Trent
Staffordshire Hoard - advertising the hoard

Advertising for the Staffordshire Hoard on display at the Potteries Museum, Hanley, Stoke-on-Trent

one of the pieces of the Staffordshire Hoard
"The finds, known as The Staffordshire Hoard, comprise in excess of 1,800 individual items, mostly gold, with some silver. Many are decorated with precious stones. The artefacts were declared as treasure at an inquest at South Staffordshire Coronerís Court in 2009.
Most of the treasure appears to date from the seventh century, and the supreme quality of the craftsmanship on many items indicates royal ownership. The hoard includes a strip of gold which bears a biblical inscription in Latin, quoting chapter 10 verse 35 of the Book of Numbers: "Rise up, o Lord, and may thy enemies be dispersed and those who hate thee be driven from thy face". The finds also include two, possibly three, gold crosses which have been folded possibly to fit into a small space prior to burial. There are also more than 150 sword pommel caps and hilt collars, and parts from several highly decorated helmets including a beautiful figure of an animal which possibly formed a helmet crest.
The vast majority of the items are martial Ė war materials from the battlefield. The artefacts were discovered in what had been the heartland of the Anglo-Saxon kingdom of Mercia which was militarily aggressive and expansionist during the seventh century under kings Penda, Wulfhere and Aethelred. Some items are decorated in what is known as ĎAnglo-Saxon Style IIí which consists of strange animals, interlaced around each other, with long intertwined jaws. Many objects are inlaid with garnets."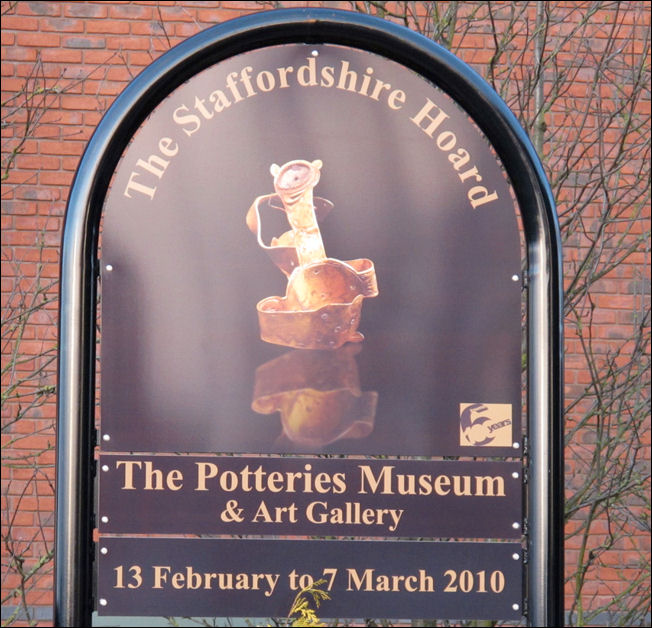 advertising board
- note in the bottom right is the logo of the celibration of the 100 year aniversery
of the federation of the 6 towns which make up Stoke-on-Trent -


The Staffordshire
Hoard
14th February to 7th March 2010
@ the Potteries Museum
Bethesda St.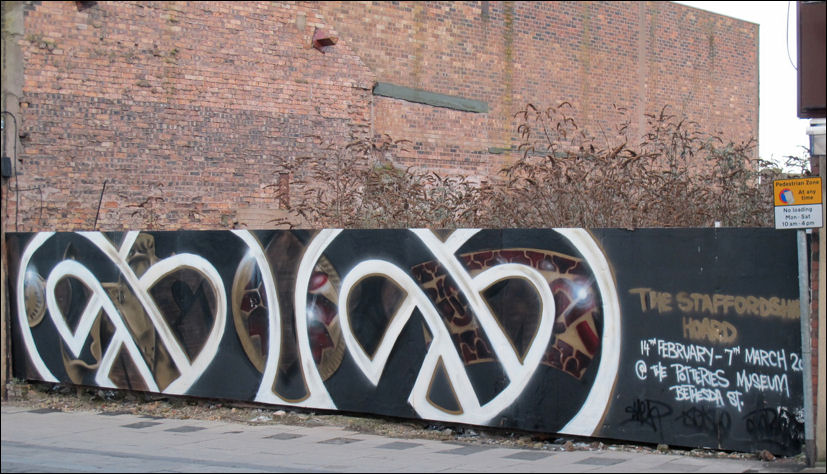 Hoarding on building site - Broad Street, Hanley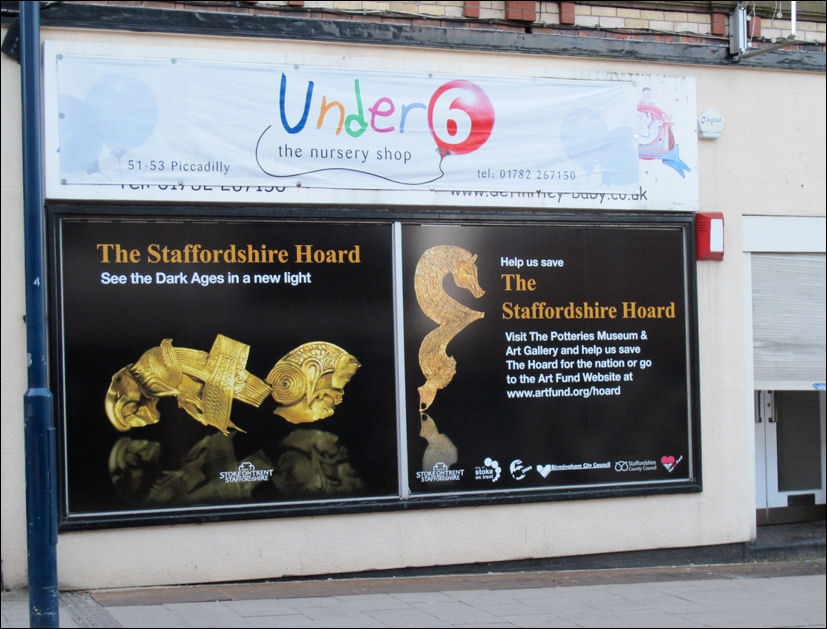 See the Dark Ages in a new light

shop frontage - Broad Street, Hanley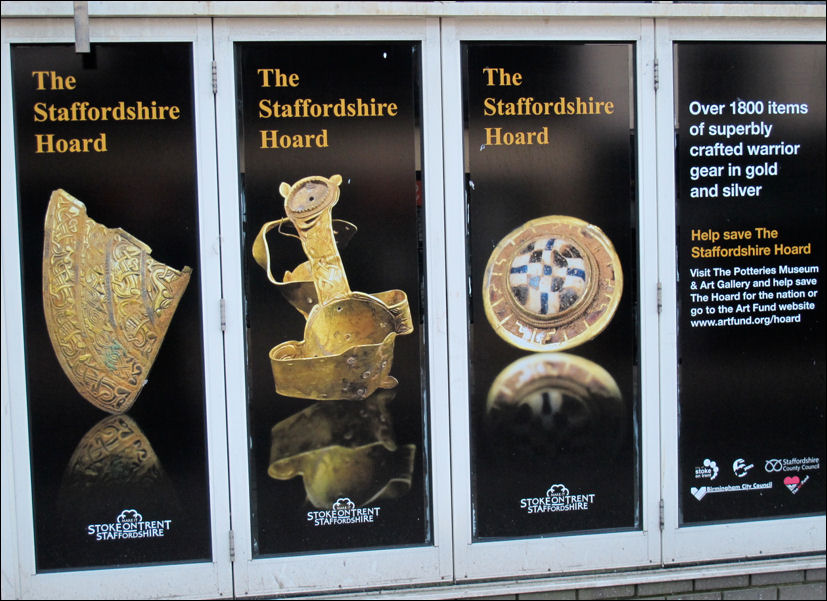 Over 1800 items of superbly crafted warrior gear in gold and silver
The hoard contains approximately 5kgs of gold and 2.5kg of silver.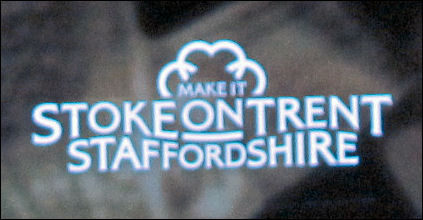 go to the Staffordsire Hoard Web Site
---

photos: March 2010