Kiln Croft Works, Burslem
From
To
Occupier
Comments
about
1820
1825
James and Thomas Handley
Kiln Croft Works was an old establishment and in or about 1820 was carried on by the Handley family.
1825
1835
James and Thomas Edwards
1835
Willett and Marsh
... then Mr. Marsh alone
1864
T & R Boote
1864
1892
Henry Burgess
Produced white granite-ware mainly for the American and Canadian markets. Ware was marked with 'Royal Arms' and name or initials of the firm.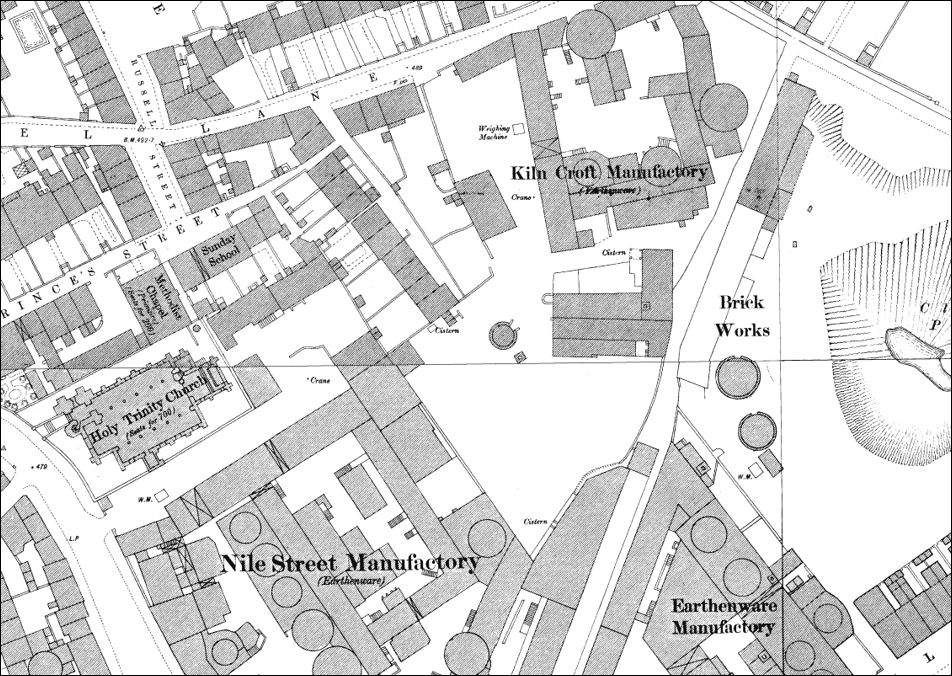 1879 map showing the Kiln Croft Works

1937 map of Burslem town centre
Light blue line is Nile Street
Dark blue area = Former Kiln Croft Works (probably at this time taken over by the Doulton factory)
Green oval = Royal Doulton
Purple oval = Town Hall and Meat Market

map of Burslem town centre
Google maps 2012
The Royal Doulton works closed in 2005
Green = Doulton Works
Blue = location of the former Kiln Croft Works (some of the original building still stood)
---
questions/comments/contributions? email: Steve Birks
---