Old Hall Works, Hanley
---
Charles and Christopher Whitehead were producing salt-glazed white stone-ware at a pottery on or near the site of Hanley Old Hall in the 1780's.

The original works was replaced by another erected in 1790 by Job Meigh (1750-1817) whose second son and grandson, both named Charles, in turn produced earthenware there.

It was stated in 1841 that this works ranked 'with the first class in being extensive, well-situated in the highest part of the township of Hanley, well drained and ventilated. The rooms are more spacious than most others, cleanly and good; there is, however, one great defect and that is the close approximation of the two privies for males and females, and their indecent publicity'. In 1862 (note: Jewitt gives 1861) the younger Charles formed the Old Hall Earthenware Company - the first pottery limited liability company in North Staffordshire - and this was replaced in 1887 by the Old Hall Porcelain Works Company which ran the pottery until it was closed in 1902.

A steam flint mill in Norfolk (now Meigh) Street nearby was acquired by the Old Hall Earthenware Company in 1863

The works were demolished in 1904.
Sources:
Jewitt's "Ceramic Art of Great Britain, 1800-1900"
Victoria History of the County of Stafford Vol VIII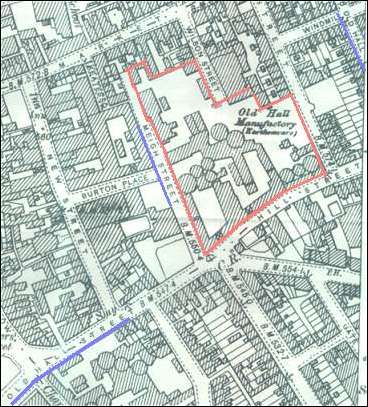 From a 1898 OS Map of Hanley
The massive Old Hall pottery works of the Meigh family. Note the street names (underlined in blue) of 'Old Hall Street', 'Old Hall Terrace' and 'Meigh Street'.

The pottery works at the bottom of the map is the Charles Street works.

The Potteries Ring Road around Hanley town centre now cuts straight through the location of the Old Hall works.


1880 OS Map showing Hanley town centre and the Old Hall Works


1880 OS Map

---
Questions/comments/contributions? email: Steve Birks
---