Washington Works
College Road, Shelton (Hanley), Stoke-on-Trent
NOTE: There was another factory called 'Washington Works' in Burslem.
The Washington Works was built c.1882 in Victoria Road, Shelton - in the mid 1950's it was renamed to College Road.

After a long history of use as a pottery factory the works closed in 2001 and the vacent property was aquired by Stoke-on-Trent City Council in May 2007.

The works were demolished in March 2009.
From
To
Occupier
Comments
1882
1910
Wardle & Co
Wardle & Co were in business from 1871 at works in William Street - it was in 1882 that they moved to the newly built Washington Works.
In 1910 the company was taken over by J A Robinson & Sons Ltd. The name changed to Wardle Art Pottery and the business was moved to the Wolf Street Works in Stoke.
1917
c.1946
Swinnertons
In 1917 Swinnertons acquired the Washington Pottery.
1946
1970
Washington Pottery
1970
1973
English Ironstone Pottery Ltd
1973
1994
English Ironstone Tableware Ltd
In 1994 English Ironstone Tableware went into receivership
1994
2001
Just Mugs Ltd
Just Mugs Ltd acquired the mug-making side of English Ironstone Tableware and operated at the Washington Pottery until 2001 when they relocated to Longton.
---

Wardle & Co
Washington Works, Victoria Road, Hanley
Manufacturer of Superior Majolica, Green Glaze, &c.
for the American and other foreign markets
Pottery Gazette, January 1885
"Messrs. Wardle & Co. having established their reputation for Barbestine (Flowered) Ware throughout the World, the work being at once useful and artistic, and prices moderate, they have now added to their branches Pierced Vases and Flower Pots, and Bright Glazed Unpierced ART POTS. As the finish is admitted to be superior to their past productions, and prices equally low, Messers. Wardle & Co. invite inspection either at their works or their London Show Rooms. They are also now prepared to supply Chamber Ware on a pure Ivory Body in Prints, Gilt or Enamelled, at prices to suit all Markets. They are Makers of a large assortment of Jugs, Teaports, Sugars, Creams, Teas, Bread Trays, Cheese Stands, Butters, Salad Bowls, Spills, Smoke Sets, Cruets, Umbrella Stands, &c."
---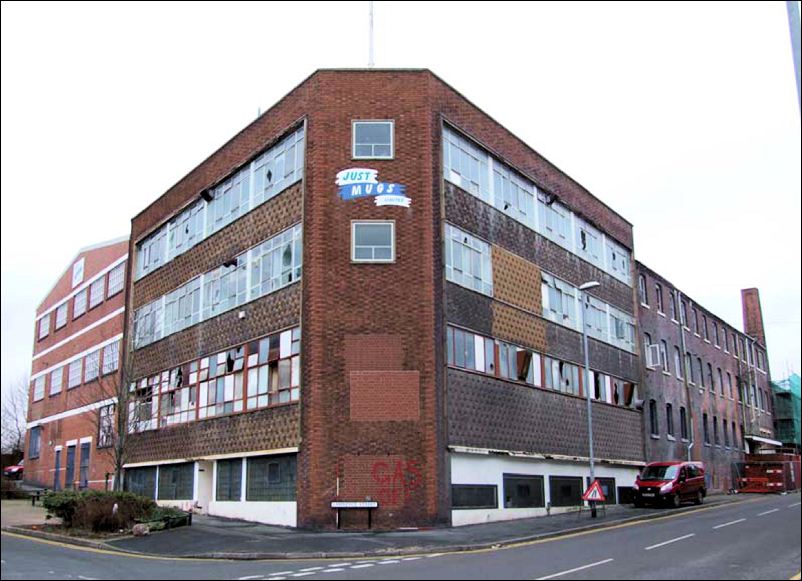 Just Mugs at the Washington Works - just prior to demolition in March 2009
The original 1880's works are to the far right and the 1950-70's development to the front & left
photo: Stoke-on-Trent Archaeology Department
---

The original 1882 Washington Works
The entrance somewhat altered in the 1970's
---

1925 map showing the Washington Works on Victoria Road
Blue - Washington Works of Wardle & Co
Red - Cleveland Works of William Bennett
Green - Atlas Works of Gosling & Gatensbury
at the top is St. Mark's Church

---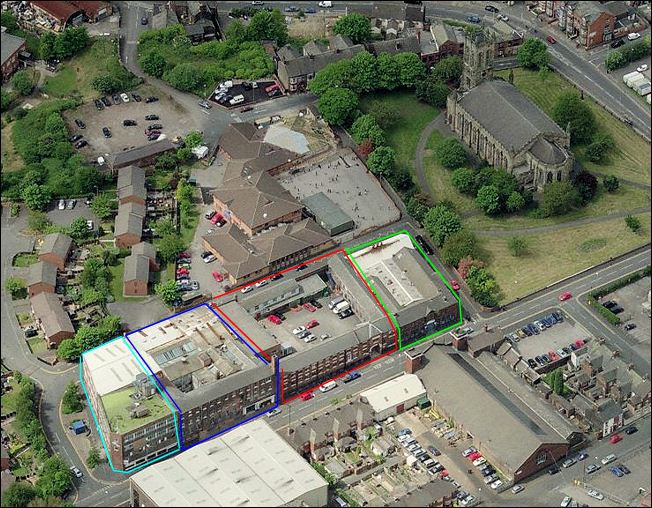 Blue - Washington Works
light blue - extension to Washington Works (1950-1970)
Red - Cleveland Works
Green - Atlas Works
In front of the works is College Road (originally Victoria Road)
at the top right is St. Mark's Church


Atlas works is to the right, Cleveland Works in the centre and Washington Works to the left
Bing Maps
---

the frontage of the three works on College Road
photo: Feb 2008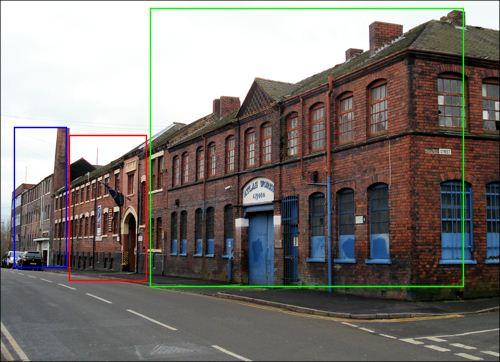 Atlas works is to the right, Cleveland Works in the centre and Washington Works to the left
---
Questions/comments/contributions? email: Steve Birks
---