A further notable event happened in 1985: Elm House gained itself a new, remarkable owner, the sculptor, ceramicist, and mosaic artist, Philip Hardaker.

Philip was born in Harrogate, and attended the Harrogate College of Art before coming to Stoke-on-Trent, to gain a First Class Honours Degree in Fine Art Sculpture from North Staffordshire Polytechnic. Following completion of his first degree, he moved on to London where he gained an M.A. in Fine Art Ceramics from the Royal College of Art, and in 1985 he returned to the Potteries, picking up Elm House, where he has remained working on private commissions and as a consultant for community, education and public arts ever since.

His work is remarkable, truly unique and innovative, using fragments of pottery, glass, and other bits and pieces, that many people would probably write off as nothing more than junk; Philip has been digging up ancient and modern ceramic shards from Staffordshire and all over the world for many years, weaving these fragments of past ages into modern works of art:
"I have been collecting fragments of objects from Victorian rubbish dumps since I was thirteen or fourteen. I was brought up in Harrogate, and I enjoyed digging on the dump…I liked the curious sense I experienced of digging through my ancestors' past…in the nineteenth century huge numbers of products were sold in ceramic containers – ceramic was the plastic of its day.

I found many of these objects…and of course, most of them would have been made in Stoke-on-Trent. When I moved to the Potteries, I realised I was living on top of a treasure trove".
Philip's work often has political and ecological objectives, communicating comment on historical events. Indeed, the many events of 1985 highlighted above probably proved a great influence on Philip and his work:
"Technology and air-travel has created a smaller world. We are bombarded with imagery over which we have little control. Think of all the information we can take in from one small television screen in just one evening. It would have been unimaginable in a previous era.

This is the world I live in, and I aim consciously to make my work respond to this complexity…I try to harness both the fragmentation of the objects I use, and their varied and competing histories to create a new critical statement on the world around me. I am a passionate pacifist. I believe arms are immoral, and that war is the cause of nothing but human misery. Do you know how much it cost to buy the European Fighter Plane? £50,000,000, and we ordered three hundred and thirty two of them. But instead of noticing or thinking about this, we use television – shows like Big Brother – to pacify the nation".
His work is also intrinsically linked with being English, and celebrates the creativity within North Staffordshire, and the past production of ceramics in the Potteries. However, although the philosophies, ideas and messages behind his work have serious meaning, and capture the spirit of the age, it is also laced with humour and irony.



Cathedrals of Tolerance


Gridoak


Saddam

works of Philip Hardaker
© philhardaker.co.uk
Key works of his include:
'Cathedrals of Tolerance': a mosaic of mixed media, containing images from many religions of faith.

'Gridoak': a mosaic reflecting the car vs. environment debate that surrounded the Newbury By-Pass dispute.

'Saddam': a mosaic of the late dictator from toy soldiers and soft drinks cans, that Philip created before the first Gulf War.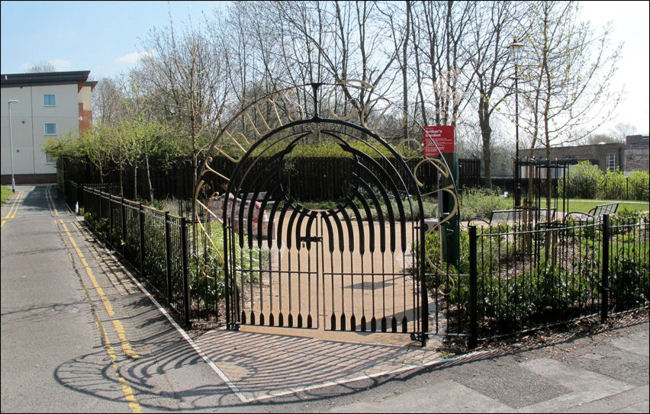 Entrance to 'Arthur's Garden' in Shelton
In addition, Philip has worked on many community projects and initiatives throughout North Staffordshire, and one of his most impressive contributions is also one of his most recent.

In 2010, Philip was part of a team that created 'Arthur's Garden' in Shelton, a small community space that celebrates the life of local resident, the late Arthur Garside. Philip worked alongside architects Hulme Upright Manning to deliver the project, with his contribution being 'Python of Peace', a brick and ceramic bench at the heart of the garden. The £125,000 project was part-funded by the defunct Housing Market Renewal Pathfinder, RENEW North Staffordshire. RENEW will have contributed a very small fragment of their huge multi-million pound budget towards 'Arthur's Garden'; indeed, RENEW could have delivered dozens of 'Arthur's Gardens' throughout North Staffordshire without creating too much of a dent in their lead wallet, yet would have helped deliver something of more lasting value than the demolition of thousands of people's home ever could. If it wasn't so tragic, it would almost be funny.

There is also a certain sense of irony in the choosing of Philip to work on a project within RENEW's programme of destruction: Philip's artistic philosophy is about rescue, reuse, renewal – the complete antithesis of RENEW's approach to North Staffordshire's housing stock.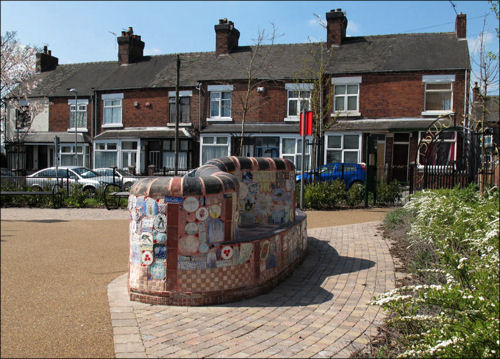 Philip Hardaker's bench and the 'Python of Peace'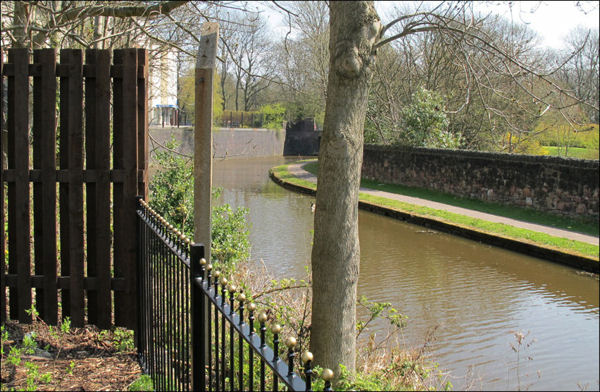 View of the Caldon Canal from 'Arthur's Garden'

It is Philip's philosophy of reuse and renewal that even underpinned his choice of home here in the Potteries: over a hundred years ago, no-one was sure whether the future was the internal combustion engine, electric motors, or steam, but it was plain obvious that horses and donkeys were in trouble; this technological revolution meant that the reason for Elm House's being was gone. But when Philip Hardaker returned to Stoke-on-Trent, he once again found a use for something that had formerly been considered useless. The late Kirsty MacColl had the following to say about Philip Hardaker back in 1997:
"Oceans, memories, driftwood, missiles, plastics, glass, tin, jets, broken plates, compact discs and cars, cars, cars. A beach-comber for the modern age. Let Philip Hardaker lead you into the 21st century with a bee in your bonnet and a lump in your throat".
Philip Hardaker is one of North Staffordshire's greatest talents, up there with Josiah Wedgwood, Suzie Cooper, Arnold Bennett, and other migrants to the Potteries such as Reginald Haggar, Susan Williams-Ellis, and Emma Bridgewater. Hardaker is a renewer, a rescuer, the Womble of the Potteries. A philosopher and prophet, and a proud Yorkshireman, but also a proud, adopted Potter.

D.P. 16th November 2011