Key dates in Burslem Wesleyan Methodist Society
The society was considerably weakened, however, by the formation of the Methodist New Connexion in 1797.
In 1801 a new chapel was built in Swan Square and enlarged in 1816.
The society again suffered a setback in 1836 on the division of the Burslem Sunday school.
In 1851 it was still the strongest chapel in Burslem and seated 1,290; attendance then averaged 500 in the morning on Sundays and 800 in the evening.
The chapel was again extended and improved in 1870 when a new front with a portico was added. Vestries were added c. 1884. This is shown in the photo above.
In 1949 the chapel, which has always been the centre of Wesleyan Methodism in the area, became The Central Methodist Church and now (1958) forms a single church circuit.
The 1801 church building was demolished in the late 1960's and a new modern church of concrete and brick was designed by Hulme, Upright and Partners and completed in 1971.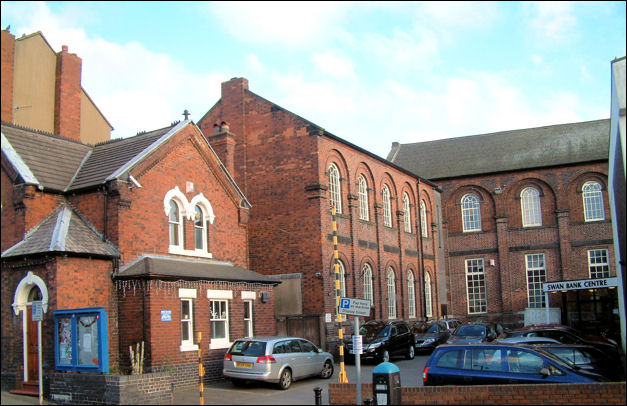 Swan Bank Methodist Sunday School Buildings
To the side and round the back of the modern church, the Sunday School still stands in the school yard as marked on the 1898 map and exactly as described by Arnold Bennett in his novel, Anna of the Five Towns.
photo: Dec 2008
"This Sunday School building has two sections. The first is two storeys high, six rooms wide by two rooms deep. The second building also has two storeys but is five rooms wide by two rooms deep. They were constructed between 1832 and 1878, and between 1878 and 1900."

The history of its Sunday school began in 1798. In 1801, when the new chapel was built, the school occupied the old building and also used the Free School in Moorland Road and a house in Hot Lane. In 1805 a new school adjacent to the chapel was erected and had been enlarged by 1809. when the pupils numbered 1,260.
After the 1836 dispute, the school was re-opened under the management of the Wesleyan trustees. New Sunday and day school buildings were erected beside the chapel in 1850–1 at a cost of £1,500, of which £400 was granted by the government.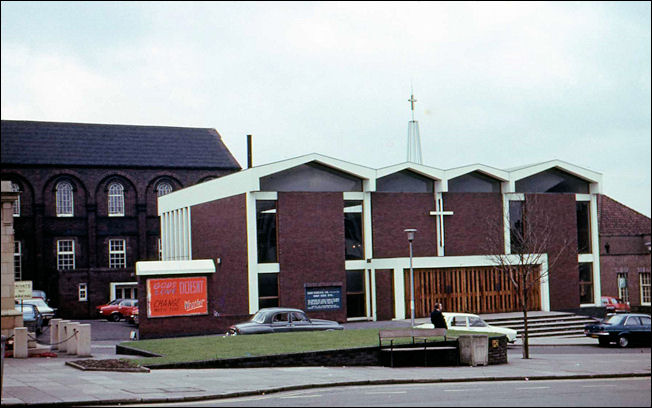 replacement building on the same site as the original 1801 building
This modern church of concrete and brick was designed by Hulme, Upright and Partners and completed in 1971
photo: Ewart Morris

A view of Swan Square, Burslem
the square is dominated by the portico of the Methodist Church (which was added in 1870), on the right stands the old George Hotel
photo: provided by Ewart Morris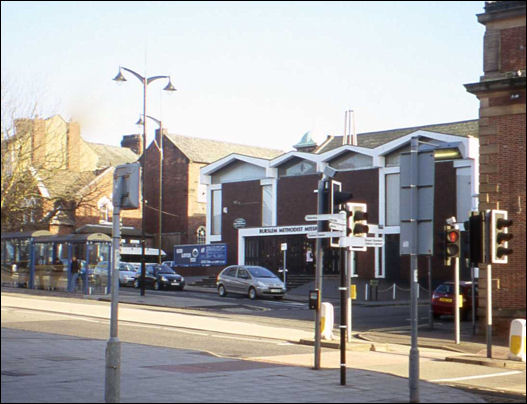 Same view with the 1971 church
the corner of the George Hotel, which was rebuilt after a fire of 1929, can be seen