Carlton Ware 1890-1930s
Although Carlton Ware has been steadily growing in popularity recently, many people are unaware that the factory was established in 1890 and produced a wide variety of wares.
[ 20thC Ware ] [ Wiltshaw and Robinson ] [ The Great War ]
[ Tutankamun Ware ] [ Script Mark Backstamp ] [ Counterfeits ]


Over the past decade the antique and collectors' market has become more appreciative of the wares of the 20th century. The value of pottery designed by Clarice Cliff , Charlotte Rhead and Susie Cooper has greatly increased and prices often exceed those of 18th century porcelain produced by Worcester, Chelsea or Bow. Considering the age of the pots, the hardships for the 18th century potter and the materials used, this does not make a lot of sense.

Centre: Wagon Wheels.
Centre left: Fan pattern.
Centre right: Lightning Pattern
Art deco pieces, c. 1927-Second World War,
although some patterns were still available
once restrictions had been lifted after the War.


Recently there has been a steady increase in popularity of another, predominantly 20th century, manufacturer, Wiltshaw & Robinson. Few people realise that the factory, better known today by its trade name, CarIton Ware, was established back in 1890 and they are amazed at the diversity of the wares when shown a selection of pieces made at the Carlton Works. In terms of variety of patterns and shapes CarIton Ware was one of the most prolific companies in the Potteries. Because of this pieces can be found for as little as £5 or, at the other end of the scale, a good Art Deco design will see a collector parting with as much as £4,000.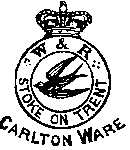 Wiltshaw and Robinson
back stamp

One family owned CarIton Ware for more than 75 years and was responsible for its success by being involved in the day to day running of the company. Earlier generations had owned, run or worked in various potteries and were related to the owners of other china works. It came as no great surprise when yet another Wiltshaw decided to try his hand at establishing a pottery.
James Frederick Wiltshaw had worked in a managerial role for his father, Thomas, who was the managing director of James Macintyre &Co Ltd at the Washington Works, Burslem, until his death in 1887. Three years later, in 1890, James founded Wiltshaw and Robinson in partnership with two brothers, James Alcock and William Herbert Robinson. They took over the relatively modern Copeland Street Works in Stoke-on-Trent that had previously been occupied by a series of (unsuccessful) partnerships whose production had included parian statuary, china and earthenware.

Messrs Wiltshaw and Robinson, however, made fashionable earthenware which included a range of blush ground items imitating Royal Worcester, blue transfer printed wares, plain white, tinted faience, a range of Imari-style wares in the traditional blue, red and gilt and even sprigged ware in a variety of colours, reminiscent of Wedgwood. At this time shapes covered a wide variety of useful wares such as biscuit barrels, tea and coffee sets, cheese dishes and egg cup sets, but there is little evidence of complete dinner services being produced. Of course some ornamental pieces were available, possibly the largest of these were vases as tall as 36in. These wares, although collected, are not fully appreciated as yet and prices range from £50 for a floral patterned blush ware sugar pot to £1,200-£1,500 for a pair of 2ft. Imari vases.


Shortly after the turn of the century, following the success of crested china produced by their near neighbour, W.H.Goss, they introduced souvenir Heraldic Ware using bone china because of the detail required on these small pieces. Later, at the beginning of the 1930s, after a long association, they took over Birks, Rawlins & Co Ltd, a bone china manufacturing company and this enabled CarIton Ware to produce fine bone china for tea, coffee and dessert wares as well as figures of women and animals.

Harold Taylor Robinson, son of James Alcock, replaced his uncle, William, as a director of the company and this was reflected by the change of name to Wiltshaw, Robinson & Son Ltd. With hindsight of the subsequent business dealings of the Robinsons it seems inevitable that a split would occur. James Wiltshaw became sole proprietor of the company in 1911 amidst much rancour having bought out his partners. He proclaimed this in his advertising of the day by stating that he was now the sole proprietor of Wiltshaw & Robinson Ltd.
A new designer, Horace Wain, was employed to create new patterns and shapes that would replace the Victorian styles still being made. Ethnic themes proved popular, especially the chinoiserie patterns showing pagodas with ladies chatting, tea parties, bridges with boats, fabulous birds in trees and sinuous dragons appearing on ground colours such as powder blue, red and an infinite number of two-tone matt colour combinations. These Oriental patterns seem to find a ready market both here and overseas often forming the beginnings of a collection. A cylindrical vase 6 inches in height can command a price of £120, or a jug and bowl from a dressing table set may sell for upward of £500. During this period certain patterns received additional promotion with the application of special backstamps that would show a modified Crown Mark incorporating other details as seen on the Persian, Khang Hsi or Kien Lung wares.


It was during the Great War that other designs were introduced which reflected the nation's mood, including a matt black range with the addition of various pink blossoms or fabulous birds set within a cartouche. Another sombre design, CarIton Cloisonne Ware, bearing an elaborate backstamp, was also available and imitated Japanese cloisonné metalwork by the application of a gilt transfer print over underglaze hand enamelling. Also produced at this time was a range of chintz patterns of which little is known and even chintz collectors seem to be unaware of their existence.

A tragic accident at Stoke Railway Station in 1918 resulted in the death of James Wiltshaw. His son, Frederick Cuthbert, who served in the Royal Flying Corps, was allowed compassionate leave from the war to enable him to put the company's affairs in order. The Armistice was signed, he never returned to service and became the head of the Company.
In his early twenties and younger than his father when he founded the company, Frederick Cuthbert Wiltshaw allowed his designers to produce wares reflecting the very latest fashions. Bright lustrous glazes were introduced in a range of twelve colours, some with and some without a pattern, depending on the price you wanted to pay. Created to compete with the expensive, fashionable, highly fired true lustre ware, the process used a much lower, therefore cheaper, firing temperature and they were careful enough to use the term 'lustrous' in their advertising. Novelty lines such as a cruet of hen, cock and chick were created and also decorated with these lustrous colours. CarIton Armand Lustre Ware was the exception to this rule and was a particularly elaborate and expensive design based on one of five or six marbled or mottled lustrous colour grounds. There are a number of patterns appearing on Armand Lustre Ware which have attracted a growing circle of collectors. The backstamp shows two fish in water encircled by the name and, at the time of writing, the meaning of this or the origin of the name is unknown.

In the early '20s Horace Wain moved to A.G.Harley-Jones & Co where Wilton Ware was made and Enoch Boulton was engaged to be CarIton Ware's designer. The period leading up to 1930 was one of the most inventive and productive in the history of the CarIton Works and much of this can be attributed to the new designer.


The interest across the world in the discovery of Tutankamun's tomb in the mid 1920s led to a great variety of commemorative ware and, not to be outdone, CarIton Ware offered a range of bowls, vases and jugs showing images of Egyptian Art based on designs found within the tomb. Decorated with both gilt transfer prints and on-glaze enamels, they are highly prized today and can command some of the highest prices paid for CarIton Ware.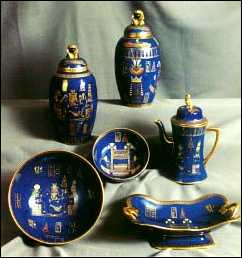 A selection of Tutankhamun pattern pieces, 1924-27


It was not long after Boulton's appointment that a new backstamp was created by modifying a cursive style that had been used previously and is better known to collectors today as the 'Script Mark'. The change was probably intended to acknowledge a more modern time with the flapper girls, the infancy of air travel and the decadence of the Art Deco period. The patterns, colours and shapes of this period are as revered by collectors today as they were by their original owners. They show the fanciful designs such as Red Devil, Sketching Bird or River Fish; fairytale images such as Fantasia, Fairy or New Flies; jazzy Art Deco geometric designs appear with flashes and bolts such as Lightning, Zig Zag or jazz; ziggurats and Fan, Egyptian Fan or Rainbow Fans; exploding images such as Floral Comets, Wagon Wheels or Explosions.


Script Mark backstamp

As a reaction to these highly glazed wares, matt glazes became fashionable and CarIton Ware, as ever, was in the front line offering, amongst others, a range which they called 'Handcraft'. As the name suggests, all patterns were free-hand designs, mainly floral, some geometric and would normally have a blue Script Mark backstamp with 'Handcraft' and 'Trade Mark, Made in England' underneath. Exotic designs include Russian, Metropolis and Aurora; floral inspired are Orchid, Stellata and Floribunda; rurally idyllic are Awakening, Tree & Swallow and Garden. Designs of a similar nature can be found that do not carry the Handcraft mark and some designs do have high glaze added to part of the pattern as if they were trying to be all things to all men.


Since the close of the Stoke factory in 1989 a large number of counterfeits have appeared carrying a bogus backstamp that is indistinguishable from the genuine one. The original date of manufacture of virtually all the fakes is post 1950, the only exception with an early Crown Mark is the Hangman's Tankard with the Devil handle. This tankard was never made with any other mark than the Script Mark. The Guinness advertising range including toucans and the small animal figures are the prime target and at one time were seen more often than the originals. Other counterfeits include a small golfing figure, a Babycham chamois and a small puritan mug. Invariably the quality of decoration is the giveaway but of course, ideally, you would have had to handle the genuine item to be able to draw comparisons. There has been the odd occurrence of various shapes appearing with a CarIton Ware backstamp which were never produced by CarIton Ware such as two female figures and a mug in the shape of a liquorice allsort.


Helen and Keith Martin are one of the leading Carlton Ware dealers in the UK.
Tel +44 (0)1474 853630
Fax +44 (0)1474 854480
Email: StClere@AOL.com
PO Box 161, Sevenoaks, Kent TN15 6GA, England
Adapted from an article in


Questions, comments, contributions? email: Steve Birks