photographs of some of the pages from the Wedgwood / Wood bible
(from Gould Auctions Internet site)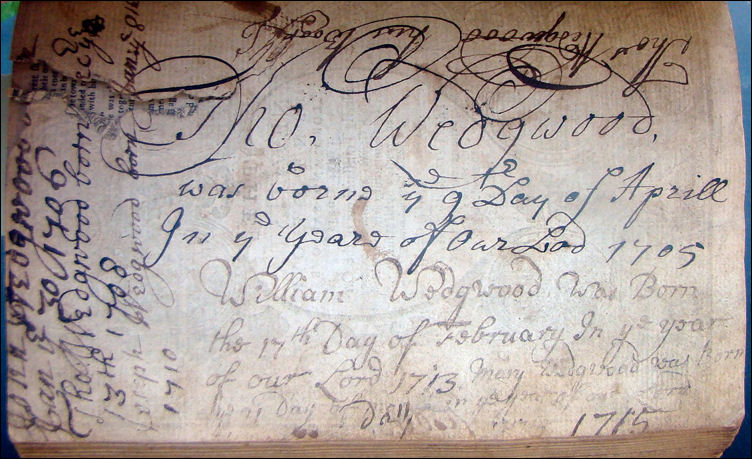 Thos. Wedgwood his book

Tho, Wedgwood was born the 9th Day of April in the year of our Lord 1705.

William Wedgwood was born the 17th day of February in the year of our Lord 1713.

Mary Wedgwood was born ?th day of ------- in the year of our Lord 1715

-- 12th Wedgwood -- Jan 30 1706

Tho Wedgwood born ---- 13th 1708

Joseph Wedgwood born Jany 8th 1710
---

"Mary Wedgwood the giver (?) of this Book -- Alice Pritchell 1749 Ano Domini
NB. The above Alice I suppose is the person Wm Hollins married from Mitchels in the -----, now called Gallimores Square. EW 1820"
---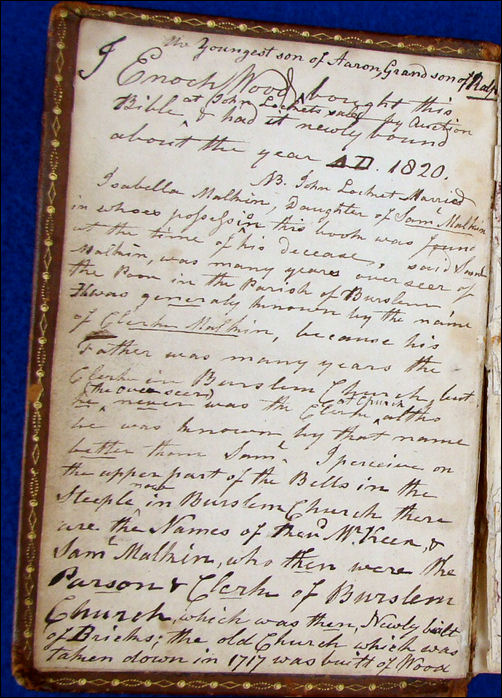 "I Enoch Wood, the youngest son of Aaron, Grandson of Ralph bought this Bible at John Lockets sale by auction and had it newly bound about the year AD1820.
NB John Locket married Isabella Malkin, Daughter of Sam'l Malkin in whose possession this book was found at the time of his decease. Said Samuel Malkin, was many years overseer of the Poor in the Parish of Burslem. He was generaly known by the name Cl------ Malkin, because his father was many years the Cl---- in Burslem Church, but he (the Overseer) never was the Cl---- at Church alltho he was known by that name better than Sam'l.
I perceive on the upper part of the bells in the steeple now in Burslem there are the Names of Thom's W Keen and Sam'l Malkin, who then were the Parson and Clerk of Burslem Church which was then newly built of bricks; the old church of which was taken down in 1717 was built of wood"

---
"NB. This Ralph Woods Father, fell at the Battle of the Boyne Ireland, in defence of King James the Second.
Ralph Wood
was the Miller of Burslem Mill and also at Cheddleton and Bells Mill, at the same time Ground at each 2 days each week - he was born at Cheddleton near Leek and died in the 77th year of his age, on the 28th day of 1753 and was buried at Cheddleton nr. Leek, Staffordshire.
The children of Ralph and Elizabeth Wood
Sarah was born March 29th 1714
Married Fleetwood of Liverpool

Ralph was born Jan 24th 1715
Married Mary Wedgwood of Burslem
Sister to the sons Wedgwood, T & John

Aaron was born April 14th 1717
Married Mary Meir of Lower Lane Stoke

Moses was born Feb 2nd 1719
Married Phoeby Marsh of Bradwell Hall

Mary was born April 4th 1722

Elizabeth was born June 11th 1724
Married Wm Caddich of Liverpool
and eminent painter

Willaim was born April 30th 1727

Anne was born April 13th 1730

Anne was born Oct 8th 1734


NB. This is correct, Enoch Wood, 1826"
---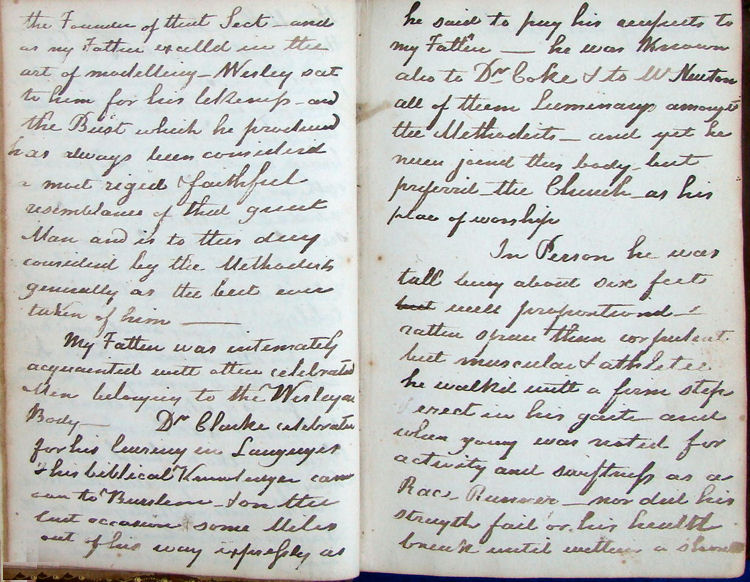 ".. the founder of that Sect and as my father excelled in the art of modelling - Wesley sat to him for his likeness - and the Bust which he produced had always been considered a most rigid faithful resemblance of that great Man and is to this day considered by the Methodists as the best ever taken of him -
My Father was intimately aquainted with all the celebrated Men belonging to the Wesleyan Body - Dr. Clarke celebrated for his learing in languages & his biblical knowledge ---- ---- to Burslem for the last occasion some miles out of his way ------ as he said to pay his rspectrs to my Father - he was well known (?) also to Dr. Coke & to Mr Neuton (?) all of them Luminarys amongst the Methodists - and yet he never joined their body - but prefered the Church as his place of worship.
In person he was tall being about six feet well proportioned & rather sparce (?) than (?) corpulent but muscular & athletic, he walked with a firm step erect in his gaiter and when young was noted for activity and swiftness as a race runner - nor did his strength fail or his health break until ------ - ----"

---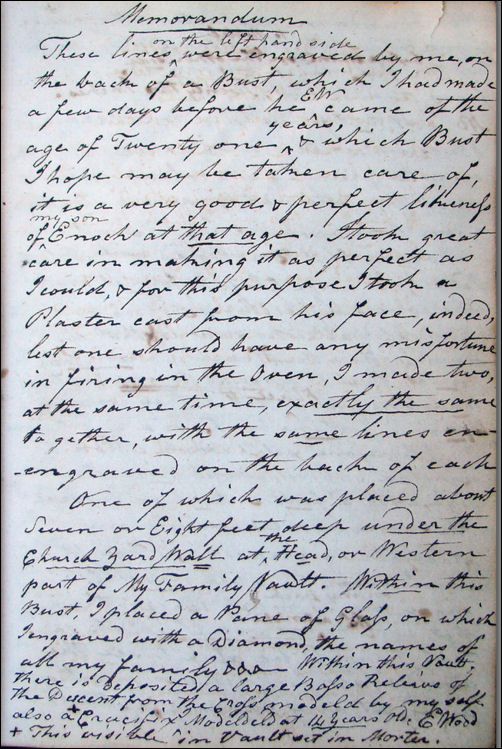 Memorandum
"These lines on the left hand side were engraved by me, on the back of a Bust, which I had made a few days before he EW came of the age of Twenty one years & which Bust I hope may be taken care of, it is a very good & perfect likeness of my son Enoch at that age.
I took great care in making it as perfect as I could, & for this purpose I took a plaster cast from his face, indeed, lest one should have any misfortune in firing in the oven, I made two, at the same time, exactly the same together, with the same lines engraved on the back of each.
One of which was placed about seven or eight feet deep under the Church -- and wall at the head, or western part of my Family Vault. Within this Bust, I placed a pane of glass, on which I engraved with a diamond, the names of all my family ----. Within this Vault there is deposited a large Basso Rillievo of the Descent from the Cross modeled by myself also a Cruxifix * modeled at 14 years old."
E. Wood
"* This visible in vault set in mortar."

---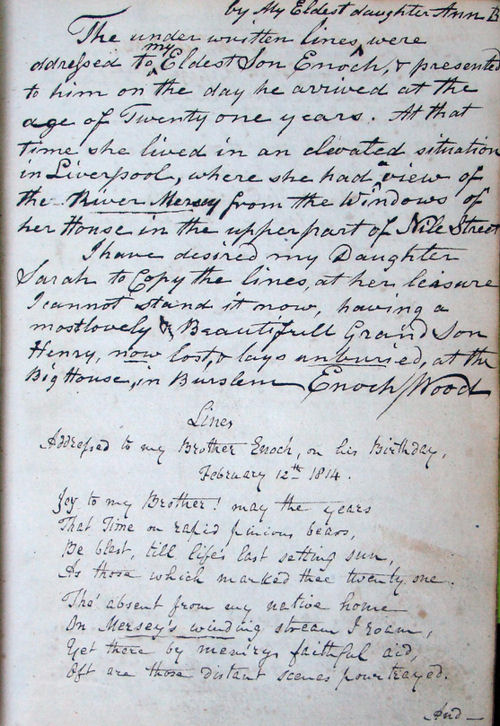 "The underwritten lines by my eldest daughter Ann B were addressed to my eldest son Enoch & presented to him on the day he arrived at the age of Twenty one years.
At that time she lived in an elevated situation in Liverpool, where she had a view of the River Mersey from the windows of her house in the upper part of Nile Street.
I have desired my daughter to copy the lines, at here leisure. I cannot stand it now, having a most lovely & beautiful Grandson Henry, now lost & lies unburied, at the Big house, in Burslem."
Enoch Wood
Lines
"Addressed to my Brother Enoch, on his Birthday,
February 12th 1814.
Joy to my Brother! may the years
That Time on Eagles pionions bears,
Be blest, till life's last setting sun,
As those which marked thee twenty one.
Tho' absent from any native home
On Mersey's winding stream I roam,
Yet there by Mersey's faithful aid,
Oft are those distant scenes portrayed."

---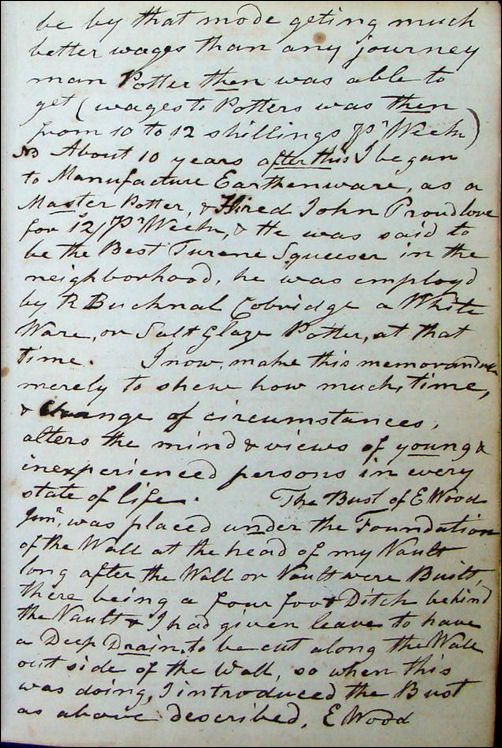 Memorandum respecting the cause of my undertaking to model so large a figure as this Crucifix, before mentioned on the other side, which measures from head to foot, Twenty Two inches.
NB at that period, two men came to Burslen, with a most excellently executed Crucifix in coloured wax, which they alternately carried strapped upon their back in and elegant mahogany flat box lined with black velvet & a large glass before it, which was covered by silk ---.
This, so much astonished all who saw it, that it seemed so to soften their hearts & opened their purses, that it apeared to me, by their traveling from place to place, they would gain a fortune by it in a short time.
I therefore set to work upon a similar subject, about twice the size, with a full intention to persue the same mode; feeling my strength increasing, I thought I should soon be able myself, to carry one on my back so much larger that that, which the astonished crowds flocked to see, that I should be able to see the world (which I much wish) without being at any expense, & should be by that mode getting much better wages than any journey man Potter then was able to get (wages to Potters was then from 10 to 12 shillings per week)
NB About 10 years after this I began to Manufacture Earthenware, as a Master Potter & hired John Proudlove for 12/ per week, & he was said to be to be the best turner (?) squeeser (?) in the neighbourhood, he was employed by R Bucknal Cobridge on White Ware as Salt Glaze Potter, at that time.
I now make this memorandum merely to shew how much time & change of circumstances alters the mind & views of young and inexperienced persons in every state of life.
The bust of E Wood jnr, was placed under the foundation of the wall at the head of my Vault long after the wall or vault were built, there bing a four foot ditch behind the vault & I had given leave to have a deep drain to be cut along the wall outside of the wall, so when this was doing, I introduced the bust as above described."
E Wood

---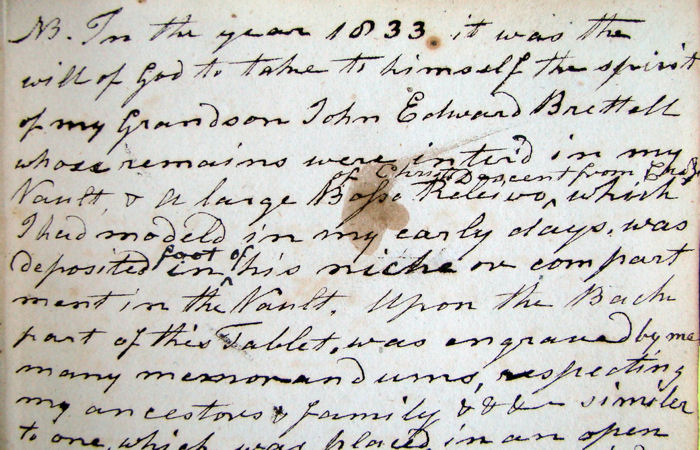 NB. In the year 1833 it was the will of God to take to himself the spirit of my Grandson John Edward Brettall whose remains were inter'd in my Vault & a large Basso Rillievo of the Descent from the Cross which I had modeld in my early days, was deposited in foot of his niche or compartment in the Vault. Upon the back part of this tablet was engraved by me many memorandums respecting my ancestors & family & very similar to one which was placed in an open.....
---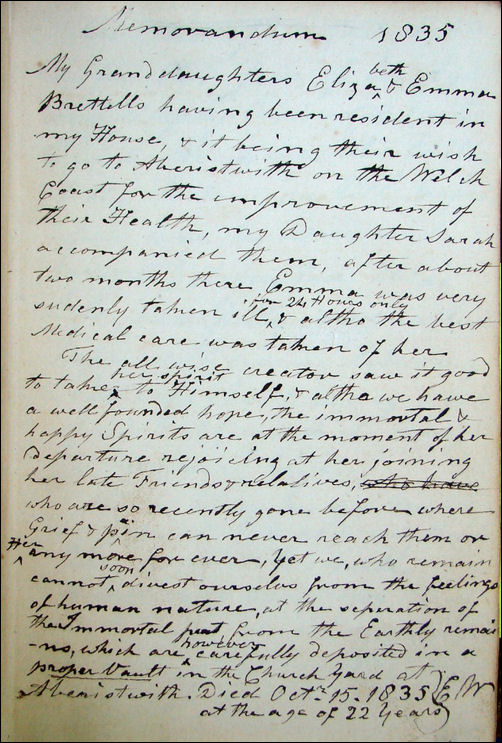 Memorandum 1835
"My Grand daughters Elizabeth & Emma Brettello having been resident in my house, & it being their wish to go to Aberistwith on the Welsh Coast for the improvement of their healt, my Daughter Sarah accompanied them, after about two months there Emma was very suddenly taken ill for 24 hours only & altho the best medical care was taken of her.
The all wise creator saw it good to take her spirit to Himself & altho we have a well formed hope, the immortal & happy spirits are at the moment of her departure rejoicing at her joining her late friends & relatives, who are so recently gone before where grief and pain can never reach them or her any more for ever, yet we, who remain cannot soon divest ourselves from the feelings of human nature, at the seperation of the Immorta; part from the Earthly remains, which are however carefully deposited in a proper vault in the Church yard at Aberistwith. Died Oct. 15th 1835 at the age of 22 years."
EW

---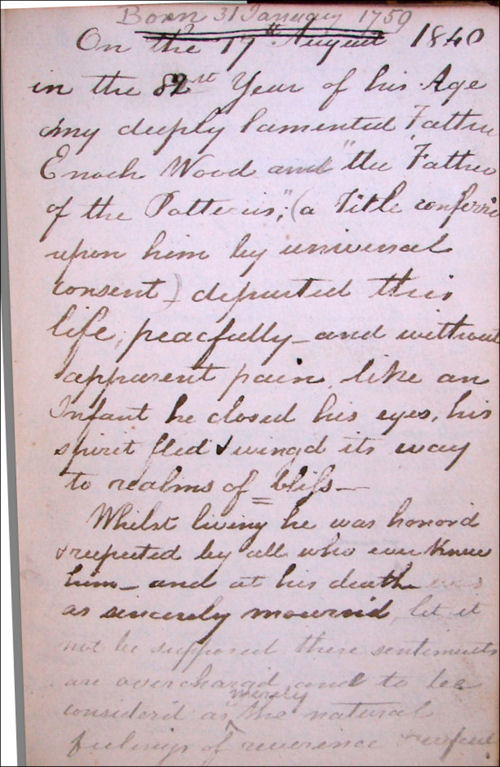 "Born 31 January 1750
On the 17th August 1840 in the 82nd year of his Age. My deeply lamented Father Enoch Wood and "the Father of the Potteries"; (a title confered upon him by universal consent) departed this life peacefully and without apparent pain like an infant he closed his eyes, his spirit fled & winged its way to realms of bliss.
Whilst living he was honoured & respected by all who knew him - and at his death was as sincerely mourned, let it not be supposed these sentiments are over charged and to be considered as merely the natural feelings of reverence -------"
---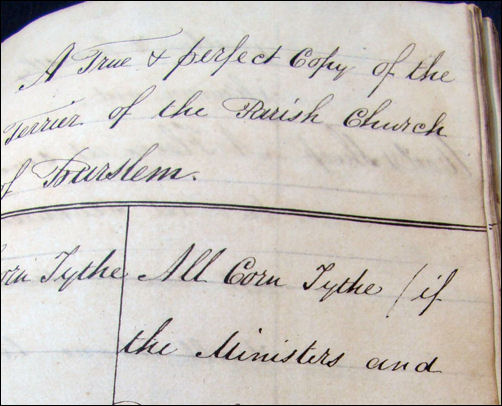 A true and perfect copy of the Terrier of the Parish Church of Burslem
Corn Tythe
All Corn Tythe / if
the Ministers and ...
Augt 26th 1791. Attested by us
John Robinson
John Telwright


---
the signature of Thomas Wedgwood
at the end of the catechism at the end of the Bible
---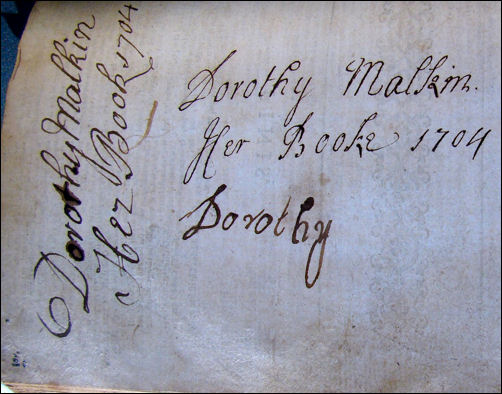 Dorothy Malkin.
Her Book 1704