| index of Pubs, Inns & Beer Houses |
| Index of Longport Pubs |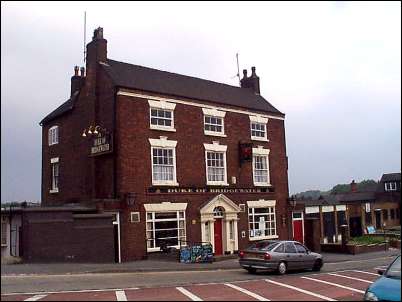 The Duke of Bridgewater - Longport
A grade II listed building, this Georgian Inn stands opposite the Pack Horse in Station Street, Longport. It takes it's name from the third Duke of Bridgewater, who, in 1759 hired James Brindley to build a 10-mile (16-kilometre) canal to transport coal from the duke's mines at Worsley to Manchester.
The Duke of Bridgewater is located alongside the Trent & Mersey canal and was originally the master potters house connected to the Bottom (or New) Bridge Pottery of George Phillips & then Davenports.
Comments from Arthur Owen (in June 2001):
"As a kid...some 50-60 years ago, I lived at The Duke of Bridgewater...my father was the licensee...Arthur William Owen. He took over the pub from his father, Arthur Owen who was also a Master Potter and had a large number of shares in the old LMS railway. All the family were involved in the potting business, my uncle, Bernard Hughes operated a pottery ...... My mother worked for Arthur Wood as a decorator for many years. I was looking for a little building (long since gone I'm sure}...it was owned by a Bert Ramsbottom...he was a cask maker. As a youngster, I would walk along the canal with my father and we would visit Bert to watch him make the barrel shaped containers in which ware was transported. Most of my family have either died or moved to various parts of the world....I now live in Australia, as does my mother (88)..."