Listed Buildings in Stoke-on-Trent and area
Statue of Josiah Wedgwood, Winton Square, Stoke
---
Area
Stoke
Street
Winton Square
Heritage No.
151a
Grade
II
Date Listed
19 April 1972
Building: Statue of Josiah Wedgwood
Location:

STOKE ON TRENT SJ84NE WINTON SQUARE, Stoke

Description:

1862 SCULPTOR: E. DAVIES, BRONZE, CONVENTIONAL STANDING

The original idea for erecting the statue of Wedgwood was Joseph Mayer's. On 24 January 1859 a Statue Committee was formed following a meeting chaired by the Mayor of Hanley, John Ridgway.

The reason for siting the work in front of the railway station rather than anywhere more central was that it would therefore be on the boundary of Hanley and Stoke-on-Trent, both of whom laid claim to being the home of Wedgwood.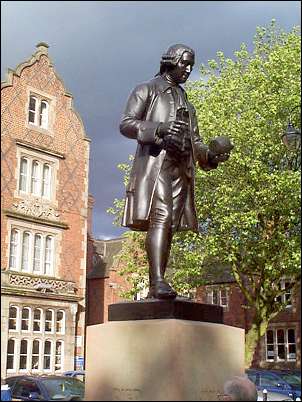 Statue of Josiah Wedgwood.
1862 by E.Davies.
Bronze figure on a square stone pedestal.


ERECTED/ BY/ PUBLIC SUBSCRIPTION/ INAUGURATED/ BY THE RIGHT HON/ THE EARL OF HARROWSKY. K. C./ 24 FEB 1863/


Statue of Josiah Wedgwood I stands in front of the hotel

---

on the Josiah Wedgwood Statue


click for more on
Winton Square





next: Stoke-on-Trent Railway Station
previous: North Stafford Hotel, Winton Square, Stoke