Listed Buildings in Stoke-on-Trent and area
Wesleyan Methodist Church, Etruria
---
Area
Etruria
Street
Etruria Old Road
Heritage No.
37a
Grade
II
Date Listed
13 May 1986
Building: Weslyan Methodist Church
Location:

STOKE ON TRENT SJ84NE

Description: Non-conformist chapel built 1820, two story, developed by Josiah Wedgwood

Wesleyan Methodist Chapel, dated 1820

photo: Steve Birks - May 2000

---

Wesleyan Methodist Chapel, dated 1820.

Lined out stucco with stuccoed dressings in contrasting colour. Slate roof. Pedimented facade, with date and inscription, "Wesleyan Chapel" in a cartouche in the pediment.

Central doorway with shouldered architrave beneath segmentally arched pediment carried on console brackets and flanked by sash windows with margin lights in moulded architraves. Central upper window in stressed architrave carried on console brackets. Angle quoins and heavy moulding to pediment. Sash windows in side elevations.

INTERIOR has galleries on all sides with panelled balustrades. Gallery at front with canted angles to link with side galleries. Front and side galleries supported on slender cast-iron columns with moulded caps and contain original early C19 box pews. Late 19th Century timber podium pulpit with span arcade balustrade set against wall supporting rear gallery. Plaster ceiling with moulded cornice and central moulded vented roundel. Open roof above rear gallery and organ. Wall tablet commemorating James Mainwaring (died 1891) with three glazed ceramic panels containing central bas-relief portrait and side inscriptions set in a white glazed ceramic frame of Ionic pilasters on moulded base and cornice with segmental pediment over enclosing inscription, side urns.

HISTORY: The chapel was built in 1820 by Jesse Shirley replacing an earlier Methodist Chapel of 1808 located in a field south of Etruria. The chapel was extended and refitted in the late C19. A separate Sunday school located to the rear of the chapel and built in 1864 is now in separate ownership and is not listed. This is a good survival of a Methodist chapel, with a well-mannered façade and an intact interior. The building also obviously has historical interest within the context of Etruria.

Formerly known as: Etruria Wedgwood Chapel ETRURIA OLD ROAD Hanley

---
Meetings of Methodists in Etruria took place in private houses in the village in the late 18th century. The first Wesleyan chapel was built in 1808 in a field south of Etruria.
In 1820 it was replaced by a new chapel on the main road near the centre of the village which is still standing. This is a brick building with a classical plastered front surmounted by a pediment and a date tablet illustrated in the photos below.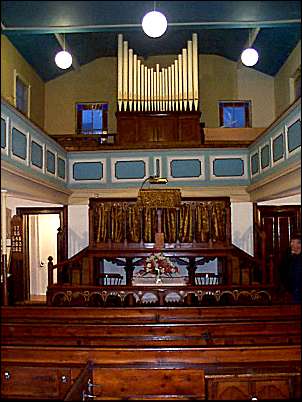 The ground floor shows a typical chapel layout of that period with a gallery above which accommodated an average attendance of 150 in 1851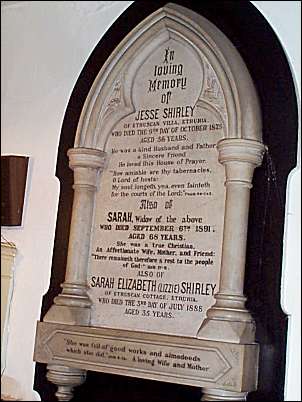 Memorials inside Etruria Methodist Church
Jesse Shirley / George Smallwood
"A tablet recording Jesse Shirley, who died 1875, aged fifty-six, says : " He was a kind husband and father and sincere friend and he loved the house of prayer." Of Sarah, his widow, who died September 6th, 1891, aged sixty-eight years, it is recorded that she was an "affectionate wife, mother and friend.""
"A white marble tablet is in memory of George Smallwood, who died November 19th, 1924, aged sixty-seven. He was closely associated with the Wesleyan Chapel and Sunday School all his life. Another memorial is to Jane Smallwood who died March 3rd, 1927, aged seventy-two, and there is a tablet in memory of Thomas Adams of Etruria, who died March 9th, 1883, aged eighty-one. He was a Wesleyan Sunday School Superintendent for fifty years."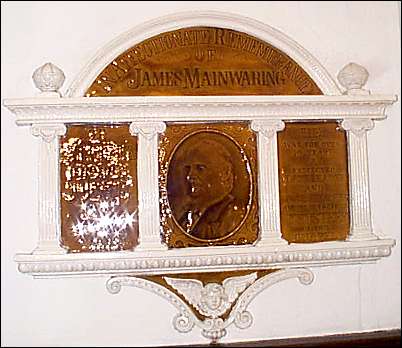 James Mainwaring memorial
"An unusual earthenware tablet, complete with a portrait in relief, in memory of James Mainwaring of Etruria, who died July 17th, 1891, aged ninety-seven, is to be seen. He was for over seventy years a class leader and local preacher and one of the first trustees of the chapel."
photos: Steve Birks - May 2000
---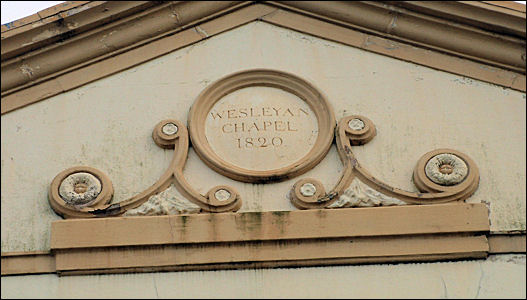 date tablet
Wesleyan Chapel 1820

A separate Sunday school located to the rear of the chapel and built in 1864 is now in separate ownership and is not listed
photos: Steve Birks - Jan 2008





next: Round House, Etruria
previous: Church of the Resurrection, Dresden