Lane Delph, Fenton, Stoke-on-Trent, Staffordshire.

Lane Delph area on a 1922 OS map

click for a larger scale 1922 map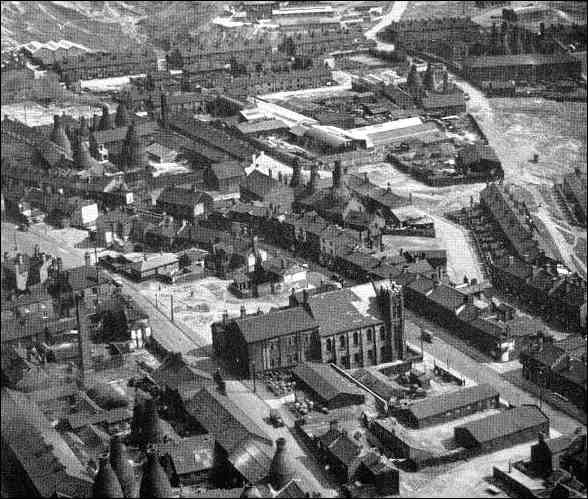 1937 photo of the Lane Delph area

click for a larger view of the 1937 photo of the Lane Delph area
---
Potworks:
In 1709 Dakin and Chatterley leased a pottery in Lane Delph.
Thomas Heath was one of the earliest known potter working at Fenton, he was working at Lane Delph c.1710.
Thomas Astbury (a cousin of John Astbury of Shelton

) was producing pottery at Lane Delph in the late 1720's.
By 1843 Ward (see below) records "Two earthenware manufactories of THOMAS and JOHN CARY, another of JOHN and WILLIAM PRATT, another occupied by – GINDER & Co., and the China Manufactory of GREEN and RICHARDS are also seated at Middle-Fenton (Lane Delph)."

click for an index of Lane Delph potters

---
Brickworks:
There was a brickworks at Lane Delph by 1818 and the 1922 OS map shows the Oldfield Brick Works and marl hole to the east side of Duke Street on the outskirts of what was Lane Delph.
---
Churches:
Mount Tabor Chapel in Market Street was founded by the Wesleyans in 1762. When the Methodist New Connexion was formed in 1797 it joined the new organisation. A new chapel was built in 1811. By 1851 this seated 350 and had an attendance of 85 in the morning and 203 in the evening, it also had a Sunday School.
The chapel was rebuild in the Gothic style in 1869, it was still in use as late as 1958.
St. Matthews Mission Church - a mission church was founded in 1849, from Christ Church (

) this was at the former Primitive Methodist chapel in China Street. In 1882 this was replaced by St. Matthew's Mission Church, built at the junction of Park Street and Market Street (King Street).
China Street A Primitive Methodist chapel was opened sometime between 1834 and 1843, by this letter date it had ceased to be used by the Primitive Methodists and was used by the Congregational Methodists, in 1849 it was acquired by the church of England for use as a mission church (see above).

---



next: Spode & Mason - two famous potters of Lane Delph
previous: location of Lane Delph / 1829 & 1843 account